Sandra Oh's Favorite 'Grey's Anatomy' Prop Will Make Fans SO Nostalgic For Cristina & Owen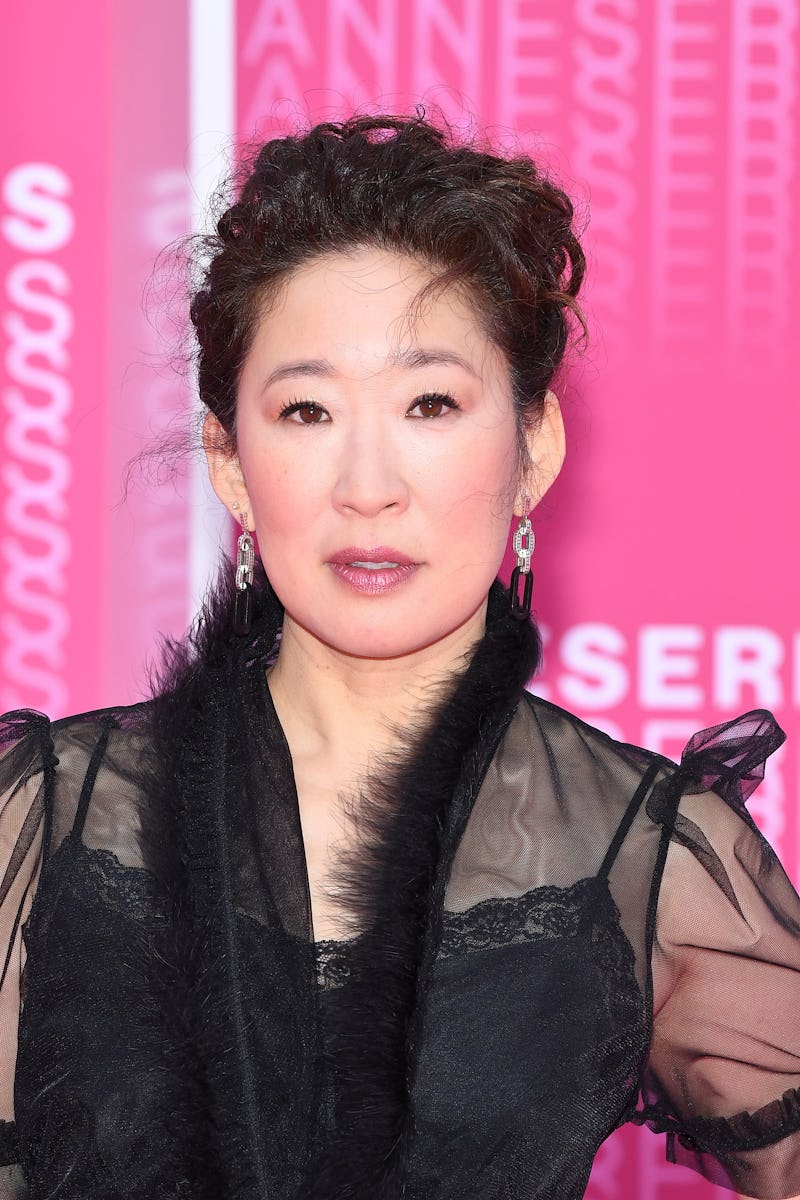 Pascal Le Segretain/Getty Images Entertainment/Getty Images
Who isn't looking for a way to really tie a room together? Sandra Oh's favorite Grey's Anatomy prop that she took from the set when she clocked out as Dr. Cristina Yang in 2014 "is the rug in Owen and Cristina's apartment on Grey's Anatomy before they broke up," the actor revealed to People in an Aug. 8 interview. Now, the sweet memento lies in the former Grey Sloan Memorial resident's, well, residence: "It's in my living room," she added.
Home decor aside, Oh has made no secret of the fact that the past romance between Dr. Owen Hunt (played by Kevin McKidd on the ABC medical drama) and her cardiac surgeon character remains close to her heart. When Owen married Dr. Amelia Shepherd (Caterina Scorsone) in 2016, for example, Oh tweeted a photo of herself with McKidd along with the caption: "And wait - my TV husband has a new TV wife?? Xqueez me? I don't think so, Ha! Owen what r u thinking??"
As much as she's clung to her Grey's days, Oh's now making a new mark as British intelligence officer Eve Polastri in the BBC America spy thriller Killing Eve. And she's very much living in the present. When asked in People's video interview which of her costars she's had a secret crush on, Oh responded: "Fiona Shaw. It's so not so secret. It's actually, by the way, it's not such a secret crush."
In the next beat, she added to her response to also show some love to a second Killing Eve castmate. "But you know what? I gotta tell you, my crush is also equally with Jodie," she added. "So it's like, Jodie Comer/Fiona Shaw crush. It's just a big crush."
Fans and critics alike have also been crushing on Oh for the Killing Eve role which earned her a historic 2018 Lead Actress Emmy nomination. Oh received five consecutive Supporting Actress Emmy nods for her Grey's Anatomy performance, but aside from being her first nomination as a Lead Actress, she is also the first actor of Asian descent to have been up for the award — ever.
The accolade wasn't lost on her Grey's "person," Ellen Pompeo (AKA Meredith Grey herself) who congratulated Oh on her Emmy nomination in a July 13 tweet. "I was not on my phone yesterday and clearly missed ALOT!!!," Pompeo tweeted the day after the 2018 Emmy nominations were announced. "Congratulations @IamSandraOh this is beyond well deserved and your history making is incredibly moving. Can't wait to hear your speech!! Which will have us in tears and laughing at the same time no I'm sure.."
Despite all the love, Oh isn't planning to return to Grey's Anatomy — yet, anyway. "It's so funny. Every year, it's like I hear that I'm coming back to the show. Like for real," she told Entertainment Weekly in March. But what I realize is, in a way that I'm really pleased and grateful for, is that the show is continuing on with its life, and that the show and the people who are still attached to the show are still attached to Cristina. It means a lot to me."
McKidd, for one, is holding out for a big Cristina comeback. "I think it would be so much fun and it would open up so much again in the story and mix everything up," the actor, who said he and Oh talk "all the time," told Entertainment Tonight last year. "She's just such an amazing actor that I still miss her to this day, every day at work."
If nothing else, Grey's fans can take comfort in the fact that Oh will always have Cristina and Owen's rug as a reminder of what could have been.