Sandra Oh Knows She Has The Support Of Her 'Grey's Anatomy' Co-Stars Going Into The Emmys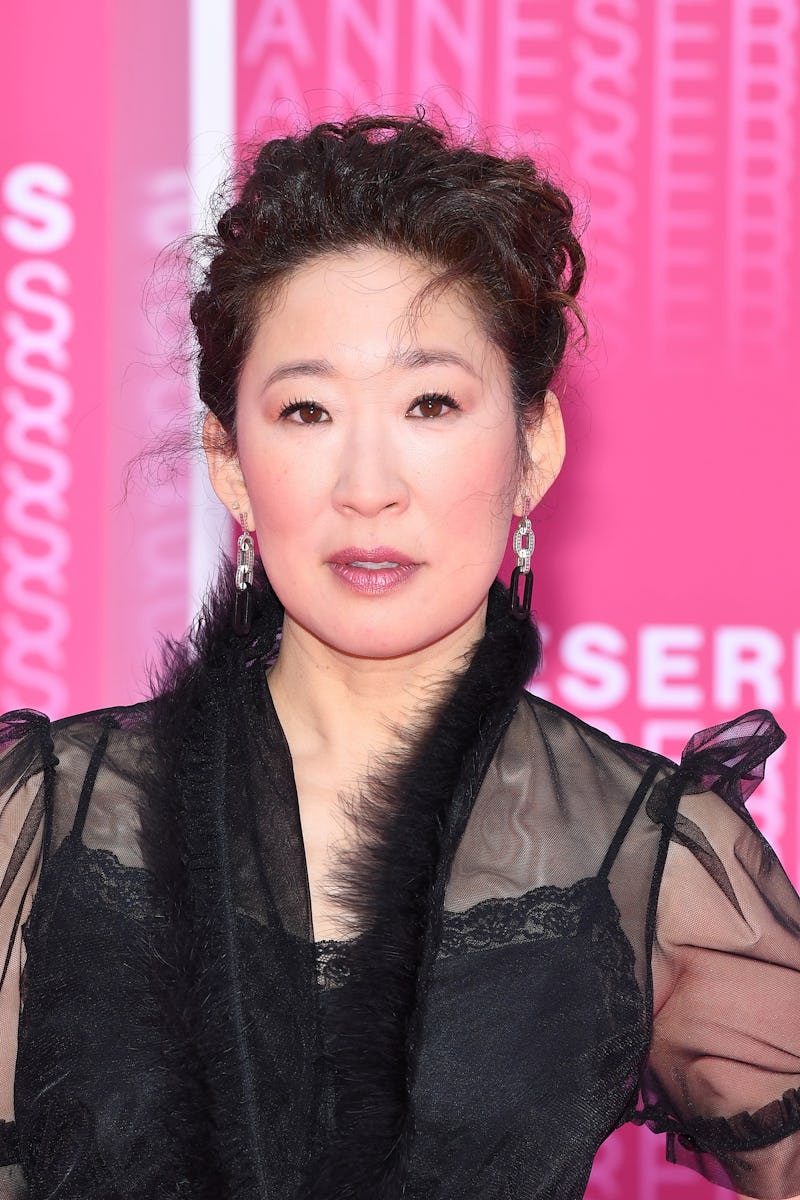 Pascal Le Segretain/Getty Images Entertainment/Getty Images
While this year's Emmy Awards is celebrating the best in television, Sandra Oh is celebrating her history-making nomination with the help of some old friends. During a new interview with Entertainment Tonight ahead of Monday's award show, Sandra Oh thanked her Grey's Anatomy co-stars for their support regarding her Emmy nomination. Whether or not she wins, Oh told the outlet that she knows she has the full support of her former Grey's Anatomy costars, and it's enough to make any Grey's fan's heart burst.
Now, it's no secret that receiving an Emmy nomination — in pretty much any capacity, really — is a huge deal. But those who have been following the last few months' Emmy-related news probably understand why Oh's nomination is arguably even more significant. For her titular performance in the BBC series Killing Eve, Oh snagged a historic Emmy nomination for Outstanding Lead Actress in a Drama, becoming the first Asian actor to do so.
But fans of Oh's earlier work on the small screen know that, long before she was Eve, the actor stole the hearts of many (and repaired a bunch of them, too) as Dr. Cristina Yang, Grey's Anatomy's resident cardio prodigy and fierce back-talker to boot. Speaking about her former Grey's family and how they've responded to her history-making Emmy nomination, Oh told ET,
"You know, they know me. They really know me. I know everyone is happy for me and [I] really, really appreciate their support."
Fans on Twitter might already know this to be true, thanks to the outpouring of support for Oh and her Emmy nomination from the likes of Grey's cast members past and present. When Oh's Emmy nomination was first announced several months back, in July, Ellen Pompeo (aka Meredith Grey, Dr. Yang's longtime BFF and self-proclaimed "twisted sister") was quick to spotlight her extraordinary achievement. And she wasn't alone. Grey's veterans Justin Chambers and Katherine Heigl respectively took to Twitter with similar messages around the same time.
Shortly after the nomination reveal, Pompeo took to Twitter with some seriously due praise, wrapped up in a sweet congratulatory message for her former costar, and enduring real-life friend. "Congratulations @IamSandraOh this is beyond well deserved and your history making is incredibly moving," Pompeo tweeted, before adding that she "can't wait" to hear Oh's Emmys speech, which, she wrote, "will have us in tears and laughing at the same time I'm sure."
If Oh's initial reaction to her Emmy nomination earlier this summer is any indication, it sounds like Pompeo might've been onto something with that last comment. (Like Oh told ET, this cast really knows her.) Responding to the news of her nomination, Oh shared the following statement with Bustle:
"I feel tremendous gratitude and joy with this nomination. I am thrilled for Phoebe Waller Bridge's nomination and for the entire cast/crew of 'Killing Eve'. I share this moment with my community."
Of course, in classic fashion for the equal-parts brilliant and sharp-witted actor, Oh ended the statement on a comedic note. "PS. I think my mother at this moment may actually be satisfied," she finished. Given the magnitude of Oh's achievement — not to mention what it could mean for Asian representation and pop culture at large — it seems like "satisfaction" doesn't really begin to cover it.
And, after parsing through her recent comments to ET, it sounds like Oh is, for obvious reasons, very much aware of the nomination's unique import. "I'm ecstatic about it," she said. Then, echoing the sentiments expressed in her reaction statement, Oh continued, saying, "I do have complete awareness for what this might mean for our community and I'm happy to represent."
So, even if Oh doesn't get to deliver that acceptance speech at Monday night's Emmy Awards, it sort of feels like she's already won. And, beyond the nomination's major win for representation and the TV industry, it also seems pretty safe to say that, as far as Oh's former Grey's costars are concerned, she'll always be the winner in their book.