Sarah Jessica Parker Is Bringing Back Your 2000s Side Bangs & Carrie Bradshaw Would Approve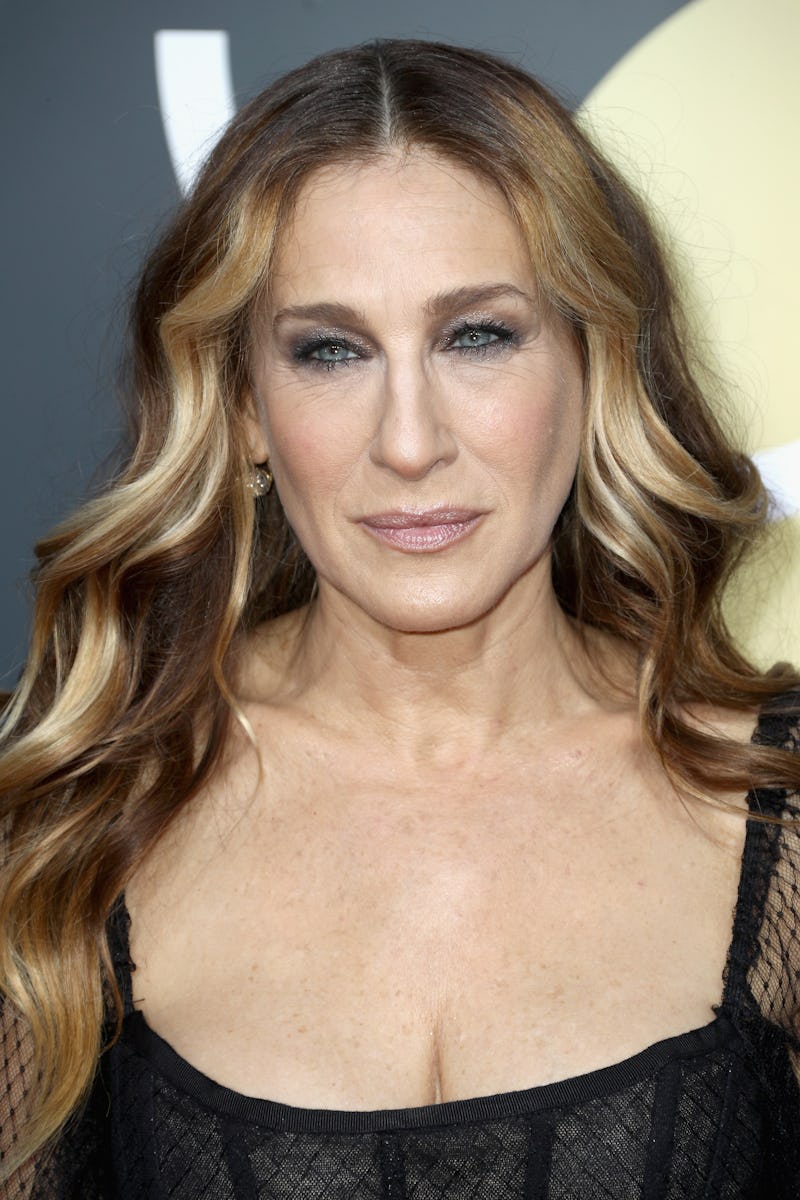 Frederick M. Brown/Getty Images Entertainment/Getty Images
There may not be a more iconic television role than Carrie Bradshaw. From her style to her strength to her love life, she darling of the late '90s and early '00s. Now, Sarah Jessica Parker's new bangs are channeling Bradshaw in the best way by bringing back those '00s bangs that you always wanted.
Parker has been a bit of a hair chameleon for a while now. She's had blonde locks, brunette tresses, short styles, embraced curly hair, and now she's switching it up again. Basically, she's the Carrie Bradshaw of hair which seems appropriate given that several of her many change-ups have happened on the show and in the follow-up movies. Remember that chocolate brown moment from the Sexy and the City movie? Or her classic beginning of the series curls? Iconic, right?
Now, she's bringing back the side bang. From Hilary Duff to Lindsay Lohan, it seemed as though every star in the early 2000s was rocking a side swept look framing their faces. While the ultra-dramatic emo bangs of yesteryear have fade, SJP's new haircut proves that some styles can be brought back in a modern way.
Appearing on Jimmy Fallon's The Tonight Show and walking the streets of New York, Parker showcased the new 'do, and it's totally fab.
Now, these aren't the thick, heavily side-parted bangs of your high school or middle school days. They're much more modern with some wispiness worked in and pieces of the new bangs blending seamlessly into Park's long, multi-dimensional blonde locks.
If you're wondering if the look is real, it certainly seems to be. While bangs are definitely a style that's fairly simple to fake, Parker took to her Instagram account to showcase a formerly mystery haircut. While she didn't reveal much at the time, when she made her appearance on Jimmy Fallon's show, everyone knew where those cut tresses had come from.
While Parker's hair switch-up isn't the most dramatic, it's certainly noticeable, and sometimes you just need a little bit of a refresh.
Of course, Parker isn't the only celebrity trying bangs these days. Her just happen to be different.
While side swept bangs look great on the Divorce star, other celebrities seem to be opting for baby bangs. What are those? They're bangs cut slightly short so that fall in the middle of the forehead instead of the bottom. Basically, if you've got good brow game, it's the perfect style choice.
American Horror Story actor Emma Roberts debuted baby bangs during the Critics Choice Awards where her partner Evan Peters was nominated. Roberts' style, however, seems to have only been temporary based on follow-up images on her social media pages where the baby bangs are no where to be seen.
Roberts isn't the only Emma to try the style lately. Emma Watson rocked a modified baby bang at the 2018 Golden Globe Awards. The cut looks almost like a mix between SJP's side swept look and Robert's blunt bang. It's certainly more relaxed that Watson's more severe style.
Then, of course, there's Ariana Grande's ultra-wispy style. This baby bang is certainly the least noticeable of the recent stars who have tried the trend, but it's there nonetheless. Honestly, it looks amazing on Grande.
While Sarah Jessica Parker's new bangs are definitely not the big move toward baby bangs, they're completely chic. While side bangs may seem like a relic of your low-rise jean wearing yesterdays, Parker is proving that styles can be updated and still look fresh.