Selena Gomez's Mom Addressed The Rumors About Their Relationship — And She Didn't Hold Back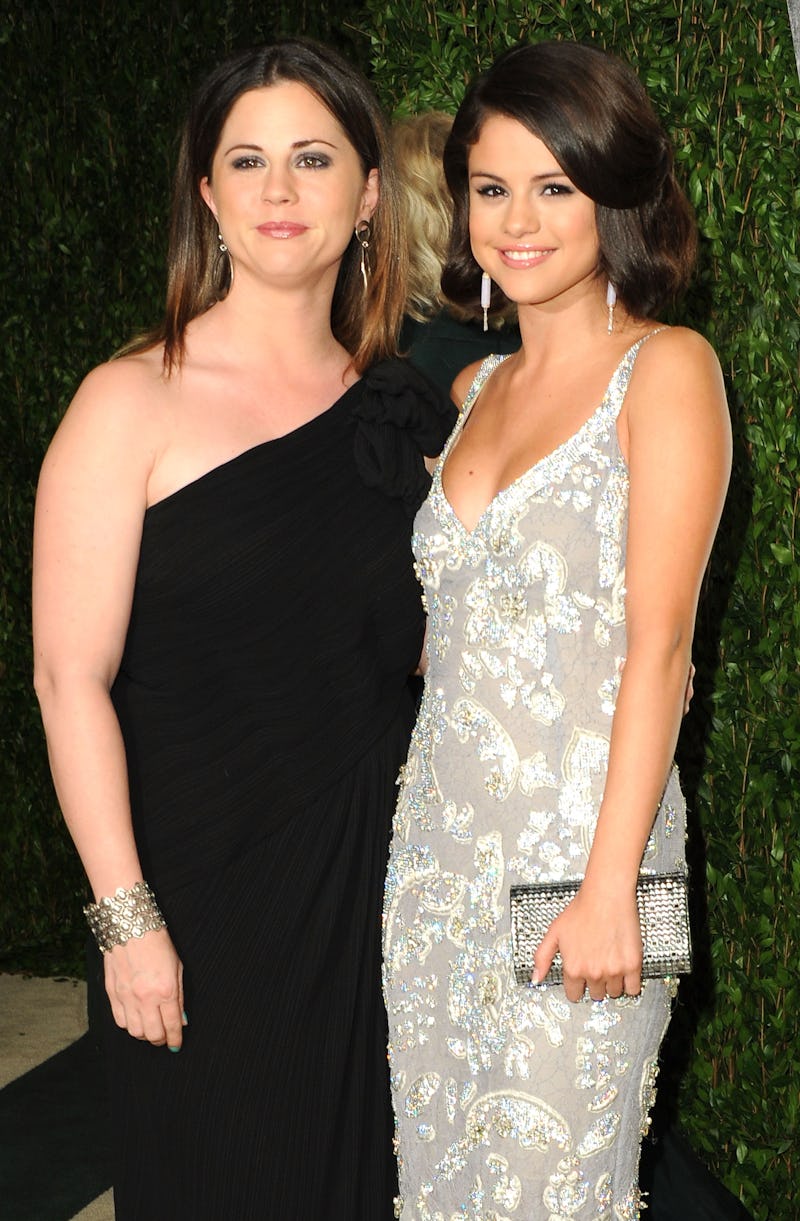 Pascal Le Segretain/Getty Images Entertainment/Getty Images
Attention, haters: Do not come for Mandy Teefey unless she calls for you. On Jan. 16, Selena Gomez's mom, Mandy Teefey, responded to recent rumors in an emotional Facebook post and, whew — there is a lot to unpack. After stirring up Selenators with her comments about Gomez's decision to work with Woody Allen, some fans speculated that Teefey and her daughter might be at odds. Teffey's lengthy Facebook statement — which she said will be her "LAST and ONLY comment in regards to media/comments" — addressed that rumor head-on, and provided additional insight into her struggle with the media, the importance of family, and her decision to speak out about her daughter's life. (Bustle reached out to Gomez for comment on her mother's post, but did not receive a response at the time of publication.)
Over the last few months, various outlets have weighed in on Gomez's relationship with her mother. Some outlets, including People and TMZ, cited Gomez's recent reconciliation with longtime love Justin Bieber as a source of drama. Teefey, for her part, didn't comment on these reports until a December statement to Gossip Cop quoted her as saying that she "wasn't happy" that Bieber and Gomez were back together, and that she hadn't spoken to her daughter's on-again beau in "years." According to Teefey's Facebook post, however, she didn't do an "interview" with Gossip Cop, but "shared more than not true in my debunk."
"I did not do a interview with Gossip Cop," Teefey wrote, "but I do confirm or deny certain stories. I was drug through the mud for the entire month of December in the media and did not say a word. I was asked about the breath test [In Touch reported that Teefey told Gomez she'd be OK with her dating Bieber if her daughter took "random Breathalyzer tests" to prove her sobriety] and I shared more than not true in my debunk because I am tired of being accused of things that were not true and the lies coming from the people around Selena being put in the press and in her head."
Teefey then went on to address her previous comment in regards to Gomez working with Allen, which Teefey said she made "because they were attacking her team and telling me to make her apologize." In 2014, TMZ reported that Gomez fired her mother and father from her management team, but some fans seemingly still expect Teefey to weigh-in on her daughter's decisions — both professionally and personally.
"I am a mom first," Teefey wrote in defense of her Allen comment. "But, I am also my own person. [Gomez] does not have to apologize for her choices, but let it be known they are hers. I don't need to be told how to raise my child, handle my family matters or be slammed for having my own opinion. I do not play for fandom, I speak my truth."
For her part, Gomez has not yet spoke out about her mom's post or her comment about her daughter working with Allen, but People did report that Gomez made an anonymous donation to Time's Up greater than her salary on Allen's movie, A Rainy Day In New York. (Bustle also reached out to Gomez's rep about this report, but did not receive a response.) Previously, Gomez's co-stars Timothée Chalamet and Rebecca Hall announced they would be donating their salaries from the film.
At the end of her post, Teefey spoke some really relatable truths about growing up, and ultimately shed a lot of light on her relationship with her daughter. "I taught Selena to be a strong woman, but as everyone in their 20s she is finding herself," she wrote. "My daughter is loving, trusting, naive, funny, hard working, sensitive, emotional and will be a great mother. But, I will never not speak my mind if I feel something is off until I die. I will always be her mother. If she hasn't muttered anger about me than I have not done my job as a mother."
Sometimes, it's easy to forget that celebrities go through a lot of the same growing pains as the rest of us. Who among us has not struggled to find themselves throughout their 20s (or at any age, honestly)? Who among us has not muttered anger about their mother because she questioned your decisions? It happens. A lot. Gomez and her mother may be struggling to see eye-to-eye, but hopefully they'll be able to work it all out. For now, though, Teefey's post makes it clear that she'll always have her daughter's back.