Um, Selena Gomez's New Video Includes A Bieber Lookalike You Need To See To Believe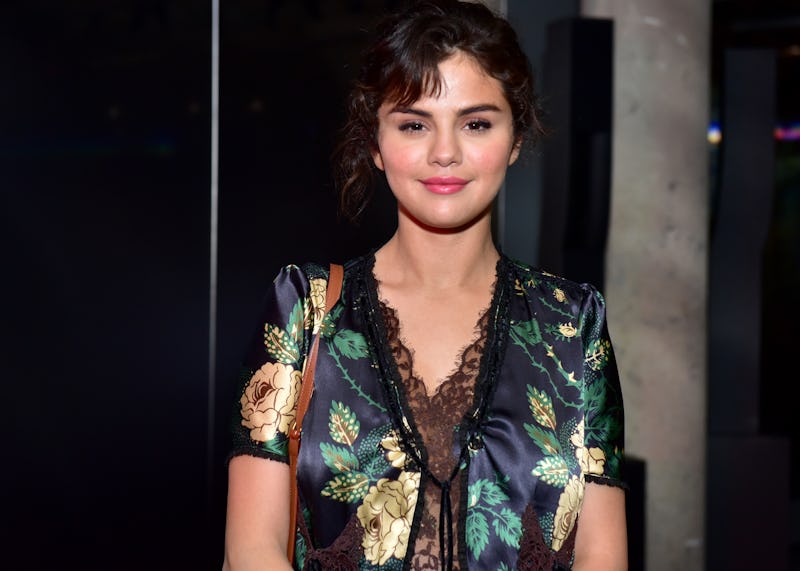 Sean Zanni/Getty Images Entertainment/Getty Images
After seven months without any new music, Selena Gomez is back with a new video "Back To You." While some have guessed Gomez's new track is about Justin Bieber — and seriously, this video is exhibit A for anyone who wants to make that case — it's also a song from the new season of 13 Reasons Why, of which Gomez is an executive producer. And it will definitely have you counting down the days until May 18, when Season 2 premieres.
Knowing just what her fans want, Gomez dropped a video for "Back To You" that might remind you of Taylor Swift's "Delicate" video. In a good way, of course. Gomez's video, which debuted on Spotify, is a vertical clip that has her taking fans behind the scenes of the official video for "Back To You." (You can find it in the Teen Party playlist on Spotify.) The video also includes a guy that looks a whole lot like Bieber. Coincidence? Probably not. Just look at that sweeping hair that will remind you of a younger Biebs, who was just a baby singing "Baby" at the bowling alley. While on the subject of hair, Gomez's chin-length bob is a serious look, right?
A week before dropping her new single, Gomez was teasing "Back To You" lyrics that had some wondering if the song was for a certain on-again off-again love. "I wanna hold you when I'm not supposed to," she wrote on Instagram, only to add days later, "You're stuck in my head and I can't get you out of it." That Insta post also included the handwritten message, "If I could do it again...." After all, Gomez knows best that the heart wants what it wants.
For her first song of 2018, which debuted on Beats 1 Radio and Spotify on Thursday, Gomez is singing about a guy who got away. And yes, listening to the lyrics of "Back To You" it's hard not to think about Bieber. Like, the lines, "And what's the point in hiding / And everybody knows we got unfinished business," feels like a response to them trying to quietly reconnect after her breakup with The Weeknd, whose latest album references Gomez and Bieber.
Currently, Jelena are reportedly off again, according to E! News, who recently reported that she's "moved on" and is "feeling strong." "She respects him as a person but has decided she is much happier doing her own thing," a source told E! News. "Selena rarely even talks about Justin anymore, and is fully open to dating."
But Vogue hopes that the song is Gomez's way of trying to reconnect with the Biebs, who she's been dating since they were both teens. Fans seems to agree with this assessment that it could be a not-so-secret message to Bieber that she's willing to work out their relationship, which her mom Mandy Teefey was reportedly not a fan of. Especially, when Gomez is throwing off lines like, "It's just a thing you make me do / And I could fight, but what's the use / I know I'd go back to you."
While fans will undoubtedly be trying to decode every line of the song, they'll also be left wondering how "Back To You" fits into this new season of 13 Reasons Why. But, right off the bat, Gomez's use of Polaroids in a 13 Reason Why inspired lyric video is certainly on theme.
In Season 2, the tapes are done, but Polaroids have launched a new mystery for Clay, Jessica, and the others affected by Hannah's death. The theme of this season is recovery, but from the looks of the latest 13 Reasons Why trailer, it won't be easy. There are many at Liberty High who are looking to find justice for Hannah, but it seems as if she's not the only one who needs it this time around.
Gomez's new track might be a tease for the new season of 13 Reasons Why, but it's really giving Beliebers hope that these two could end up back together for good. Either way, Selena's fans are just happy she's back dropping bops that will once again heat up the summer.