Taylor Swift Dropped Another "Delicate" Video & Its Minimalism Is So Sweet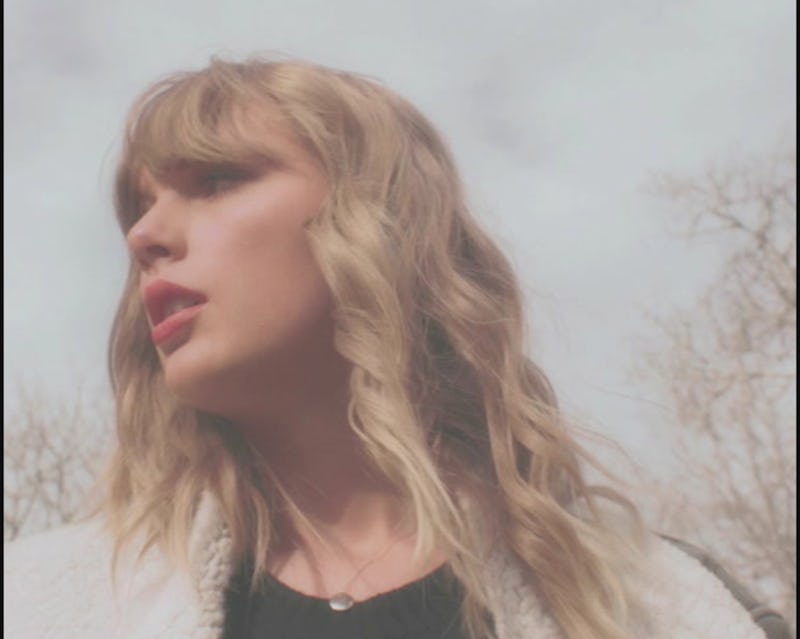 Spotify
Back in November, Taylor Swift dropped a new album. Since then, she's rolled out five music videos from Reputation tracks. And a little bit after midnight on Friday, March 30, Swift released a new "Delicate" video, but guess what? It's not the first time. Less than three weeks ago, Swift premiered the "Delicate" video during the iHeartRadio Music Awards. Deciding to change things up, she released a second video on Spotify. Prior to the video's premiere, Spotify revealed in a press release that Swift's latest footage was filmed all in one take and that it "captures 'Delicate' in an entirely different way."
When Swift first announced the second coming of "Delicate," fans had understandably divided reactions. Some wanted other tracks to get their moment in the spotlight, while a few thought the track was so good, it deserved all the promotion it can get. Others even speculated whether it was tied to the backlash surrounding Swift's first "Delicate" video, where the singer was accused of copying Kenzo's 2016 perfume ad. Fans on Twitter pointed out similarities between portions of the videos. (Swift and her reps have not publicly commented on that backlash.)
Suffice to say, a new video is a new video — and naturally, fans were hyped regardless that they'd be getting new content from Swift. But what exactly would Swift's latest video entail? You can take it all in for yourself below.
In the new video, the camera never strays from Swift, who sings "Delicate" while walking around in the woods. With clouds in the sky, she spins around at one point with the camera and then makes a kissy face at it towards the very end. The minimalism of the video, needless to say, will make you listen to the song in a whole new way. In this video, the song seems to be more about her boyfriend Joe Alwyn.
As you may recall, in the first video, Swift appears fed up with certain aspects of the spotlight. While on a red carpet, she's handed a magical envelope that then makes her invisible. It's when she's invisible that she has the opportunity to break free of people's expectations and dance like no one's watching (literally, actually).
The singer lets out a whole range of dance moves, first traipsing through a hotel, on top of the desk at the hotel, and then right out into the rainy streets. The first "Delicate" vid reflected a newfound confidence and freedom for Swift, who had spent time out of the spotlight before dropping her album last fall. And some eagle-eyed fans even picked up on "Delicate" Easter eggs, including Swift appearing to spell her boyfriend's name with some of her over-the-top dance moves. (When you watch, it does appear to be a sort of modern "YMCA" spelling out "J-O-E.")
The nod to her boyfriend isn't all that surprising, since lyrics from the track ("My reputation's never been worse, so you must like me for me") appear to apply to their relationship.
As for this latest video, you already know that it's only a matter of time before fans watch (and rewatch) it to find a whole new slew of references that may not be intentional, but definitely seem to work. Or in the very least, it gives them something to stay occupied 'til Swift's Reputation tour kicks off.
On Instagram, the singer has been promoting the upcoming tour, which kicks off in May. In February, Swift shared a behind-the-scenes photo from what she called "Repu-hearsals."
Basically, between the upcoming tour and her multiple music videos, there's plenty of Reputation goodness to keep fans busy. And based on their excited tweets, you know they're "ready for it."