'Sense8's Cancellation Means A Loss Of Representation For Queer Trans Women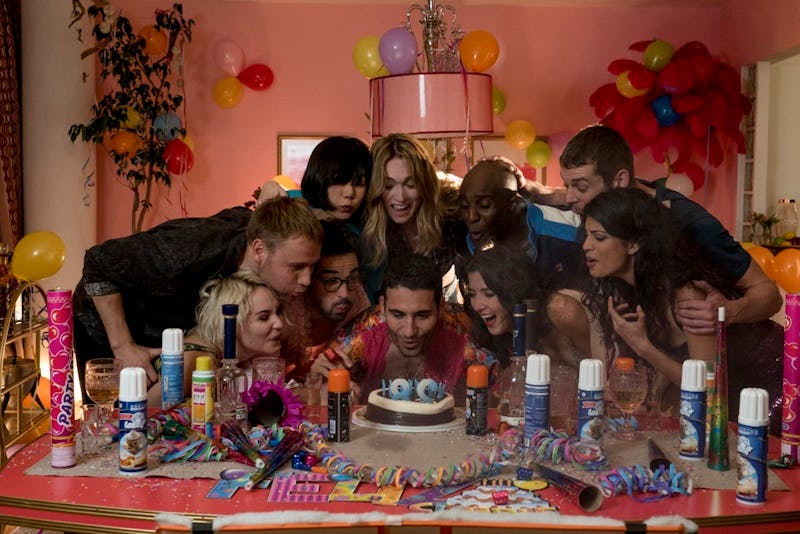 Courtesy of Netflix
If you haven't yet heard the news, Netflix has decided to cancel its groundbreaking scifi series Sense8 after just two seasons. The show, which focuses on eight individuals from across the world who share a deep psychic bond, has earned repeated kudos for its focus on inclusivity and its genuine, deeply emotional portrayals of LGBTQ characters. Though both the show and its creators have faced some (often quite deserved) criticisms, the loss of Sense8 is a significant blow for LGBTQ representation in visual media, and a leave a giant Nomi-shaped hole in the representation of queer trans women.
If you aren't familiar, one of the protagonists is a young queer trans woman named Nomi Marks (portrayed by actual trans woman Jamie Clayton). She's successful, smart, pretty, and she has a supportive, loving partner, Amanita Caplan (played by Freema Agyeman). As a queer trans woman, seeing Nomi was really one of the first times I ever felt one of the first times I've ever really felt myself represented in a mainstream television, the first time I've really connected with a character from TV in that deep existential way that so many of my friends have described over the years. Nomi's character is so real, and such a genuine representation of the experiences of actual trans women that I lost count of the number of times I cried during the first season, and I cried all over again when I heard that we won't be getting a season three.
...seeing Nomi was really one of the first times I ever felt one of the first times I've ever really felt myself represented in a mainstream television...
In an era when trans people are struggling so much to be seen as actual people, it feels like a double-blow to be losing on the few truly genuine trans characters we have.
We've heard several times over the last few years about the supposed "Transgender Tipping Point" that was supposed to usher in a new era of acceptance and positive visibility for trans people in the United States. With black trans woman Laverne Cox portraying an actual black trans character on Netflix's breakout hit Orange Is The New Black, people were hopeful for a growing body of work representing authentic trans experiences, with actual trans people in front (and hopefully behind) the camera. Unfortunately, other than Sense8, we just haven't gotten much of that. Jill Soloway has earned lots of acclaim for her Amazon show Transparent, but that series keeps firmly to the well-trodden path of focusing on the spectacle and drama of a trans woman transitioning, and stars a cisgender man — Jeffrey Tambour — as its central trans character. This fall we had reason to hope, with Cox starring in a new courtroom drama called Doubt, which also featured trans novelist Imogen Binnie in the writer's room. Unfortunately, that show only lasted two episodes before it was cancelled. Sense8 has really continued to carry the torch for trans representation.
What makes Sense8 so good is that it pulls from all the experiences of being trans that so rarely get much discussion, and because Nomi is allowed to be a whole, three-dimensional person who exists outside of her transness alone. Too often, trans characters, particularly trans women, are reduced to a few simple tropes the continue to capture the fascination of the wider cisgender audience. Oh, and we're almost never portrayed by actual trans people.
Sense8 dodged all the cliches of transformation, and we get to see actually-trans Nomi in her post-transition life. We're never forced to endure an awkward flashback to satisfy the before-and-after curiosities that plague trans folks; we never get the cliched scenes of her applying makeup or shaving her her legs.
Instead, we see her battling with her mother who doesn't accept her identity. We see her being abused by medical professionals. We see her navigating friendships with people who knew her before she transitioned. We get to see her in a loving, affectionate romantic relationship with another queer woman. We see her going to Pride with her girlfriend. We see her having sex with girlfriend in a way that actually looks like how someone like me has sex!
It might seem like a strange thing to harp on, but the sensuality of Nomi's character is deeply important. Culturally, trans women have been allowed to function in essentially only two sexual roles — we are either objects of fetishistic lust, often as sex workers, or we are completely asexual and completely unworthy of attraction of affection. In neither case are we ever portrayed as worthy of genuine romantic love. This is where Nomi and Amanita's relationship breaks so so much wonderfully new ground. These two women clearly love each other. They share a home and a life together. They are physically and verbally affectionate with one another. They support each other, fight for each other, and save each other. And when they have sex, it's loving and sensual and it actually looks like two queer women making love.
It's the first time I've ever gotten to see a trans woman being the hero of her own story.
The other all-too-common aspect of trans women's characters that Nomi up-ends is that she is neither a villain nor a victim. Two of the most common portrayals of trans characters in visual media are of the hypersexualized, deceptive seductress seeking to lure unsuspecting men to undermining their heterosexuality, or they the tragic victims of murder and sexual violence (often because some man feared she might that deceptive seductress). Instead, Nomi is smart and capable, strong and independent. She gets to save the day several times throughout the show. Even when things look dark, she fights and she overcomes the adversity to keep fighting. It's the first time I've ever gotten to see a trans woman being the hero of her own story.
Lastly, and just as importantly, Sense8 manages to portray far too commonly ignored in television and films: the complex interactions between the various camps of the LGBTQ community, and the ultimate commonality that we share with one another. One of the most striking seasons in season one involves a confrontation between Nomi and a lesbian "feminist" who objects to Nomi's presence in queer women's spaces. Any trans woman will tell you how common this kind of interaction is, and the attacks on trans women and their by certain camps of "radical feminism" are well-documented and have been a point of friction in the community for decades.
The other scene that really plays on the inter-community connectedness is a quiet conversation in the Diego Rivera Museum between Nomi and Leto, a gay Latinx man who has been struggling with remaining in the closet to preserve his acting career. The two share a deeply moving moment discussing the violence that comes with being gay and/or trans, particularly the struggles with internalized homophobia and transphobia, highlighting their connection not through their sci-fi-enabled psychologically connection, but between their shared history through the LGBT community. It is a scene unlike anything we have ever had the opportunity to see on television before, and with the loss of Sense8, it could be a long time before we see again.
It seems particularly cruel that Netflix decided to pull the plug on its queerest show on the first day of Pride Month, and with the rising pitch of antagonism against transgender rights throughout the country, it's deeply disappointing to be losing a huge opportunity for people to see a real trans woman portrayed as an actual human being, instead of a terrifying peeping bathroom monster. At a time when only about one third of American say that they know at least one trans person, television and film remain one of the few ways that the wider public is exposed to trans people and our experiences. I'd have much preferred they learn something about us from Nomi than have to listen to anything more that Caitlyn Jenner has to say.
While there are many of us who will be mourning Sense8 in the weeks to come, independent media is working hard to continue to bring trans narratives to life. Last year, a short series from creators Jen Richards and Laura Zak called Her Story made a tremendous splash and earned wide critical acclaim with its authentic, complex trans woman-focused narrative. The series earned an Emmy nomination, a GLAAD Media Award, and Peabody Award, and is actively seeking out an outlet for a full season run. Netflix, are you listening?