Serena Williams' Latest IG Photo Shows Exactly Where Her Focus Is After The U.S. Open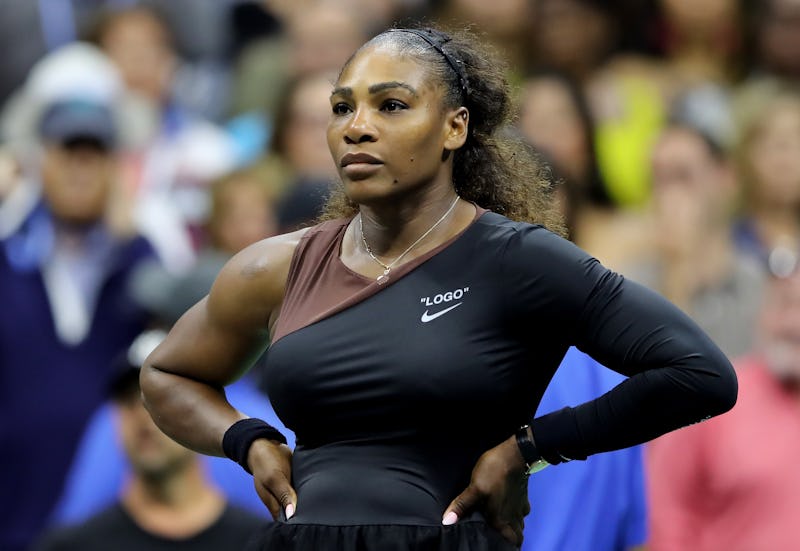 Elsa/Getty Images Sport/Getty Images
The 2018 U.S. Open Women's Finals didn't quite go as anyone expected. There's been a lot of discussion and controversy surrounding the match, which crowned Naomi Osaka the winner on Sept. 8. As for her opponent, this Serena Williams post-U.S. Open photo with Olympia seems to show exactly where the tennis star's head is currently after not only losing the tournament, but after everything that occurred between Williams and chair umpire Carlos Ramos.
On Monday, the 23 Grand Slam singles title holder posted an Instagram with her 1-year-old, Alexis Olympia Ohanian Jr. The mother and daughter are simply sitting in a chair together with a Moana blanket draped over them. Williams isn't staring at the camera, unlike Olympia, who is looking directly at whomever is taking their picture.
Williams didn't caption the image, so her actual thoughts and intentions remain unclear. However, based on comments from fans, they view the Instagram as the athlete's way of rising above the negativity and focusing on what's important to her — family. Spending time with her loved ones, including her daughter and her husband, Alexis Ohanian, is probably what Williams needs the most right now.
As one Instagram user posted, "And this is more than enough at this moment." Another person wrote, "This is what you called unbothered." Someone else deciphered the photo as follows: "The only thing that is important." Among the many comments, another follower wrote, "unbothered queen." Finally, someone else posted, "All is right in your world."
According to People, on Sept. 9, Williams also did an Instagram Live featuring Olympia and Ohanian. During the live video, People reported Williams said to her daughter, "Sweetie, where you get those shoes from? Them shoes cute, girl." She definitely appears to be in good spirits around her family.
During the U.S. Open finals, Williams accused Ramos of sexism after he cited her for multiple code violations, including alleging her coach was sending her signals from the stands and after she broke her tennis racket. As reported by The New York Times, Williams even called Ramos a "thief" for taking a point away from her. As a result, Ramos issued her a third code violation and a game penalty.
During the game, The Times reported Williams said to Ramos, "There are men out here that do a lot worse, but because I'm a woman, because I'm a woman, you're going to take this away from me? That is not right."
She also said to Ramos (via Slate),
I don't cheat. You owe me an apology. You owe me an apology. I have never cheated in my life. I have a daughter and I stand [for] what's right for her, and I've never cheated, and you owe me an apology.
During a post-game press conference, The Guardian reported that Williams stood by her accusations of Ramos being sexist. "I've seen other men call other umpires several things," she said. "I'm here fighting for women's rights and for women's equality and for all kinds of stuff. For me to say 'thief' and for him to take a game, it made me feel like it was a sexist remark."
On Sept. 9, the Associated Press also reported Williams would be fined $17,000 for her code violations. (Bustle previously reached out for comment from Ramos, and an International Tennis Federation spokesperson wrote in an email statement that chair umpires "don't comment on their matches.")
However Williams may or may not be feeling at this moment, she certainly seems to be finding comfort in family, but especially her daughter.