Shawn Mendes FINALLY Addressed Hailey Baldwin & Justin Bieber's Engagement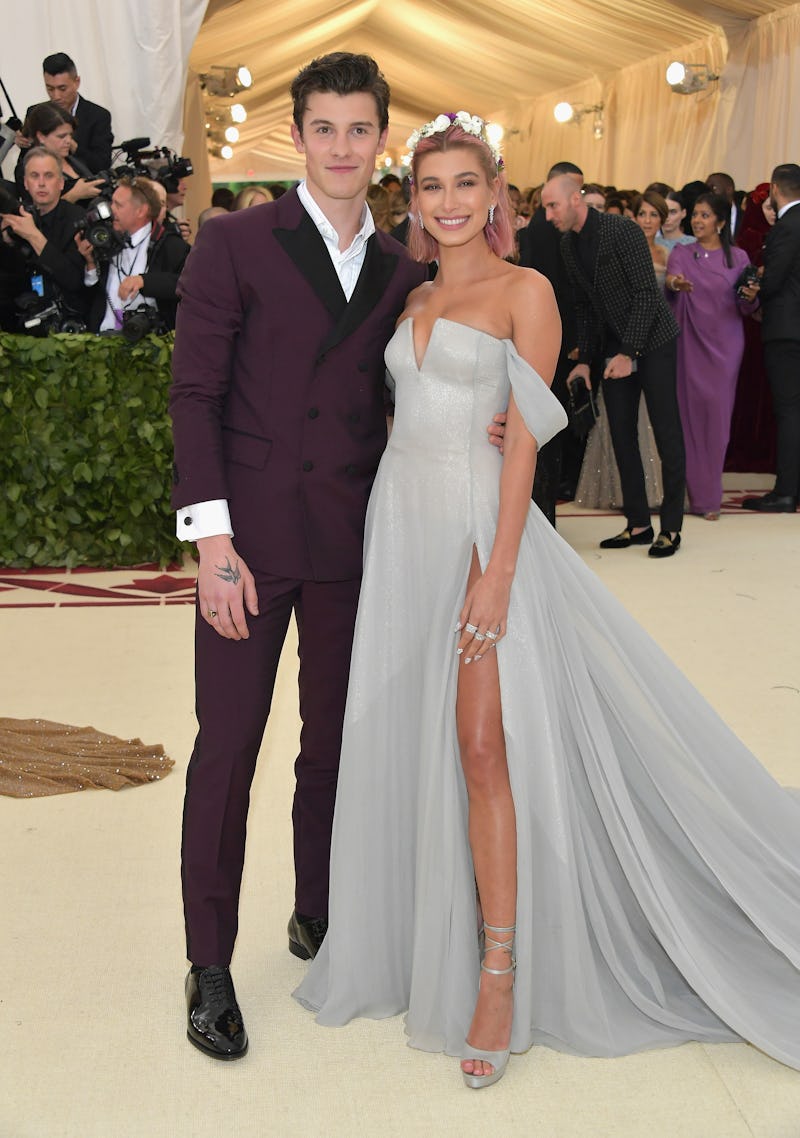 Neilson Barnard/Getty Images Entertainment/Getty Images
Following rumors of their own romantic involvement earlier this year, Shawn Mendes commented on Hailey Baldwin's engagement to Justin Bieber, proving that, above all else, the pair still remain friends, according to People. While neither Mendes nor Baldwin have ever actually confirmed being in a relationship, their close friendship has often led many to wonder if the pair have ever had romantic ties. Despite that notion, however, Mendes reveals that he actually congratulated Baldwin shortly after the engagement news made headlines earlier this month. Per Daily Mail, Mendes spoke with the Australian show The Project and explained, "I texted Hailey the day of, and I said congrats. That's what it is. I think everybody wants there to be more — there's not."
This past June, Us Weekly pointed out that Mendes also discussed Baldwin's then-rumored relationship with Bieber. During the chat he explained,
"I think that's awesome. I love them both. They're both really awesome people. When I first started out, everybody was like, 'Oh, how do you feel about being compared to Justin?' I was like, 'What do you mean, how do I feel?' That's the best thing anyone could say to me. He's the man."
Mendes and Baldwin were linked as recently as this past May, attending the Met Gala red carpet arm in arm. However, both have maintained that they've never been more than friends.
Mendes spoke of the outing during an interview with E! News on May 25. After revealing, once and for all, that he was single, Mendes shared:
"The Met Ball was such an incredible experience for me. It was just overwhelming in the most incredible way. I was so lucky for my first time going there to be able to go with someone like Hailey because she's such a vet."
In a separate interview with People, Mendes clarified that the moment was in no way intended to signify a relationship reveal. He explained, "No, we were not making our big debut. We were both asked to walk by Tommy Hilfiger." Baldwin also spoke highly of Mendes while hosting the iHeartRadio Music Awards back in March, telling People: "He's amazing, and I think that his music is also amazing." The outlet also indicated that Baldwin allegedly deleted photos of her Met Gala outing with Mendes from Instagram when she started dating Bieber again.
Rumors about Mendes and Baldwin's involvement first began in November 2017 when the pair were spotted together at Baldwin and Kylie Jenner's co-hosted Halloween party, according to People. A source told the outlet, "He had his arm around Hailey and stayed by her side all night." A relationship timeline from Seventeen reveals that they continued to grow closer after that evening.
Despite Baldwin's romance with Bieber feeling like a bit of a whirlwind, their relationship actually goes back further than many may realize. Baldwin and Bieber have been close since 2015 with TMZ noting that the pair have been "inseparable" for at least a month leading up to their surprising engagement which is though to have occurred sometime around July 7.
After much speculation, Bieber took to Instagram to confirm the news on Monday, July 9. Sharing two black-and-white photos of the pair together, he wrote:
"Was gonna wait a while to say anything but word travels fast, listen plain and simple Hailey I am soooo in love with everything about you! So committed to spending my life getting to know every single part of you loving you patiently and kindLY."
The "Sorry" singer's post comes just a few months after he and on and off again bae, Selena Gomez called things off back in March of this year.
Things appear to be shaping up nicely for Baldwin and Bieber with the news that Mendes' blessing has officially been bestowed upon them. Amongst other buzz surrounding their impending nuptials is talk that the couple also has begun selecting members of their wedding party. In a recent interview with Us Weekly, Baldwin's aunt Kim Basinger revealed: "Alaia (Baldwin's sister) and Ireland (Baldwin's cousin and Basinger's daughter), they're in the wedding."
It seems that Mendes has nothing but love for both Baldwin and Bieber as he, along with the rest of the world, patiently awaits more news about their highly-anticipated wedding.