7 Signs You May Be Staying In A Relationship For The Wrong Reasons, According To Experts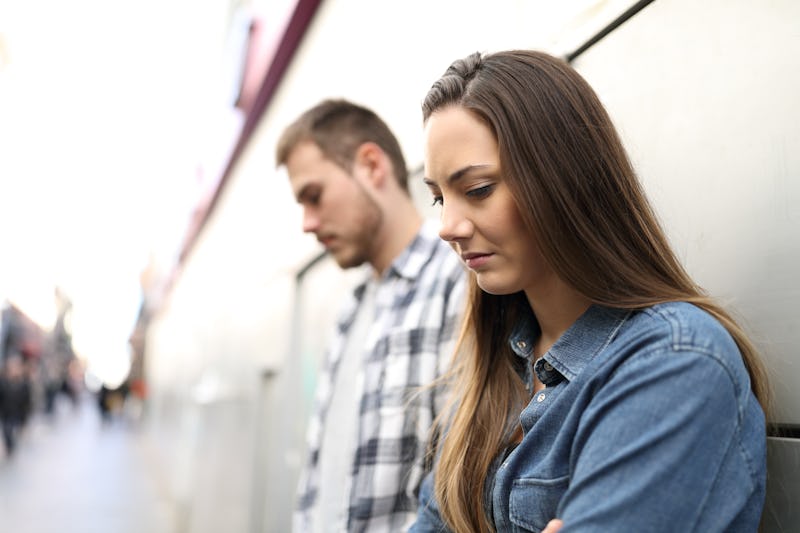 Shutterstock
When things get bad in your relationship, you can either choose to stick it out or leave. While it's important to fight for a relationship you really care about, it's equally important to recognize when you're forcing things to work. If you're no longer happy but are choosing to stay, it's important to be honest with yourself about why you're really sticking around. Because if you're staying in a relationship for the wrong reasons, experts say you may be better off breaking up.
"A big reason why people stay in relationships is because they're afraid of starting over," Michelle Henderson, LMHC, relationship expert and owner of Next Chapter Counseling, tells Bustle.
It's scary to think about what will happen next, especially if you've been together for a while or you're living together. It's even harder if you're married. Going through a divorce isn't easy. But as Henderson says, the fear of the unknown is not a good enough reason to stay in a relationship that's no longer working.
"It's right to stay in a relationship with someone if you're noticing steady improvement," she says. "Things may have been bad at one point in time, but if you're starting to see a light at the end of the tunnel that gives you hope, it can be worth it to stay and keep trying."
But if these are the only things keeping you together, experts say it may be in your best interest to break up.