SmartGlamour's T-Shirt Collection Celebrates Queer Identities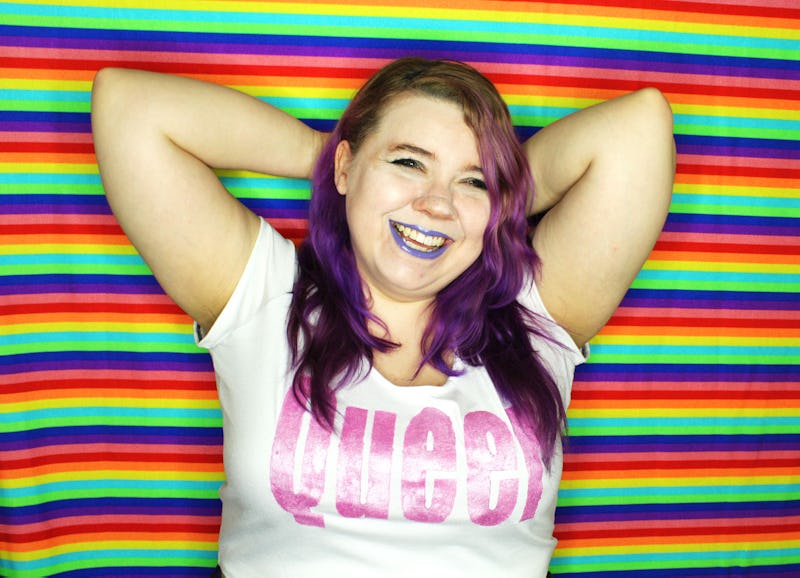 SmartGlamour
Inclusive brand SmartGlamour has spent 2017 putting the spotlight on marginalized groups, including people of color, people size 24 and up, and trans and femme folks. Now SmartGlamour is showing up for Pride Month with a 10-piece, fully customizable T-shirt collection that celebrates queer identities.
SmartGlamour founder and designer Mallorie Dunn tells Bustle she crowdsourced the 10 featured phrases — which include "Proud," "Femme," and "They/Them" — as well as the 10 LGBTQ+ charities to which the brand will be donating a portion of the shirts' sales.
Customers can not only choose the size (SmartGlamour offers standard sizes XS to 6X, but Dunn hand-makes each piece and can produce any size), color, and phrase for their T-shirts, but can also choose the charity their proceeds will go to. Charities include Trinity Place Shelter, the Sylvia Rivera Law Project, and the Queer Detainee Empowerment Project.
"It's important to do a Pride collection for us, because highlighting and supporting marginalized groups is hugely important to me personally, and also to SmartGlamour," Dunn says. "While I do not personally identify as LGBTQ+, the majority of my close friends do. But even if that were not the case, SmartGlamour was created from the idea of uplifting marginalized groups and changing the fashion industry from the inside out, on so many levels."
Part of SmartGlamour's commitment to changing the industry includes hiring diverse models; this collection's photoshoot solely featured LGBTQ-identified models, and each model chose a phrase that resonated with them. Bear Spiegel, a genderfluid, pansexual nonbinary person, chose "They/Them."
"I have been working with Mallorie as a model for SmartGlamour for a year now," Spiegel tells Bustle. "From the very beginning, I was seen as a valid model even with my trans body. I've worked on several projects with SmartGlamour, but this one has easily meant the most to me. I was being highlighted as a nonbinary model without it feeling like tokenism. So often I feel that I am brought into the room purely for 'gender diversity.' But Mallorie doesn't play like that, with anyone. Everyone is there because we deserve to be there, not to make her or SmartGlamour look good."
Fellow model Ashley Dennis tells Bustle, "[SmartGlamour] shoots and sets have always provided safe spaces of glamorous exploration. I've met SO many beautiful humans and continue to through work with SmartGlamour."
Dennis adds, "My wardrobe ONLY consists of monotones and I am normally very serious, yet at this shoot I was able to complement the 'Ashley' that doesn't get out often while representing for my LGBTQ+ family. [...] To have the opportunity to model in a Pride-specific shoot gave me a special kind of personal pride celebration."
The Pride T-shirts, which are a redesign of SmartGlamour's Spring 2017 Amelia graphic tee, are only available throughout June, but the brand's activism will continue. Dunn says she has plans for more installments of SmartGlamour's #AllMeansAll campaign, including a photoshoot with disabled models and one with models over the age of 45.
In our current boycott-happy political climate, many brands shy away from making "controversial" statements like, "Queer people deserve basic human rights." But when brands like SmartGlamour step up and support groups who often struggle to see any positive representation of themselves in the industry, it goes beyond making a political statement. For some, seeing this kind of genuine activism can be life-saving.
You can shop the full collection here.