Apparently The 'GOT' Season 8 Scripts Literally Self-Destruct, So Good Luck Finding Leaks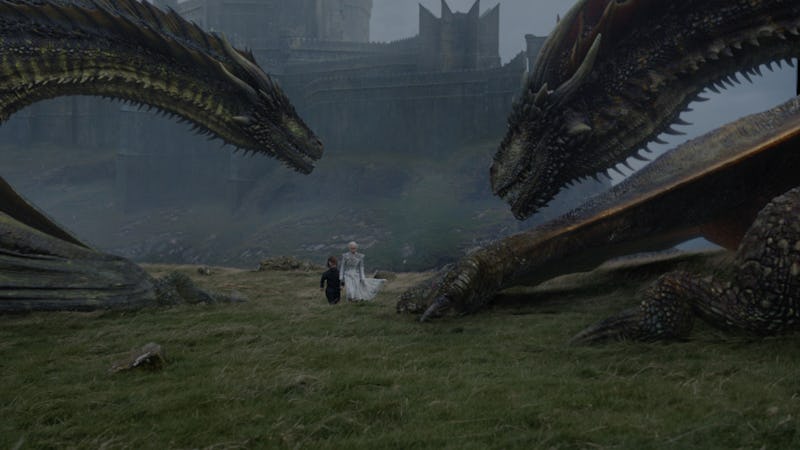 HBO
Game of Thrones Season 8 won't arrive until 2019. With a massive global fanbase and a sizable gap between seasons, one would think the series would be highly susceptible to leaks. And if it weren't on HBO, perhaps it would be. It turns out that the Game of Thrones Season 8 cast scripts literally self-destruct the moment the actors finish shooting a scene, based on recent reports. Apparently they don't get to see it, reread it, reshoot it, or take it home for practice. So, uh, no pressure — they just really have to get the scenes right, and right on schedule.
Nikolaj Coster-Waldau, who's played Ser Jaime Lannister since Season 1, revealed in an interview at Cannes that the self-destructing GoT scripts are extremely real. Here's how he described the experience of shooting with protected, digital-only lines:
"We actually get the scripts and we shoot the scene,. We only have it digitally, and when you've done the scene it just vanishes. It's like 'Mission: Impossible' — 'This will self-destruct.'"
That is some magical warlocks of Qarth nonsense. It's also extremely HBO. How else could they protect the integrity of Game of Thrones Season 8? It's not enough that they're reportedly shooting multiple endings. Of course, they have evaporating scripts to work from, too. Was Coster-Waldau even allowed to reveal that much? It's like the series is taking its privacy cues from notoriously secretive Taylor Swift. Actually, that's not a bad idea.
Yes, producing self-destructing scripts for one abbreviated season of an HBO show sounds over-the-top on the surface. But considering the rest of the precautions the series is taking — and likely should have before — it's just the natural evolution of HBO's protective measures. Especially now that the show has so surpassed the books, no one actually knows what's coming. It's impossible to spoil, because the show runners just wrote it. Maybe A Song of Ice and Fire series author George R. R. Martin knows what David Benioff and D. B. Weiss have planned, but it's not like he's so quick to reveal stuff to fans these days. He's also reportedly busy with an animated adaptation of YA book The Ice Dragon, and not even writing the next entry in the Game of Thrones saga.
It also sounds like Coster-Waldau was genuinely shocked by the disappearing scripts, which is kind of hilarious. Just picture the first time he encountered that function: Let's say the actors nailed the scene, and then maybe he wanted to revisit the script one last time to make sure he felt good about it. But poof! Script no more. Gone. Disappeared. Self-destructed right in front of him, as a baffled actor tries to process what just happened. Is it too much to hope that there's a funny sound effect involved? Please, let that be in a web exclusive, or part of an "After The Thrones" bit.
So, what do fans know about Game of Thrones Season 8? Not much, other than the cast is genuinely amazed by how intense the protections have gotten. Actors Joe Dempsie and Hannah Murray (Gendry and Gilly, respectively) have completed their filming, and former GoT actor Natalie Dormer recently revealed to Bustle that she's pretty sure she knows how it all ends. That's just about it, though.
Sure, it's been rumored that Jason Momoa (Khal Drogo, sigh) has been spotted hanging around on set. And yes, it's essentially confirmed that the show is filming as many as eight unique endings, which is a lot of work for a little misdirection. But really, without source material — and now, without even a hint of scripts to peek at — it's impossible to know where the series will take viewers for Season 8. Right now, just knowing the series is temporarily pausing filming so everyone can attend Kit Harington and Rose Leslie's wedding feels like a scandalous amount of information. Much like Winter, though, Season 8 is coming. It's the final countdown.