These Fiery Photos Of Sophie Turner In 'X-Men: Dark Phoenix' Will Make Fans Even More Excited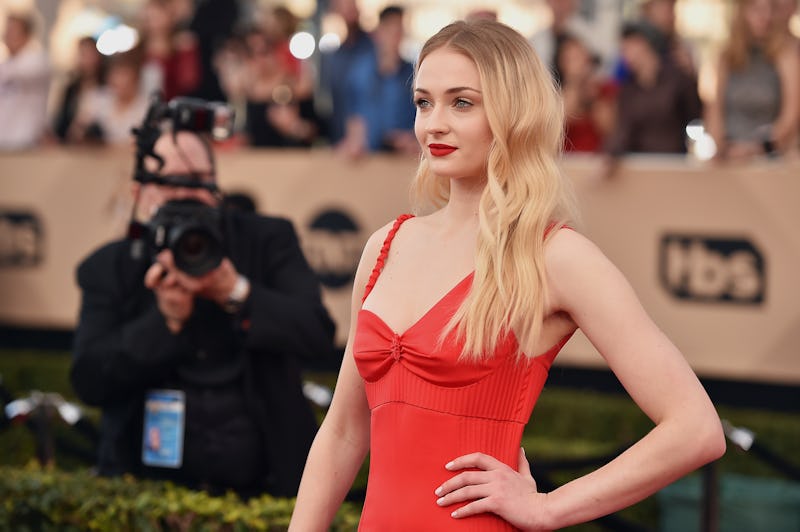 Alberto E. Rodriguez/Getty Images Entertainment/Getty Images
Even if Game of Thrones fans might not get new episodes until 2019, at least 2018 will be the year for the Stark sisters to shine. The first X-Men: Dark Phoenix photos of Sophie Turner have been revealed, and she is absolutely on fire as Jean Grey. Turner's onscreen Game of Thrones sister, Maisie Williams, plays a role in X-Men: Mutants, which will also be released in 2018. The two likely won't cross over, but that OK; these fiery shots of Turner's character coming into her own are enough to sustain fans for a while.
The intense new photos emphasize the effect of solar rays within the film. They also help explain the lengthy post-production time on Dark Phoenix, as the filmmakers wanted to perfect the visuals on the first X-Men film to be set in space, according to EW. By the way, Dark Phoenix is set in space. Also, Jessica Chastain and Jennifer Lawrence are both in it too, and they look fierce.
Post-production on X-Men: Dark Phoenix will last a year, reportedly to accommodate the setting and Turner's numerous transformations. If these exclusive Entertainment Weekly photos are any indication, Jean Grey is most certainly about to be a mutant on fire. And she'll rise from the ashes, too.
The concept art that appeared in Entertainment Weekly speaks to Turner's starring role in her new film. X-Men: Dark Phoenix is the fourth movie in the series kickstarted by X-Men: First Class. (The events of Dark Phoenix take place nearly a decade after X-Men: Apocalypse, which is why only some fan favorites are able to return for the sequel.) The film, set in 1992, will closely follow the events of the "Dark Phoenix Saga" in the X-Men comic books.
Without giving too much away, or losing any casual moviegoers, here's a brief synopsis of that storyline: Jean Grey (Turner, Famke Janssen in the original trilogy) is returning from a mission to space when she's exposed to a solar flare. The burst of radiation maxes out her telekinetic and telepathic abilities. Her powers intensify, and she returns to Earth as "The Phoenix." Director Simon Kinberg told Entertainment Weekly,
"What appears to the world to be another heroic victory by the X-Men in saving stranded people in space we realize is the the thing that begins the unraveling of Jean and the unraveling of secrets Charles told her."
Navigating the dual role was a challenge for Turner, who told EW she studied the ways mental differences manifest themselves to best portray the turmoil within Jean. Jean is both herself and the mighty Phoenix — a personality that may have always be within her, but that Charles Xavier (James McAvoy) helped repress — and her unlocked power makes both sides of her incredibly unstable. The chief antagonist of the film is played by Chastain, an "otherwordly shapeshifter who manipulates Phoenix for her own agenda." Oh, yes.
Longtime fans of Turner's work in Game of Thrones should look forward to her work in Dark Phoenix. The newly empowered Sansa Stark showed off her steely side in Season 7, and that acting ability will serve her well in the X-Men sequel. "[In] so many scenes I have to go from broken-down Jean," Turner explained to EW, "[Which is] when she's most susceptible to Phoenix infiltrating her, to this confident, arrogant, judgmental character within milliseconds." She's battling half of her personality while trying to restrain her own powers, and coming to terms with the fact that Charles might not be helping her as much as he says.
The success of Dark Phoenix will rest heavily on Turner's capable shoulders. Jean Grey is basically operating at full mutant capacity, but can't restrain it or control herself. Turner will have to channel rage, frustration, confusion, anger, and more, as she portrays not only Jean Grey, but the Phoenix, and a villainous Dark Phoenix as well. Brace yourselves: X-Men: Dark Phoenix is coming.