Reese Witherspoon's New Book Club Pick Is A "Stay Up All Night To Read" Book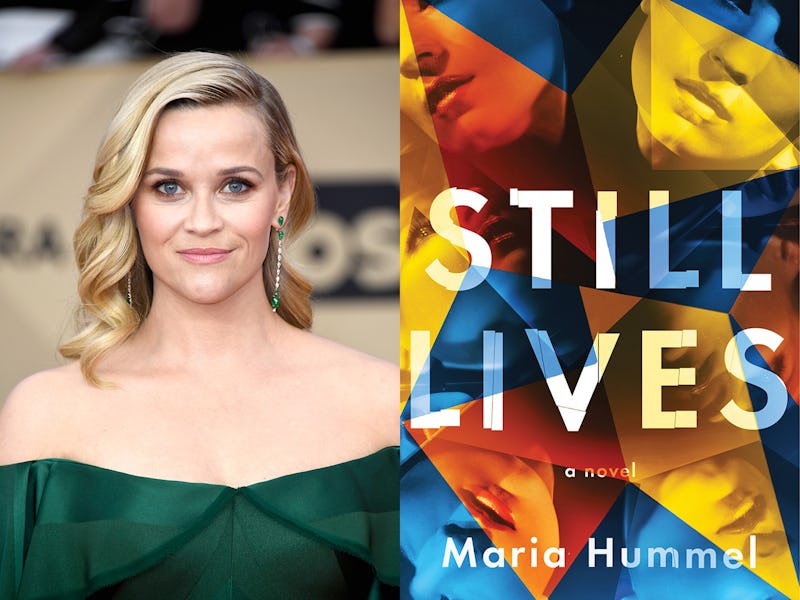 Frazer Harrison/Getty Images Entertainment/Getty Images
I hope you're ready to transition from beach reads to creepy suspense novels, because Reese Witherspoon's new book club pick is a dark, feminist thriller, and you're not going to want to miss it. Maria Hummel's Still Lives revolves around the disappearance of an L.A. artist on the eve of her gala opening.
Still Lives' missing woman is Kim Lord, the artist behind the eponymous museum exhibition, which depicts infamously murdered women to draw attention to our fascination with brutalized, female figures. The novel's protagonist, Maggie, hates both the artist and her subject matter; Kim is the woman her longtime boyfriend, Greg, left her to shack up with. But when Greg becomes the prime suspect in Kim's disappearance, Maggie throws herself into the investigation.
In a review of the novel, Bustle writer Sadie Trombetta called Still Lives "...a gripping and entertaining mystery, and a biting cultural critique that seeks to understand our obsession with the violent deaths of beautiful women."
Trombetta wrote:
"As Maggie explains in the novel, 'I suppose we knew what was coming with Still Lives — it would expose us, it would expose most women's oppressive anxiety about our ultimate vulnerability, a fear both rational and irrational, like the fear of the footsteps behind you at night, magnified a hundred times.'
Reading Still Lives is like being frozen in that feeling of fear, like being stuck in that moment right before the mysterious stranger lurches out from the darkened alley to grab you."
The new novel from Wilderness Run author Hummel is the fourth thriller Witherspoon has picked for Reese's Book Club x Hello Sunshine since its inception in June 2017. Predating Still Lives are Catherine Steadman's Something in the Water (June 2018), Liv Constantine's The Last Mrs. Parrish (December 2017), and Ruth Ware's The Lying Game (August 2017). In her blurb, Witherspoon called Still Lives "the ultimate mystery," assuring her audience that its "suspense will keep you up all night!"
Like all Reese's Book Club x Hello Sunshine selections, Still Lives has an Audible version available for readers who want to enjoy the book on their commutes or in the gym. Tavia Gilbert narrates the audiobook version of Still Lives. Gilbert's reading of Be Frank with Me by Julia Claiborne Johnson won the 2017 Audie Award for Best Female Narrator. She is the narrator responsible for more than 500 audiobooks, including The Scent of Rain and Lightning by Nancy Pickard and Glop by Bustle editor Gaby Moss.
Although there's no word yet on whether or not Witherspoon plans to bring Still Lives to life on screen, her fans know that it would fit in nicely with the rest of her repertoire. The woman responsible for giving us a miniseries version of Big Little Lies, Witherspoon is currently working on a number of page-to-screen projects, including Truly Madly Guilty by Liane Moriarty, Luckiest Girl Alive by Jessica Knoll, All Is Not Forgotten by Wendy Walker, Second Life by S.J. Watson, In a Dark, Dark Wood by Ruth Ware, and Something in the Water by Catherine Steadman.