'Stranger Things' Is Getting Even "Bigger" In S2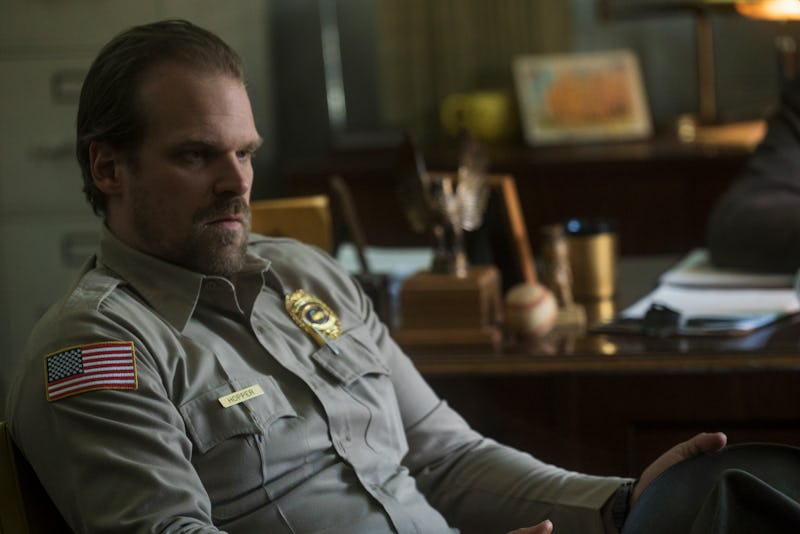 Curtis Baker/Netflix
David Harbour earned headlines for his impassioned, political speech while accepting the SAG Award on for the Stranger Things cast last month; and fans should be equally excited to hear what he has to say now. According to Harbour, Stranger Things Season 2 will be even bigger than the first — but that begs the question of what exactly the actor means by "bigger," anyway.
The man who plays inquisitive Hawkins police chief Jim Hopper recently spoke with Bustle on the red carpet of the Writers Guild Awards about the upcoming season. "I can just say that it's bigger, and yet it still maintains that same intimacy of story," he says. "And it's really exciting. Like, I didn't think we'd be able to top Season 1, and when I read the first script of Season 2, I was like, wow — we got an opportunity here. So if we don't f*ck up our end of the equation, it'll be great."
Given how the brilliant first season of the sci-fi Netflix series immediately and fully captured the public imagination when it premiered last summer, I don't think many fans are worried that Harbour and his fellow cast members are going to "f*ck up" too much. Of course, there's always some concern when a property tries to one-up itself by getting "bigger" in its second installment. But if creators Matt and Ross Duffer hew closely to the popular '80s franchises that were clearly their inspiration (The Empire Strikes Back, Back To The Future Part II, Aliens), then they should be able to build on the success of Season 1 while giving their fans an even wilder ride — while maintaining the emotional resonance that made the show so popular in the first place.
So in what way is Season 2 of Stranger Things going to be "bigger," as Harbour claimed? Well, for starters, it will quite literally be larger given that the show's episode order was increased. Clearly a sign of good faith from Netflix after its buzzy inaugural season, Stranger Things — which consisted of eight chapters last year — will now have nine episodes in Season 2, premiering on Halloween. We even already know their titles, thanks to the announcement video released back in August, which range from killer '80s references ("Madmax") to holiday-appropriate settings ("The Pumpkin Patch") and ominous-sounding creatures (could "The Pollywog" be our new demogorgon?).
But there are other ways Season 2 will be bigger, as well. It will introduce even more characters outside our core friend group and their families, including a young tomboy named Max, her older brother Tommy, and a mysterious thirtysomething woman named Roman. (Some Season 1 supporting players, including Will and Steve, have also been upped to series regulars in Season 2.)
There's also the possibility that the fictional world of Stranger Things itself could be getting bigger in Season 2 — both our dimension and the Upside Down. It would be great to see the characters' investigations take them outside Hawkins, Indiana, so we can see how vast the Hawkins Laboratory conspiracy extends. Surely this one small town isn't the only place a hole has been ripped between dimensions; are there other portals, and other people out there who have grappled with the demogorgon?
Speaking of the fearsome, petal-headed monster from Season 1, it's almost a certainty that its home dimension will have to explored as we learn more about what's happening to Will and as his friends and family seek a way to save him from whatever kind of transformation he's undergoing. So far the show has only tiptoed into the Upside Down; surely a full-scale spelunking is called for in Season 2? We already know we'll be meeting even bigger, scarier monsters — thanks to that tantalizing glimpse of a giant tentacled beast in the Season 2 teaser.
While we wait for concrete answers about Stranger Things Season 2, there is at least one thing about the show we know for a fact will be bigger in the next batch of episodes: Eleven's hair.
You can dive headfirst into the expanded world of Stranger Things when Season 2 premieres on Netflix this Halloween.
Additional reporting by Jamie Primeau.