This New Performance By 'Stranger Things' Star Finn Wolfhard's Band Will Rock Your World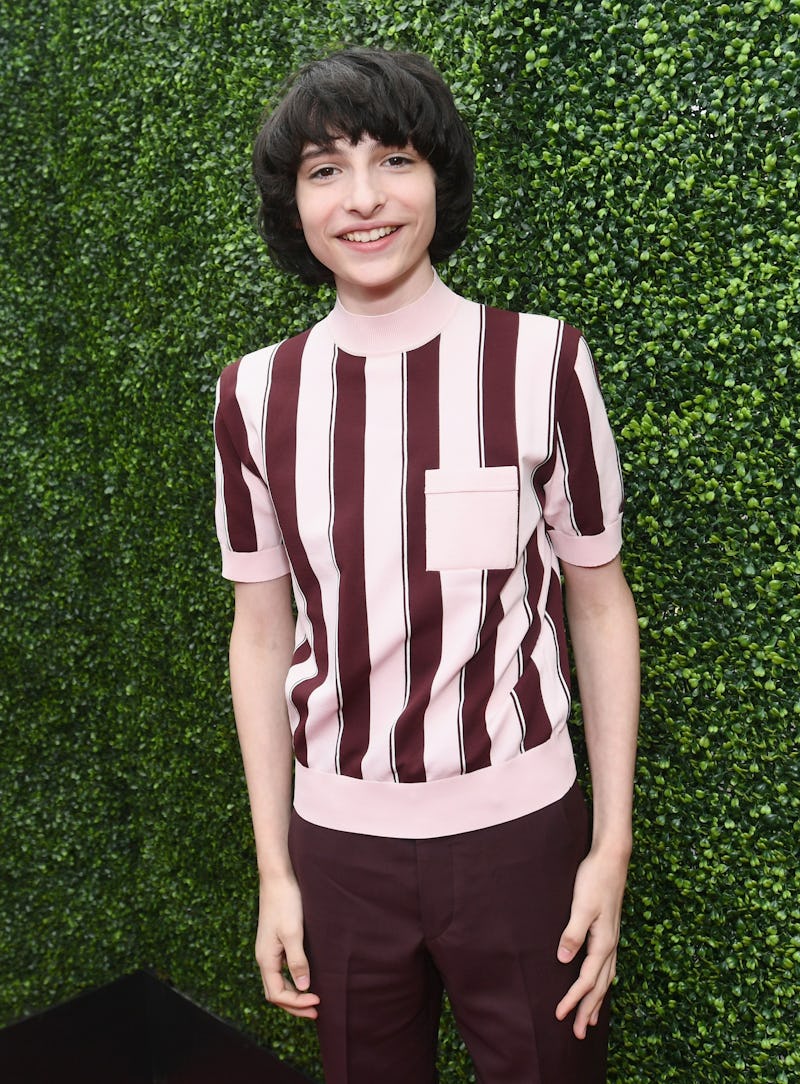 Emma McIntyre/Getty Images Entertainment/Getty Images
Last night, Jimmy Kimmel Live! got a little stranger that usual. That's because Stranger Things star Finn Wolfhard performed with his band Calpurnia on the show on Monday night. When Wolfhard isn't trying to save Hawkins, Indiana from the Demogorgon, he's just a teenager trying to save rock and roll with a few of his friends. Turns out, the artist sometimes known as Mike Wheeler is pretty good.
On Monday night's episode, Wolfhard along with his three bandmates — drummer Malcolm Craig, guitarist Ayla Tesler-Mabe and bassist Jack Anderson — performed their single "City Boy" off their debut EP, Scout, which dropped last month. The band packs in the teenage angst with this bittersweet love song that has frontman Wolfhard singing about his city girl who dates the "city tool," while he continues to just be a "city fool." That pubescent cracking of Wolfhard's voice only adds to the charm of the track, which should definitely be turned up all the way to Eleven.
Of course, Calpurnia is known for its Stranger Things star, but let's not ignore the unsung guitar hero of this band. That would be Tesler-Mabe, who got to show off her moves live with a guitar that features her name on it — fans won't be forgetting it any time soon. Yes, it's time to bow down to this young woman who makes performing in front of a live studio audience look easy when anyone who played for the school band in high school knows it's anything but.
Just like the show he appears on, Wolfhard's band is a bit of a nostalgia trip. Think slacker '90s indie rock, like Pavement or current reincarnations like Kurt Vile and Mac DeMarco. In fact, Wofhard used to cover DeMarco on Twitter and is now friends with him. They even performed together last year, the video of which was share by his onscreen sister Natalia Dyer.
Wolfhard admitted to NME that the people that love Calpurnia also tend to love Stranger Things, which "is not a big deal at all," he said. "They're super loyal and incredible, and really do like the music. It's the people who aren't fans of the music and are just there because of Stranger Things that really bother me." Hopefully, that will stop soon, or at least those Stranger Things fans will have other bands to go see.
The Netflix series is a hotbed for young musicians. Joe Keery, better known as everyone's favorite mom Steve, is in a band called Post Animal that sounds a bit like Tame Impala, according to Vulture. Charlie Heaton, who plays Jonathan Byers, used to be in a band called Comanechi. And Gaten Matarazzo is currently in a band with his sister called Work In Progress that plays covers. If that wasn't enough, Millie Bobby Brown has been known to dabble in singing on YouTube showing off her skills with covers of Beyoncé, Nicki Minaj and Adele.
For those who want to see Wolfhard's band live, don't worry, they're hitting the road in upcoming weeks making stops in Boston, San Francisco and Chicago for Riot Fest. As for when you can see him on Stranger Things, Season 3 is slated for next year and maybe, just maybe, could feature a musical performance from some of its cast.