Jaclyn Hill Just Shared Swatches Of Her New Palette & This Is Not A Drill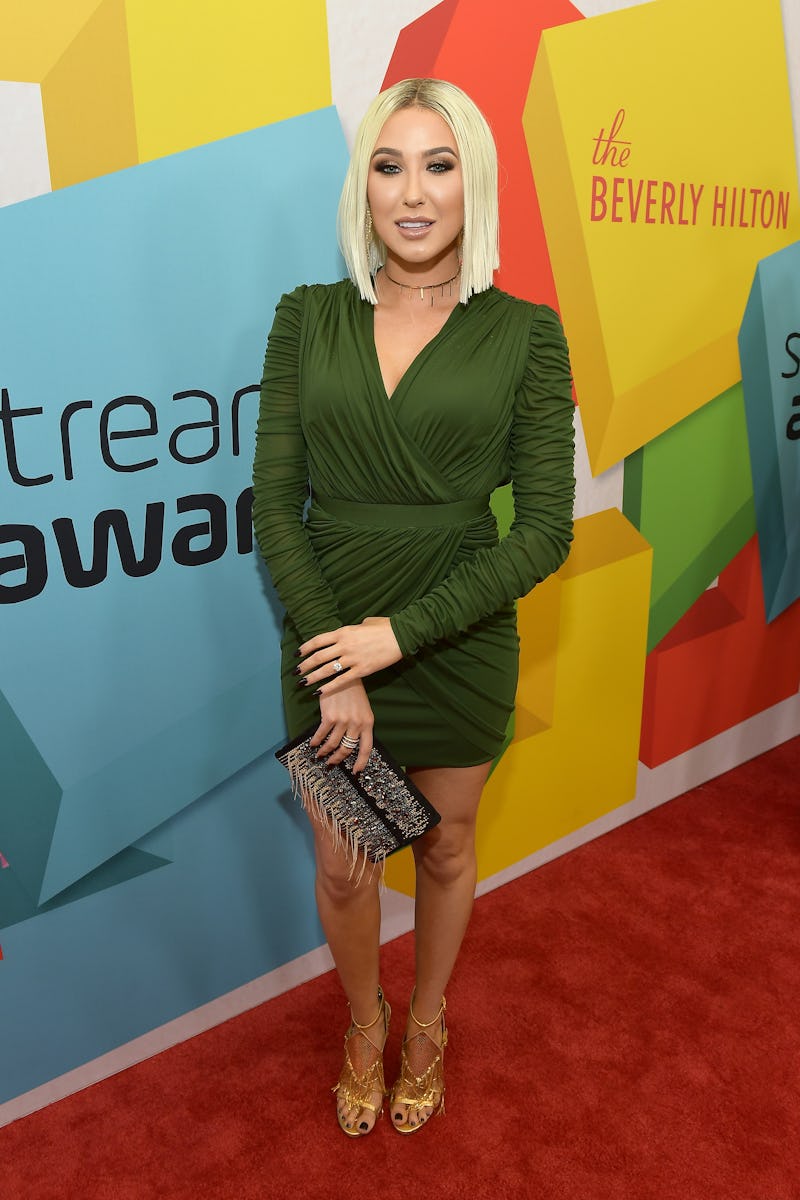 Matt Winkelmeyer/Getty Images Entertainment/Getty Images
Jaclyn Hill fans may be just some of the most dedicated on the internet, and the guru's latest tweet proves that they're longing for what's coming from the ultra-popular makeup artist. What is coming? A new Jaclyn Hill Cosmetics palette may be on its way, and it seems as if these new shades are all Hill's own. Fans, cue your excited screams.
On Tuesday, Hill took to all of her social media channels to post a video of an arm full of super opaque eyeshadow swatches. While the video is in black and white and doesn't give many hints in terms of color, these beauties look pigmented AF. As for texture, Hill seems to have created a mix of mattes and shimmers and potentially some metallics. Pigmented shadows in diverse textures? Would you expect anything less from the ultra-well known guru? Not only has she surpassed 5 million subscribers on YouTube but she's also sold over 1 million Jaclyn Hill x Morphe palettes and collaborated not once but twice with mega-brand BECCA Cosmetics. Hill is making moves, and this is just her latest.
While there is always a chance that the tease is a new collaboration with affordable makeup purveyor Morphe or another brand, Hill has been teasing her own cosmetics company for years. Given that her Jaclyn Hill x Morphe palette is a permanent member of the brand's collection, it seems unlikely that they'd add a second given that the first is still massively popular. These shades seem like they're actually from Jaclyn Hill Cosmetics.
How are Hill's fans reacting to the tease? Well, for starters, as of press time, the tweet has only been up for an hour, and it's already garnered over 8,000 likes. Who says the Kardashians are the queens of social media?
The one consensus about the video among her fans? It doesn't matter if the shadows are a collab or from Jaclyn Hill Cosmetics. They're all in no matter what.
In fact, there may be actual shouts of excitement happening in the beauty world right now.
Some fans are shocked (but still excited) about the announcement due to Hill's recent break from social media and YouTube. Now, though, she's returned, and apparently, she's coming back with a vengeance.
Overall, however, fans do seem to want the palette to be from her own brand.
If it's not, though, there's still a new Jaclyn Hill product on the way, so everyone still wins.
The news, however, may not be that shocking for diehard Hill fans. While basically every Hillster knows about Jaclyn Hill Cosmetics (and may even know that she's teased lipsticks in the past), some may have missed a hint she gave in a YouTube video a few months back.
Hill posted a tutorial on her glowy foundation routine, but she didn't mention anything related to eyeshadow at the time. How did she give the hint? Turns out, it was in her description box the entire time. If you scroll down to see what Hill is wearing on her eyes, she wrote, "The Jaclyn Hill Palette & other things I'm working on ;)" Looks like this Jaclyn Hill Cosmetics palette may have been in the works since as early as January of this year.
That wasn't Hill's only tease, either. A few months ago, she posted a gorgeous sunset smoky eye on her Instagram page and when detailing the makeup she used, once again hinted that the makeup used on her eyes was coming soon.
While details may be sparing at this point, one thing is clear. New Jaclyn Hill eyeshadows are coming, and based on these swatches, they look like they're made from the pigment of your dreams. Keep your eyes peeled to Hill's social media because more is probably on it way from the guru, and honestly, it can't come soon enough.