Taylor Swift's "Look What You Made Me Do" Wasn't Nominated For A 2018 Grammy & Fans Are NOT Having It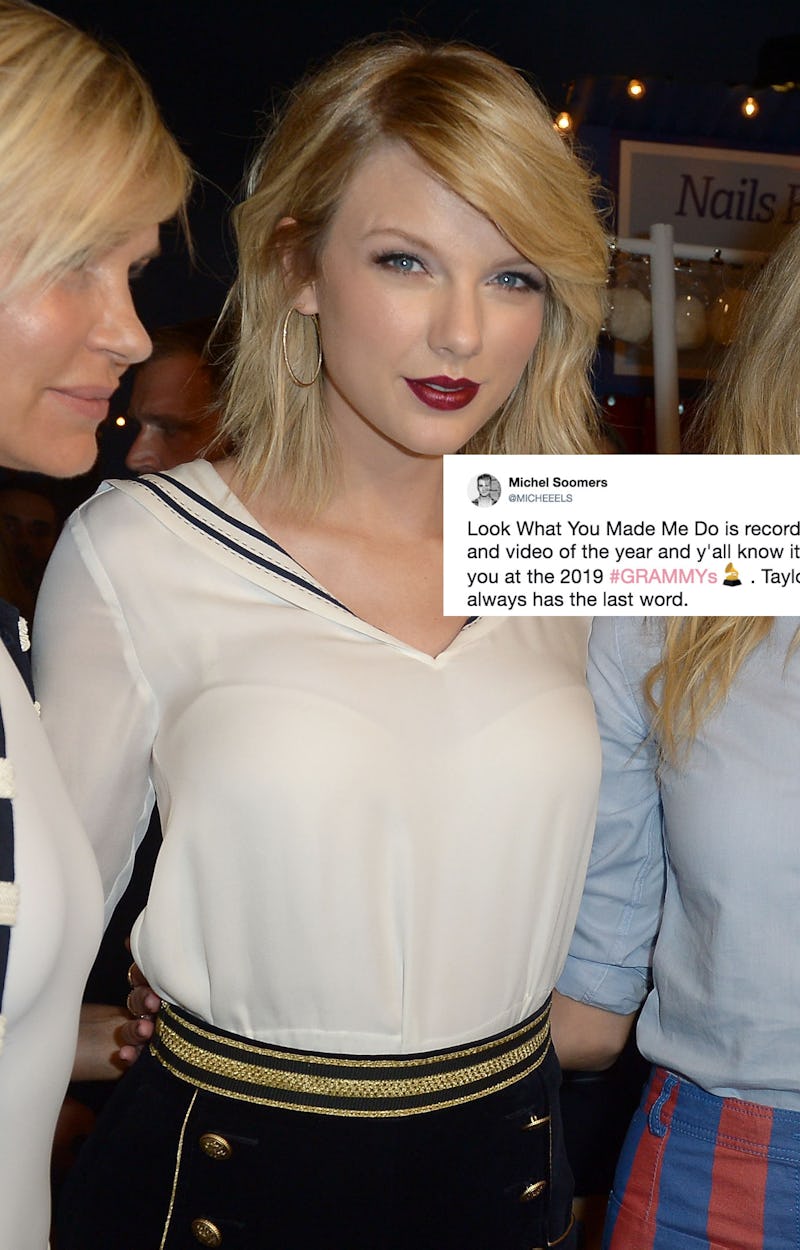 Getty Images/Bustle
Swifties aren't as happy as they could be on the morning that the 2018 Grammys nominations list was released. You see, though Swift was nominated for a Grammy for "I Don't Wanna Live Forever," the Fifty Shades Darker song she did with Zayn Malik of One Direction, and technically for Big Little Town's "Better Man," which she wrote, that's far from the only music that she put out within the Grammys eligibility period — and fans are angry she didn't get credit for that. So, while Swift's 2018 Grammys snub isn't really much of a snub, it's still enough to make fans a little upset that "Look What You Made Me Do," the single and video released in August before the end of the eligibility period in September, was passed over this time around.
Of course, just as many fans are celebrating the fact that Swift may not go home empty-handed at all. But Swifties also believe that the singer deserves to be recognized at the award ceremony on her own merit, and that "Look What You Made Me Do" marked a strong start to her Reputation era. The video famously poked fun at the many stereotypes of her over the years, not to mention her own squad and her feud with Kimye. For those reasons, that "Look What You Made Me Do" made it into none of the major categories, let alone the minor was, is pretty surprising.
So, with that in mind, maybe these fans are justified in their belief that Swift was ultimately snubbed.
1. The Sad Tea
Swift's crying face is essentially perfect for any sad tea. After all, it's great that the artist is getting credit for co-vocals and for songwriting, but what about both on one song?
2. This Kanye Reference
I highly doubt West is going to jump up on any stage to say that next year, but this meme is a meme that will never die.
3. This Perfect GIF
Listen, no one's saying that "I Don't Wanna Live Forever" isn't a good song, but is it the best Taylor Swift song to come out in the eligibility period? Is it? Yeah, fans don't think so.
4. Another Fan Thought It Deserved All The Categories
Even one would suffice. Still, it's worth noting that zero women were nominated for Record Of The Year this time around. Sure, the men who are nominated are talented, but come on.
5. Just Look At The Video
This fan believes that all the proof you need is in Swift's "Look What You Made Me Do" video. It did mark a major return for the singer and has raked in more than 750 million YouTube views to date.
6. Missed Opportunity
As mentioned earlier, the full album didn't make the cut, but this track in particular fell in the eligibility period. So, what gives?
7. Some Acknowledged The Positive
Like, her nomination for "Better Man." But that jumbled typing means this fan was more than a little frustrated at the lack of other noms.
8. Again, This Person Thought She Deserved More
Clearly fans had high hopes for Swift. But two nominations still is definitely worth celebrating.
9. Busting Out The Full Name
That's how you know they're serious — first, middle, and last name for Swift.
10. But Keep In Mind, This Isn't The Only Potential Snub
Just look at this lengthy list of singers who deserved more nominations, at least according to this fan who was keeping track.
11. It All Comes Back To The Video
"Undeniable fact" may be questionable, but this person really was rooting for a video nom for Tay. They even found the perfect GIF to express their feelings.
At the end of the day, whether or not Swift was actually snubbed is a matter of opinion, since she did receive a few noms — just not in the major categories. But if you ask her fans, she definitely deserved better.
Additional Reporting by Kadeen Griffiths.