This Taylor Swift 'TIME' Quote About Her Assault Case Is Proof #MeToo Changed Everything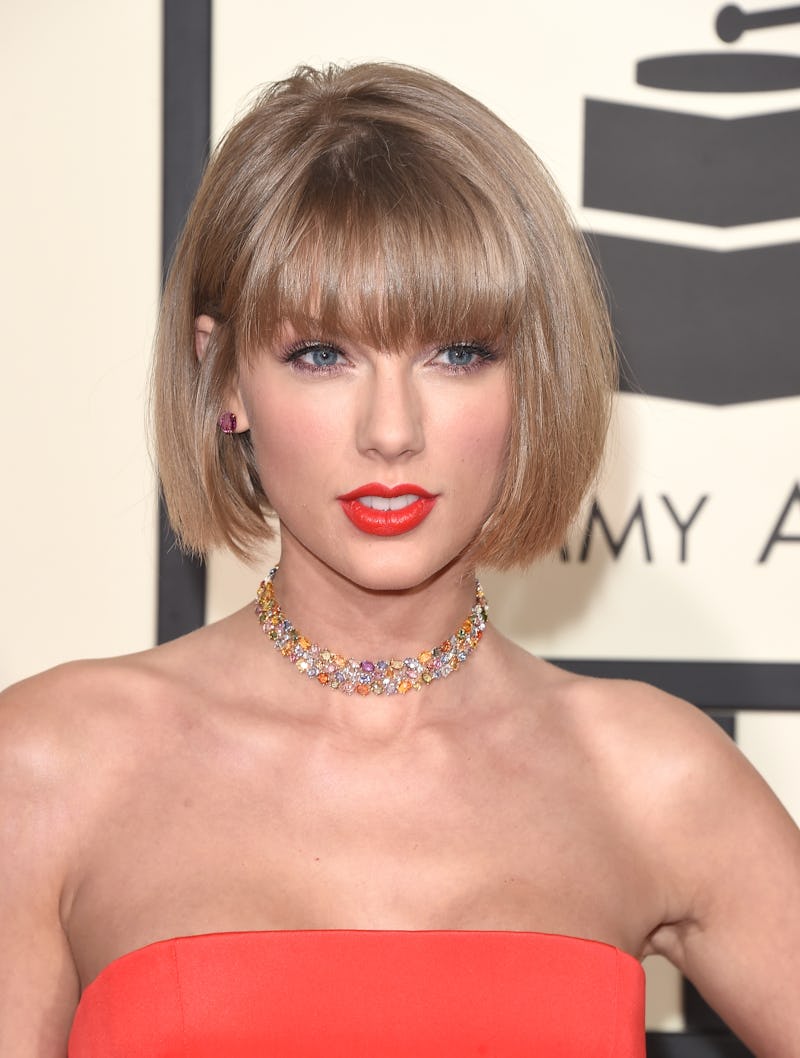 Jason Merritt/TERM/Getty Images Entertainment/Getty Images
A couple months before the allegations against Harvey Weinstein were made public, Taylor Swift dealt with her own case of sexual assault. Because she stood up and testified against her harasser in court, Swift is one of TIME's Silence Breakers. The Silence Breakers have been named the magazine's Person of the Year for 2017 since these brave women and men from different backgrounds and professions have come forward about sexual harassment and assault. TIME credits these individuals as "the voices that launched a movement" — and you need no further proof of that than Swift's Person of the Year interview. In her first interview since the trial, Swift indicates how much The Silence Breakers have drastically changed the public's perception of sexual assault.
In 2013, Swift accused Denver DJ David Mueller of reaching under her skirt and groping her rear end. She reported the incident to the radio station and Mueller was subsequently fired. But the DJ said Swift's accusation was false and filed a lawsuit against the singer in 2015. She countersued Mueller and on Aug. 10, Swift took the stand to testify to a Denver court about how the older man had inappropriately touched her four years earlier. TIME wrote, "Her clear-eyed testimony marked one of several major milestones in the conversation around sexual harassment this year."
Swift won her countersuit against Mueller for $1 and was lauded for how she handled the situation. Yet, Swift told TIME that before the trial, the sexual misconduct against her was mostly joked about. Swift said:
"People have been largely very supportive of my story since the trial began in August, but before that, I spent two years reading headlines referring to it as 'The Taylor Swift Butt Grab Case' with internet trolls making a joke about what happened to me. The details were all skewed, as they often are. Most people thought I was suing him. There was an audible gasp in the courtroom when I was named as the defendant. Once it hit the news that I was in Denver dealing with this, there was an outpouring of support on social media and I have never appreciated it more."
One person in particular that she cited as supporting her was Kesha. Swift's fellow artist has been dealing with her own sexual assault case for years in and out of court as Kesha alleges music producer Dr. Luke raped and emotionally abused her. Swift told TIME, "I spoke to Kesha on the phone and it really helped to talk to someone who had been through the demoralizing court process."
Thanks to people like The Silence Breakers, the conversation around sexual assault has shifted dramatically over the course of this year. But Swift stating that her abuse was originally often referred to as "The Taylor Swift Butt Grab Case" is symbolic of how sexual assault and harassment was discussed before now. Before this point in time, claims like Swift's were often fodder for jokes and not taken seriously. As Swift said to TIME, "You might be made to feel like you're overreacting, because society has made this stuff seem so casual." And while some people, like internet trolls, may still speak cruelly about it, Swift's groping allegations were found to be legitimate in a court of law and Mueller's actions were regarded as an unacceptable transgression.
There is still a long way to go when it comes to sexual harassment and assault and it's disheartening to know that Mueller has still not paid Swift the court-ordered $1. But awareness of the pervasiveness of sexual assault and the general understanding that this behavior should not be tolerated has grown significantly over the latter half of 2017. And with TIME recognizing Silence Breakers like Swift, the way the public talks about and deals with claims of sexual assault will continue to evolve far beyond this year.