Teresa Giudice Wouldn't Mind Speaking With Trump About Joe's Impending Deportation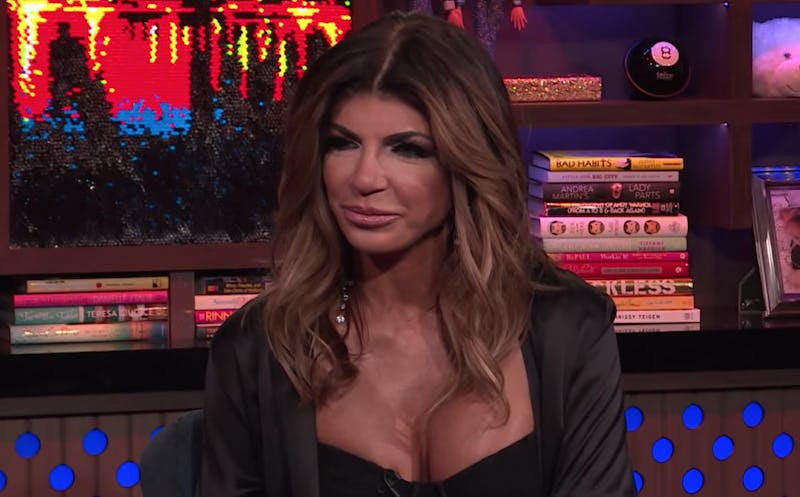 Bravo
It's not an easy time for the Giudice family with Joe Giudice's impending deportation. They would do anything to ensure Joe doesn't have to leave the states once he's released from prison, including Teresa Giudice talking to Donald Trump about Joe's deportation, if give the opportunity to do so. The Real Housewives of New Jersey star opened up about speaking with the president on Wednesday's Watch What Happens Live With Andy Cohen.
Late-night host Andy Cohen asked the Housewife, "You actually know the president, you were on Celebrity Apprentice, have you reached out to the White House?" He added, "I'm assuming he could pardon him."
Even though Teresa has not spoken with Trump directly, she wouldn't mind hopping on the phone with him. "I haven't," she answered Cohen, and then said, "But I would love to speak to him, if he wants to talk to me."
After Cohen asked if Teresa was going to call Trump, she reiterated that if he wants to talk with her, he can reach out. The WWHL host quickly pointed out to the Bravolebrity, "I think he's got other things to do. I think it would take you reaching out to him. Are you going to try?"
To that, Teresa replied, "We'll see what happens."
On Nov. 1, People published an interview where Teresa also discussed meeting with Trump. "I don't have a relationship with Mr. Donald Trump in that way," she said. "I would take his call. If he would call me, of course I would take his call."
It was reported in October that Joe would be deported to Italy after serving his 41-month prison sentence. Joe entered prison in March 2016 after both he and Teresa pled guilty to 41 counts of fraud in 2014. In 2015, Teresa served an 11-month prison sentence.
RadarOnline first reported on Oct. 10 that Judge John Ellington reportedly told Joe, "Based upon the law, I find you deportable and ineligible for any kind of relief." People also reported that Joe is set to get out of jail in March 2019 and will be deported immediately. (Bustle previously reached out to Teresa's rep for comment, as well as Bravo, but did not receive an immediate response.)
As for Joe's appeal, Teresa told Cohen that they filed the paperwork, but it was going "to take time" for anything to happen. She also previously told People about Joe's current situation, "And hopefully, you know we have two attorneys or even three I think right now, I think they're bringing on a third one … and hopefully they'll be able to appeal this and Joe will be able to come home."
So far, Teresa has been positive about the entire ordeal. In an interview published by Entertainment Tonight on Oct. 29, she opened up about possibly going with Joe and their four daughters — Gia, Gabriella, Milania, and Audriana — to Italy.
She said,
"We are not even thinking about that right now. We're going to take it day by day. We're going to take it one step at a time. First, we're going to process the paperwork to do an appeal, and we're going to get through that."
Teresa also told Cohen the same thing Wednesday evening about moving to Italy, which shocked him. After she said, "No, we haven't even discussed that," Cohen asked, "For real? Wow." The Bravo star said she wants to take everything one day at a time and they'll just see what happens, including if Trump will ever call her.