How 'The Bold Type' Star Aisha Dee Inspired The Show's Body Positivity Shoot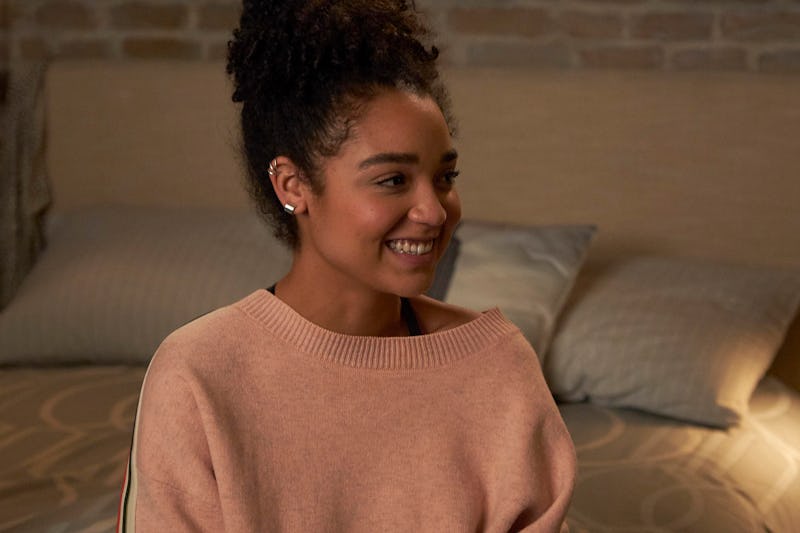 Freeform/Phillippe Bosse
The Bold Type is taking a page from Scarlet magazine's playbook. In Tuesday night's episode, the fictional magazine at the center of the Freeform drama released a body positivity issue, and the show followed its lead, giving its stars — Aisha Dee, Katie Stevens, and Meghann Fahy — the chance to embrace their imperfections in a series of empowering pictures. And it seems the plot line was in the works for a while: Dee tells Bustle that The Bold Type's body positivity photo shoot started with a suggestion she made early in Season 1.
"When we first started, I was like, 'Is there any way we can get my stretch marks and my thighs in the show? I would really like to show that,'" Dee recalls. "I'm surely not ashamed of it, but I feel like that's something I would have wanted to see, and I feel like that's something that other girls want to see, if we're really going to do this modern feminism thing."
A season later, Dee got a call from new Bold Type showrunner Amanda Lasher, who took over for series creator Sarah Watson. Lasher wanted to know if Dee was joking with her stretch mark suggestion, and the actress assured her that she was all in. "And they really went there and did it in a way that was organic to the story," Dee says. "It was still centered on the three girls and their friendship. I was so excited."
While the storyline was a long time coming behind the scenes, it emerges spontaneously in the world of The Bold Type: Fashion assistant Sutton (Fahy) has to improvise to keep a photo shoot for the magazine from falling flat. The playful concept — an arrangement of colorful jewelry on candy — doesn't click with photographer Adena (Nikohl Boosheri), who tries breaking the candy to add visual interest. Though Sutton worries she made a mistake hiring Kat's artsy girlfriend, the creative friction eventually leads her to a better idea: Ditch the childish sweets and model the jewelry on real women, specifically her friends.
"No makeup," Sutton coaches Kat (Dee) and Jane (Stevens) before they drop their robes. "No airbrush. Just embracing the flaws."
It's a rallying cry that seems, before the camera starts flashing, like it could ring a little hollow: These are three young, conventionally attractive women wearing what seem to be full faces of makeup. But The Bold Type isn't letting them off that easy. The ladies' faces aren't the focus, though the blemishes on their cheeks are. In a daring photo shoot, the jewelry is arranged to show off scars, stretch marks, and thighs — tastefully lit, yes, but only because the message of the shoot is that these parts of our bodies are also art. It's a fitting layout for a body positivity issue: one that's less syrupy than the first concept without implying the women are damaged, broken pieces of candy. These are their whole bodies, celebrated.
For the women of Scarlet, the photo shoot sets off a chain reaction: Being comfortable in their skin helps them find their voices. Sutton's boss praises her for taking a risk, Kat and Adena have their second mature conversation in as many weeks, and Jane finds the courage to swallow her pride and ask for her old job back. Even editor-in-chief Jacqueline (Melora Hardin) rediscovers something of herself by overseeing the issue, reinstating Scarlet's letters from the editor in order to send a message: "Embracing our bodies is the healthiest thing we can do." That health is emotional and mental as much as it is physical. It puts the women in touch with themselves.
And it sounds like the experience filming the scene was equally empowering for the actresses. Dee says they each had a hand in choosing what they wanted the camera to highlight. "We really got to pick stuff about ourselves that we wanted to showcase — stuff that maybe in the past we felt insecure about," she says, "and own that, and use it to harness our power."
Dee gets excited imagining the episode doing the same for fans at home. "I hope it's inspiring for people to watch it," she says.
It's almost like opening up the latest issue of Scarlet.