The Huge Clue About Taylor Swift's 'Reputation' Album That You Might Have Missed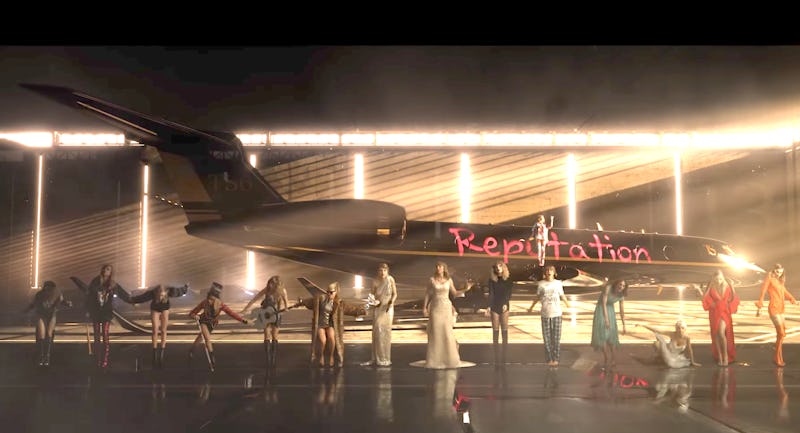 TaylorSwiftVEVO on YouTube
Taylor Swift's video for "Look What You Made Me Do" premiered on Sunday night around the same time as the Game of Thrones season finale, and it's unclear which is more loaded in symbolism. The singer's fans have discovered so many symbols in the "Look What You Made Me Do" video that they should all be working for the CIA. But, as BuzzFeed brings up, one popular theory is a prediction that the 15 Taylor Swifts at the end of "Look What You Made Me Do" reveal clues about Swift's Reputation album.
The entire video for "LWYMMD" is about Taylor Swift's past, her reputation, if you will. That means it's jam-packed with references to previous Swift headlines, including her relationship with Tom Hiddleston and the whole Kimye Snapchat situation. Toward the end of the video, 15 iterations of Taylor appear — some from her past music videos — and Swifties are coming up with theories about their significance, especially since it's been reported that Reputation will have 15 tracks.
Hence, the theory that each Taylor represents a different song on the upcoming album. Swifties are getting excited about the prospect that they may finally get to hear the full-length of version of her song, "All Too Well," from the album, Red, because Perez Hilton revealed that he's heard that one of the songs on Reputation is nine minutes long.
The nearly nine minute song is rumored to be the fourth track of the album, and the fourth Taylor in line at the end of LWYMMD is wearing Swift's circus-ringleader costume that she wore after the release of Red, so if Swift does reference each of these costumes in their corresponding tracks, it would make sense that the fourth track, which fans believe is the extended track, will have something to do with Red, which may be an extended version of fan-favorite, "All Too Well." Needless to say, the fans are losing it.
While the long version of "All Too Well" is exciting for some, others believe that the track list could be counted in the opposite direction, suggesting that the longer song would be related to "Out Of The Woods" (if the long song does, in fact, occur on Track 4, that is). In this case, the extended song would likely be a completely new one.
If either theory about the 15 Taylor Swifts corresponding to her 15 new songs is true, it means other tracks on Reputation will have something to do with Swift's previous songs. For example, Swift's seen in costumes from her videos for "Shake It Off" and "You Belong With Me." Other Taylors from "LWYMMD" include her look from the 2014 Met Gala and the notorious 2009 MTV VMAs at which Kanye interrupted Swift's acceptance speech.
The fact that Swift is still harping on Kanye's VMA blunder and other past incidents proves that she's still up to her old tricks. If the theory that her upcoming album, Reputation, will be all about her past grievances, then it will be further proof that Swift panders for fans' sympathy. However, the theory could also be completely wrong. After all, when Taylor says, "I'm sorry. The old Taylor can't come to the phone right now. Why? Cause she's dead" in her "Look What You Made Me Do" music video, she might have been telling the (figurative) truth.