Becca & Lauren B's 'Bachelor' Finale Gowns Prove Their Styles Are So Different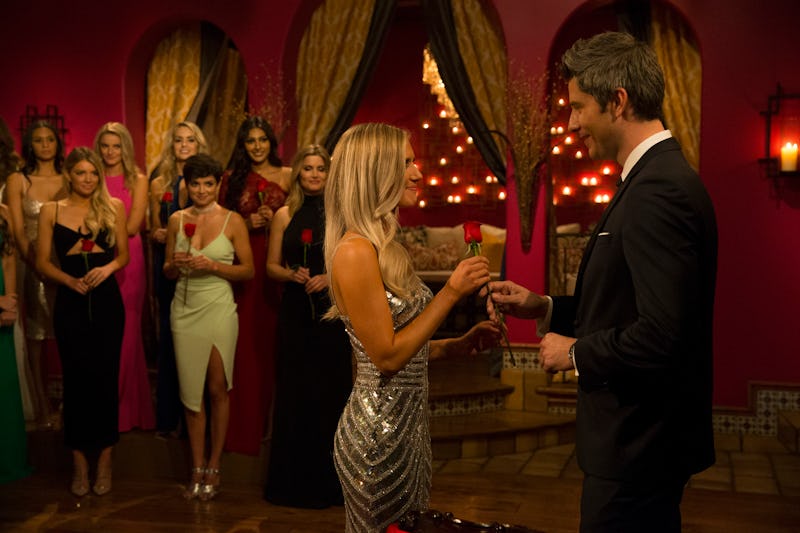 ABC
If you're one of the fans who have stuck with The Bachelor for the entirety of Arie Luyendyk's season, you know that the final two women are totally different. As it turns out, the 2018 Bachelor finale gowns show just how different Becca & Lauren B's styles are. Lauren's more reserved personality and Becca's outgoing nature were evident throughout the season, and their totally different gowns reflect this in both style and personality.
Monday night's finale is allegedly one of the "most dramatic ever" according to host Chris Harrison, but fans know to be wary of those phrases as they're common among Bachelor and Bachelorette seasons. Until the drama is proven to be true, it's best to just focus on what you can always depend on from the finales of dating shows: the style.
Whether it's a Bachelorette season where the lead is wearing a stunning gown (like Rachel Lindsay's proposal dress) or a Bachelor season where the final two women are impeccably dressed, the black-tie style of a final episode may just be the most fashionable moment from the entire season. Given that you've seen over 25 women with suitcases full of clothes, that's quite a feat. But what do Becca and Lauren B's gowns look like?
Becca's black lace gown was definitely black-tie ready. The strapless silhouette looks great on the brunette from Minnesota, and she certainly seemed fixed on Luyendyk as she approaches him for their final (or maybe not final) moments together.
The gown certainly added a bit of drama to the event, but it retained a classic feel with its bold lace pattern and simple silhouette. It was basically perfect of Becca, but was it the dress she wore while she got proposed to? Only time will tell if this dress retains a special place in her closet to this day.
As For Lauren B (not to be confused with the other three Laurens), her dress was totally different than Becca's. First of all, she wore a white champagne hue while her co-finalist wore black. Lauren's dress was also markedly less simple. While Becca's gown was classic, Lauren seemed to opt for a jeweled, mixed pattern bodice and a fringe column skirt.
From the pattern on the v-neck bodice to that sparkling fringe on bottom, the dress had an almost art deco feeling. Of course, there's also no way to know (unless you look up spoilers, and that's up to you) if this is the dress Lauren will pair with a ring, but the good news is that fans will know soon.
As for how fans feel about the dresses? Pretty good it seems. Both Lauren B's champagne sparkler and Becca's black lace number seem to be some of viewers' favorites of all time.
While some had a favorite between the two, the overall consensus seems to be that both women look beautiful in their gorgeous gowns.
If you want to see more reactions, though, don't wander into the Instagram comments. Viewers who have been spoiled about the outcome of the finale are out in full force on social media, and they're discussing the ending amongst themselves. If you don't want to know which girl gets to add a ring as an accessory to her Bachelor finale gown, then absolutely avoid the words Bachelor, Arie, Becca, and Lauren B on social media today.
While you wait until tonight's Bachelor finale, at least you've got two gorgeous gowns to look at. Both Becca and Lauren B. look stunning in the images from their final moments on the show, and now, it's just time for fans to sit back and see who's snagging that Neil Lane engagement ring.