The 'ACS: Versace' Cast Are Ringers For Their Real-Life Counterparts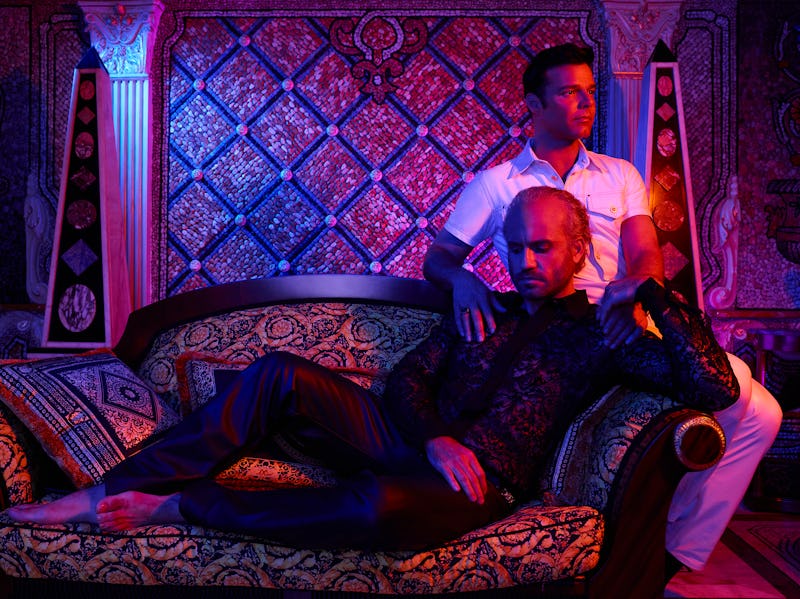 Pari Dukovic/FX
Part of the fun of adapting a true story to the screen is watching actors embody the physicality and personality of their subjects. Will they get it just right? Will they imitate the person or interpret their essence? If these photos of the American Crime Story Season 2 cast and their real-life counterparts are any indication, The Assassination Of Gianni Versace (executive producer: Alexis Martin Woodall) boasts an incredible attention to detail… even if viewers will have to wait until the Jan. 17 premiere to see for themselves how accurate the portrayals are.
The new installment of Ryan Murphy's anthology series leaves behind the drab courtrooms of Los Angeles from Season 1's The People v. O.J. Simpson and trades them in for the sun-splashed vistas of Miami. Based on Vanity Fair journalist Maureen Orth's 1999 non-fiction book Vulgar Favors: Andrew Cunanan, Gianni Versace, And The Largest Failed Manhunt in U.S. History, Season 2 reenacts the famous fashion designer's murder at the hands of a serial killer, the bloody trail that led to that moment, and the infamous fallout that ensued.
This fascinating true story gives the talented cast that Murphy has assembled for American Crime Story (director: Gwyneth Horder-Payton, 3 episodes) plenty of opportunity to dig into fascinatingly complex characters — made all the more fascinating by the fact that they were real people.
SUBJECT: Gianni Versace
You know his name, but do you know the man? Versace was born in Reggio Calabria, the southernmost province of Italy, in December of 1946. According to Harper's Bazaar, he learned his future trade from his mother, who owned her own dressmaking business. He moved to Milan in 1972 and launched his first clothing line in 1978. His glamorous dresses grew in esteem, until he was eventually designing clothes for the likes of Princess Diana, Madonna, Elton John, Naomi Campbell, and more. Sadly, he was shot to death by Cunanan on the steps of his Miami Beach home in 1997, at the age of 50.
PLAYED BY: Édgar Ramírez
You might have assumed Murphy would find an Italian actor to portray the famous Italian designer — but Versace will actually be played by Venezuelan actor Ramírez. You may know him from thrillers and action movies like The Bourne Ultimatum, Wrath Of The Titans, and Zero Dark Thirty; or from biopics like Che, Carlos, and Joy; or from recent high-profile releases like Ridley Scott's The Counselor, the Point Break remake, and the literary adaptation The Girl On The Train. American Crime Story marks Ramírez's English-language television debut.
SUBJECT: Andrew Cunanan
Cunanan was born in San Diego in 1969 to an Italian mother and a Filipino father. Orth's 1997 Vanity Fair profile of the killer cites him as an out gay man who was a "voracious reader" with a "genius-level I.Q." and a "photographic memory." His killing spree allegedly started with Jeffrey Trail, a Naval officer killed in Minneapolis in May of '97, and ended with Versace, his fifth victim, on July 15 of that year. Cunanan killed himself eight days after Versace's death, after having evaded the ensuing manhunt by hiding out on a houseboat. According to Orth's profile, Cunanan's exact motives have long been shrouded in mystery; something Murphy's version of the story will undoubtedly attempt to tackle.
PLAYED BY: Darren Criss
Like Cunanan, Criss is half-Filipino (on his mother's side). He has worked with Murphy before on Glee, where he rose to fame as the dreamboat Warbler Blaine Anderson. He also had a small role in American Horror Story: Hotel as an insufferable but doomed millennial. Criss' non-Murphy roles include the feature film Girl Most Likely, voiceover work for animated films like The Wind Rises, other TV projects like hosting Hairspray Live! and guest starring on the Flash/Supergirl crossover as the villainous Music Meister; and starring on Broadway in the title role of the rock musical Hedwig And The Angry Inch.
SUBJECT: Donatella Versace
Gianni Versace's younger sister was born in 1955; when they were growing up, she was both "his doll and his best friend," as she described in a 2017 interview with The Guardian. After her beloved brother's death, Donatella assumed total creative control of his fashion house. Blindsided by grief, she struggled with cocaine addiction, as she recounted to The Guardian, finally going to rehab and getting clean in 2005. The company also nearly went bankrupt in 2004; but thanks to Donatella's leadership, the Versace empire is now estimated to be worth about $1.7 billion by Forbes.
PLAYED BY: Penélope Cruz
Cruz has worked with famous filmmakers in both Hollywood and her native Spain, earning three Oscar nominations for Pedro Almodóvar's Volver, Rob Marshall's Nine, and Vicky Cristina Barcelona, the latter of which earned her a trophy. This year audiences saw her in the terrific ensemble cast of Murder On The Orient Express. Like co-star Ramírez (with whom she appeared in The Counselor), American Crime Story marks her English-language television debut.
SUBJECT: Antonio D'Amico
Born in 1959 in the southeastern province of Brindisi, D'Amico was 13 years younger than his famous lover. As People recounts in a recent article on d'Amico, they began their relationship in 1982, which lasted 15 years until the designer's death in 1997. According to the magazine, Versace's will granted d'Amico the right to keep living in his houses, and entitled him to $30,000 a month for the rest of his life — but struggles with depression and feuds with Versace's family led D'Amico to walk away with a fraction of what Versace had left him. He is now 58, eight years older than Versace was when he died.
PLAYED BY: Ricky Martin
D'Amico will be portrayed by Puerto Rican musician-turned-actor Ricky Martin. The Grammy Award-winning singer, who came out publicly in 2010, has appeared on television before in General Hospital, several iterations of The Voice, and Glee — where he guest starred as sexy Spanish teacher David Martinez and where he met Murphy for the first time. (Fun fact: Martin also voiced the title character in the Spanish-language dubbed version of Disney's Hercules.) He's also appeared on Broadway in Les Misérables and Evita, and is currently performing his own residency show in Las Vegas, All In.
SUBJECT: Marilyn Miglin
Miglin's husband, Chicago real estate magnate Lee Miglin, was allegedly one of Cunanan's earlier victims. Miglin has her own self-titled line of fragrances and skin care products; the Chicago Tribune estimated in 1998, a year after Lee's death, that her cosmetics empire was worth $50 million. The report also details Miglin's work with the Children's Defense Fund, where she rubbed shoulders with one Hillary Rodham Clinton.
PLAYED BY: Judith Light
Miglin will be portrayed by this Tony- and Emmy-winning American actress who you may recognize as Shelly Pfefferman on Amazon's Transparent; her other iconic TV roles include One Life To Live, Who's The Boss?, Law & Order: SVU, Ugly Betty, and Dallas.
The cast of The Assassination Of Gianni Versace also includes Finn Wittrock (American Horror Story), Max Greenfield (New Girl), Annaleigh Ashford (Masters Of Sex), and Will Chase (Nashville). Watch them bring this tragic true story to life when American Crime Story Season 2 premieres on FX on Wednesday, Jan. 17.
If you or someone you know are experiencing suicidal thoughts, call 911, or call the National Suicide Prevention Hotline at 1-800-273-8255.