The Best Places To Meet A Spring Fling IRL This Month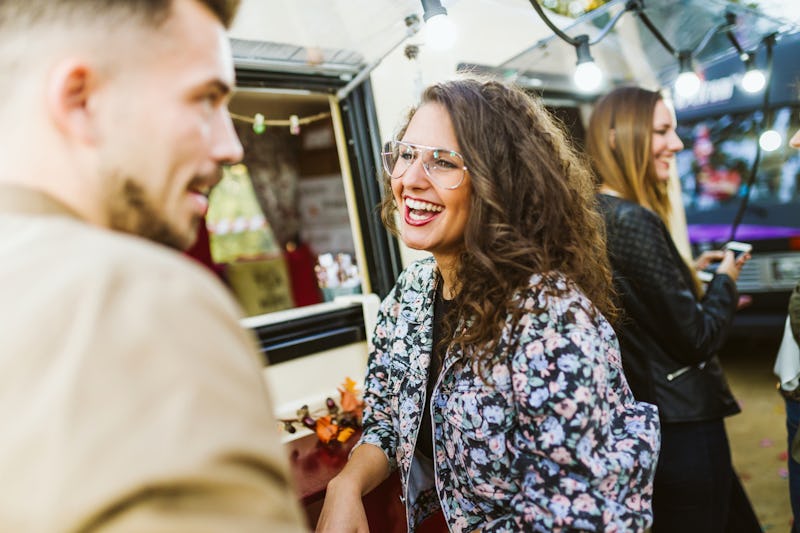 nenetus/Fotolia
Whether dating apps are causing a "dating apocalypse" or are merely the easiest way to get a date, there's no denying these tools have been total gamechangers in the dating scene within the last few years. And even though dating apps are most popular among millennials, according to a recent Bustle survey with dating app Happn of over 1,000 dating app users, 78 percent of women and 85 percent of men still want to meet people IRL. That's why for the second year in a row, Bustle is deeming April, "App-less April" and encouraging our staff and readers to delete their dating apps for 30 days and meet people the old-fashioned way: offline. With participants tracking their progress and tricks and tips from dating experts, we'll be helping you feel empowered to meet people IRL all month long.
If you're hoping to have a spring fling this month or next, you're not alone. Dating App Zoosk found that people sent almost a third more messages in the spring, which means people are definitely on the lookout. But the truth is, only eight percent of couples meet on apps, according to a survey of 500 dating users by ReportLinker, so it's time to expand your options and even consider joining Bustle's Appless April, a month without dating apps, to take a break from online dating.
"I suggest a break to my clients all the time," says Ravid Yosef, dating and relationship coach, tells Bustle. "Sometimes our energy is what's attracting others and if we don't have enough self-care in our life or get obsessive with our notifications, we start looking for validations outside of ourselves. Which in turn attracts the wrong kind of attention."
Though it seems like it *should* be easy, trying to meet someone in the real world can be really, really scary. Do people even do that anymore? I mean, you have to take out your headphones and put away your phone for a bit, but it definitely does happen. Obviously a lot of it is down to mindset — if you are open to it, you'll seem more approachable and feel more confident about approaching others. But it certainly helps to be in the right place at the right time.
So here are seven great places to meet spring flings:
It's time to shake off those winter blues and come out of your shell — and a bit of culture is a perfect way to do that. Go and see something that you'd enjoy anyway, it means you'll have something in common with the people there.
Take advantage of the warm weather, stat. "I'm a big fan of a casual stroll through a fun neighborhood or street fair," Jeffrey Sumber, MA, MTS, LCPC, psychotherapist and bestselling author of Renew Your Wows!, tells Bustle. "I think it helps a person witness how the prospect interacts with others and with general input from the external world."
There's an opportunity to meet loads of different people and if you're out in the sunshine, you'll probably be feeling your best.
Call me crazy, but everyone I know seems to be signing up for a 5K or a marathon at the moment. Join the throng, get some endorphins going, and start chatting with other members.
I was really impressed when a guy asked me out at a restaurant once. Don't be afraid to go out alone. "Challenge yourself to get all dressed up and take yourself out to dinner the way you'd like to be treated at a date," Raeeka Yaghmai, CEO of Dating With Confidence, tells Bustle. "This is a great exercise for confidence building and not giving any power to the fear of being judged. Both skills needed when you are out there in the dating field."
It's a great way to treat yourself, build confidence, and maybe even meet someone.
Meeting someone through friends is the ideal for most single people I know — it's what they're aiming for. And the ReportLinker survey found that it was the most popular way couples are meeting today. So how can you socialize smarter? "Think carefully about the social situations you put yourself into and what the likelihood is of meeting someone single, who you might be attracted to," Charly Lester, founder of The Dating Awards and SPEX app, tells Bustle.
I would say you should never not see your friends just because there won't be potential dates around, but it never hurts to let them know you're looking and wouldn't mind meeting people they know.
Don't be surprised how many people you can meet in your normal routine, if you're paying attention. "If you want to meet people in the real world, go to where the single people all are," The Dating Guru James Preece, dating coach and relationship expert, tells Bustle. "Think about all the things you do when you have a little time to fill on your own. Great places are coffee shops, gyms, museums and my personal favorite, bookstores." You probably go to a few of them anyway, so it's not that hard to look around.
This is a good idea — try going to the type of places someone you'd like to meet would go to. "Insert yourself into situations where you can attract your 'tribe'. Bourbon-swilling rock stars may not be at early morning yoga classes," Monica Parikh, dating coach and founder of School of Love NYC, tells Bustle. "So, figure out what 'type' of person you imagine dating. How would they spend their day? If you love animals, go to the dog park. If you want someone hilarious, sign up for improv class. If you love the outdoors, join a whitewater rafting club. The best activities continue for a few weeks, giving you the opportunity to get to know new people slowly over time."
Spring is the perfect time to take a risk and meet someone new — whether it's for the long-term or just a fling. And it's a great time to put down your phone and head out into the world to do it.
Join the campaign and share your stories with #ApplessApril and ​by ​tagging @Bustle.