The Full Title Of Margot Robbie's Harley Quinn Movie Is Here & It's... A Doozy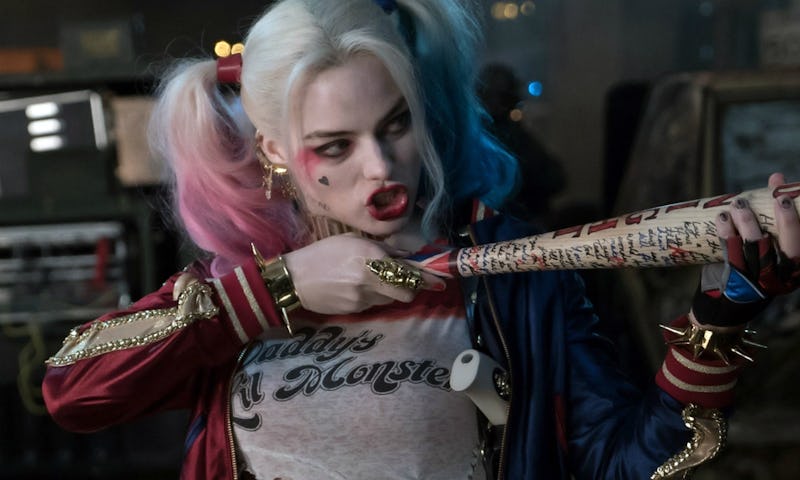 Warner Bros.
Gotham is getting a brand new girl squad to fight crime — and possibly cause a little chaos in the meantime. On Tuesday Margot Robbie revealed the full title of the upcoming Birds of Prey film on Instagram, which teased the return of her beloved super villain, alongside the big screen debut of some of DC's most badass female heroes. And while the film won't hit theaters for at least another year, details about the hero team-up have been slowly trickling out, and everything we know about Birds of Prey thus far will definitely make fans excited for the big screen adaptation.
Birds of Prey (and the Fantabulous Emancipation of One Harley Quinn), which is set to arrive in theaters on February 7, 2020, will feature Robbie reprising her iconic Suicide Squad role, as she leads a group of fellow female heroes (or anti-heroes) looking to take down a major crime boss in Gotham City. Based on the film's very unique title — which Robbie herself unveiled on social media — it seems as if Harley Quinn will be leaving the Joker, and their incredibly unhealthy relationship, behind for good.
Though Harley and the Joker have been connected since her comic book debut back in 1992, recent comic book arcs have seen Harley striking out on her own and finding her own independent spirit. Her solo series, Harley Quinn, which is written by Amanda Conner and Jimmy Palmiotti, centers on Harley's romantic relationship with fellow villainess, Poison Ivy, and in the series 25th issue, which was published in 2016, she cut off the Joker for good. Based on the title's hint at "emancipation," it seems as if Robbie's Harley Quinn will be on a similar quest for independence and empowerment.
Birds of Prey will see the newly-free Harley Quinn join forces with several of DC's most famous female heroes, including Black Canary and Huntress. For her big screen debut, Black Canary — a.k.a. Dinah Lance — will be played by Jurnee Smollett-Bell. First introduced in 1947, Black Canary is a fierce, highly-skilled martial artist who can take bad guys down with a few punches, as well as her signature "Canary Cry," a sonic scream that has been bringing villains to their knees for decades.
Mary Elizabeth Winstead will join Bell on the big screen as Huntress, who mad her comic book debut in the late 1970s. And while there have been a few iterations of Huntress over the years, Winstead will play Helena Bertinelli, the daughter of a mafia family, who is out for revenge after her family was murdered in a hit. Unlike Dinah, who is known for her skills with diplomacy and problem-solving, Helena is a more traditional vigilante with a hot temper and an impulsive streak that often gets her into trouble. (She and Harley Quinn should get along swimmingly, in that case.)
The Birds of Prey team will also feature Rosie Perez as Gotham City police detective Renee Montoya, and newcomer Ella Jane Basco as Cassandra Cain, the character who eventually becomes Batgirl in the comics. They will all face off against Ewan McGregor as the villain Black Mask, a drugpin and mob boss who killed his own parents in order to take over the family business.
But while many DC fans are excited to see the some of their favorite female heroes on the big screen, the film's title has caused a little bit of apprehension among some Birds of Prey fans. After all, Harley Quinn is not a member of the Birds of Prey in the comic books, which means some fans are worried that her presence will overshadow Black Canary and Huntress, and change the dynamic of the group that they've been reading about for so long.
However, many other fans were excited about the Birds of Prey title — and the possibility of seeing Harley Quinn in a new light, and as part of this famous group of fierce heroes.
While we'll have to wait until 2020 to see just how big of a role Harley Quinn plays in the Birds of Prey film, Robbie's presence was instrumental in ensuring that the movie had just as much girl power behind the scenes as it did on the big screen. In April, Cathy Yan was hired to direct Birds of Prey, making her the first Asian female director ever chosen for a superhero film. According to Deadline, Robbie "held firm to her desire for this film to be directed by a woman," and fought Warner Bros. to ensure that Birds of Prey would have a female point of view.
"The most important thing as a producer is it's your job when you pick your director to stand by your director," Robbie told Metro in December 2017, about her role as a producer in the DCEU. "A good producer trusts their director, and their job is to enable that director's vision. That's it. That's your job. If that's your director's vision you need to do everything in your power to make that possible."
With a woman in the director's chair, and Robbie's distinct and feminist vision helping to produce the film — and, more importantly, with the Joker off starring in his own standalone project — Birds of Prey seems set to live up to fans' expectations of a fierce, empowering female-led superhero movie. And if there's one thing that Hollywood needs more of, it's strong, independent women who are willing to break down boundaries both on and off screen.