A Bravo Convention Is Officially Happening & It Sounds Like The Ultimate Fan Experience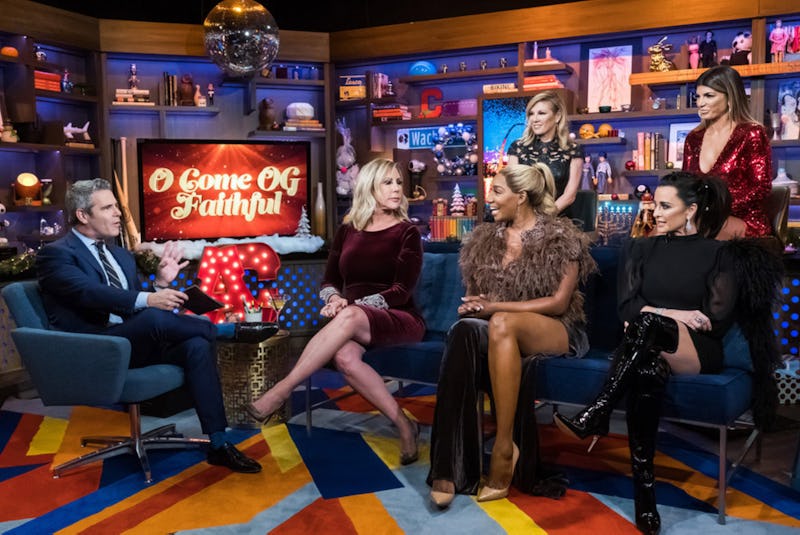 Charles Sykes/Bravo
Our prayers to the Bravo gods have been answered, fellow Bravoheads. A Bravo fan convention is happening, and so far, it sounds like just the thing we've spent the last several years wishing for. On Wednesday, May 22, Bravo announced the very first BravoCon, a three-day event that will bring fans together and give them "exclusive access to the stars, producers and executives behind their favorite shows." The convention's maiden voyage will take place in New York City From Nov. 15 to Nov. 17.
According to a press release, BravoCon will be "an interactive dream experience for fans featuring live performances, insider panels, unique activations and VIP access to Bravo's biggest shows and Bravolebrities." (In other words, if you happen to eat, sleep, and breathe Bravo reality television programs like The Real Housewives, Vanderpump Rules, Southern Charm, Shahs of Sunset, Below Deck, Married to Medicine, Top Chef, and Project Runway, this convention may leave you feeling more satisfied than a Beverly Hills Housewife tucking into a pumpkin pie for breakfast after a night of glamping.) Attendees will also have a chance to attend a supersized episode of late-night talk show Watch What Happens Live with Andy Cohen that will be "filmed in front of its largest audience ever." Venue information, the event schedule, and tickets will be available at some point this summer.
The Bravo fandom runs deep, and this gathering of Bravoverse denizens could very well be the greatest thing since Andy Cohen's baby shower. As Executive Vice President of Marketing at Bravo, Oxygen, and Universal Kids said in the aforementioned announcement,
"Bravo's passionate fandom is on a level that's rarely seen outside of sports and superheroes. We're fortunate to have such loyal fans who come to us for larger than life talent and series that are the gold standard in unscripted television. We never take that for granted, and we can't wait to show them what we have in store."
And we can't wait to see what BravoCon has in store. This convention is something that members of Bravo's passionate fandom have wanted for a long time, and Wednesday's announcement almost feels too good to be true.
Year after year, fans wished and hoped and pleaded.
And we never gave up.
And now, Bravo has made it happen. The BravoCon dream has come true. A Bravo convention for Bravo fans by Bravo is a mere six months away.
Unsurprisingly, fans are thrilled.
Thrilled and clamoring to book their flights to NYC.
Thrilled, clamoring to book their flights to NYC, and ready to empty their bank accounts.
Are you ready for some Bravo-ball? It's a Bravoverse party.
Someone get Scheana Marie's forearm on the line, because it's all happening.
Thank you, Bravo. Thank you, Andy Cohen. Thank you, Bravolebrities. Thank you, gods of reality television. If I knew where the Tom Tom dry ice shot machine was hiding, I would raise a dry ice shot to all of you right now.