Everything That Went Down In The Last Episode Of 'Breaking Bad'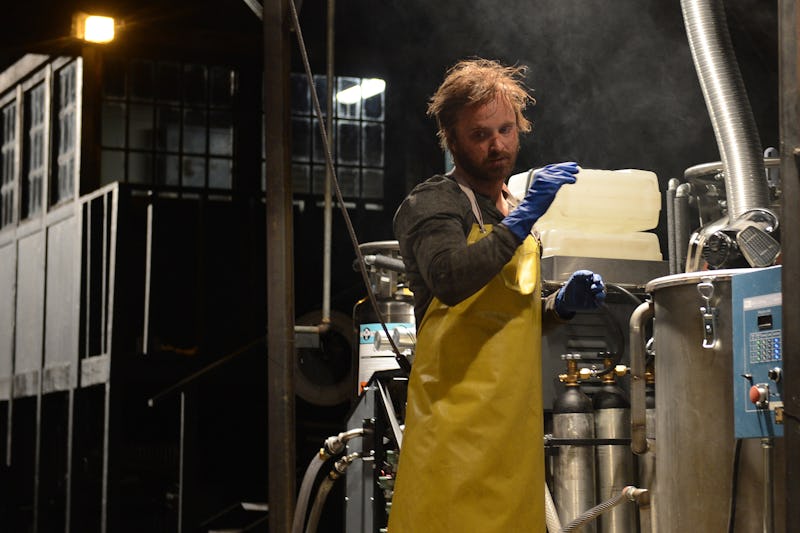 Ursula Coyote/AMC
When the Breaking Bad series finale aired in 2013, creator Vince Gilligan gave viewers the hope that Jesse Pinkman had a relatively happy ending. But with the movie El Camino, fans will get to see exactly what happened to Jesse after the Breaking Bad series finale. Even the smallest details matter in the exacting world of Breaking Bad, so you'll want to remember everything that occurred in "Felina" before embarking on Jesse's journey in El Camino. Unfortunately, a recap of the Breaking Bad finale will make you realize just how grave Jesse's situation is in El Camino.
Gilligan has been highly secretive when it comes to details about the Breaking Bad film sequel. But the movie will follow Aaron Paul's Jesse Pinkman immediately after Bryan Cranston's Walter White died in the series finale. In the penultimate episode, Walt himself predicted the ending of the AMC series to his lawyer Saul Goodman.
"I am going to kill Jack and his entire crew and I am going to take back what is mine and give it to my children. And then, and only then, am I through," Walt said. But here's exactly how Walt's story ended in Breaking Bad — and how it will play a part in Jesse's story in El Camino.