The New 'Chilling Adventures Of Sabrina' Teaser Promises A Darkly Delicious Season 2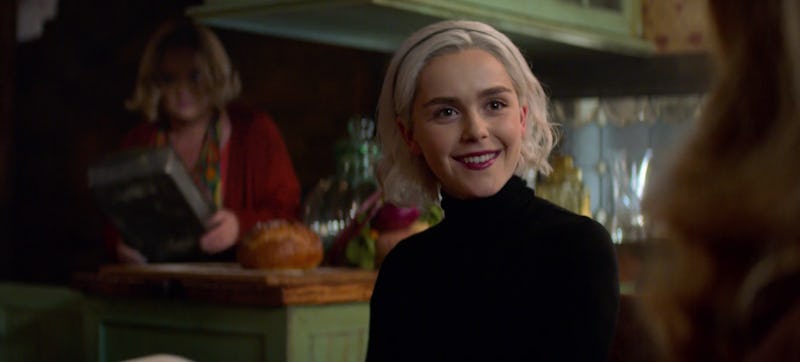 Netflix
Chilling Adventures of Sabrina may have just premiered in October, but Netflix is already giving fans the gift of a glimpse at Season 2 for the holiday season. The Chilling Adventures of Sabrina Season 2 preview dropped on Saturday, Dec. 1 with a look at the witchier-than-ever Sabrina Spellman. Besides showing Sabrina literally embracing her dark side with a new black wardrobe, the preview also revealed that Season 2 will premiere on April 5, 2019. So after the Chilling Adventures holiday special airs on Dec. 14, nine new episodes will magically appear only four months later. As the Church of Night coven would say, praise Satan!
The beginning of the preview delightfully pays homage to the original Sabrina the Teenage Witch opening credits with Sabrina using her magic to change her outfit in the mirror as Salem watches. Kiernan Shipka's Sabrina lands on a black outfit and upon seeing it, Aunt Zelda teases her. "Since when do you wear black? Trying to be edgy?" she says. "It's a new year!" Sabrina innocently replies.
But as the ending of Season 1 promised — and the Season 2 preview highlights — Sabrina is not so innocent anymore after signing her name in the Book of the Beast. And the Netflix press release that accompanied the Season 2 teaser stated, "Chilling Adventures of Sabrina is sure to make your 2019 a bit more magical — and a lot sexier — with nine new episodes launching this spring."
Since Sabrina and her human boyfriend Harvey Kinkle broke up in Season 1, some of that sexiness is coming courtesy of Sabrina's flirtation with Nick Scratch. You can see this witch and warlock sweatily dancing in the preview. Sabrina also spots Harvey seemingly getting close to her friend Rosalind in the halls of Baxter High. But don't worry Sabrina and Harvey shippers — they're also shown making out in the Season 2 preview. Because even the devil can't stop this OTP.
There will be plenty of witchcraft going down in Season 2 as well now that Sabrina has more officially joined the Church of Night. She participates in a seductive maypole-esque ceremony at the Academy of Unseen Arts with the Weird Sisters, she faces off with some wolf creature in the woods, and she conducts a ritual at Baxter High. As she's about to cast one spell, a demonic presence (perhaps Satan himself?) encourages her by whispering menacingly in her ear, "Do it." All of this will go down while Sabrina still doesn't suspect Ms. Wardwell's true identity of Madam Satan.
If you're thinking it took some kind of magic for the first two seasons of Chilling Adventures to air so close together, it's actually because Netflix had picked up the series for two seasons immediately. So while you were distracted by consuming the 10-episode first season, Shipka's Instagram showed how the cast was busy filming the next season. That means no witchcraft was needed to make Chilling Adventures Season 2 premiere in April.
The only bummer to this announcement is that Season 2 will contain nine episodes instead of 10. But that's most likely because of the holiday special airing later this month. So no matter what season it is, Sabrina will continue to cast her spell on fans through her many chilling — and sexy — adventures.