'The Conners' Just Added Juliette Lewis In A Brand New Role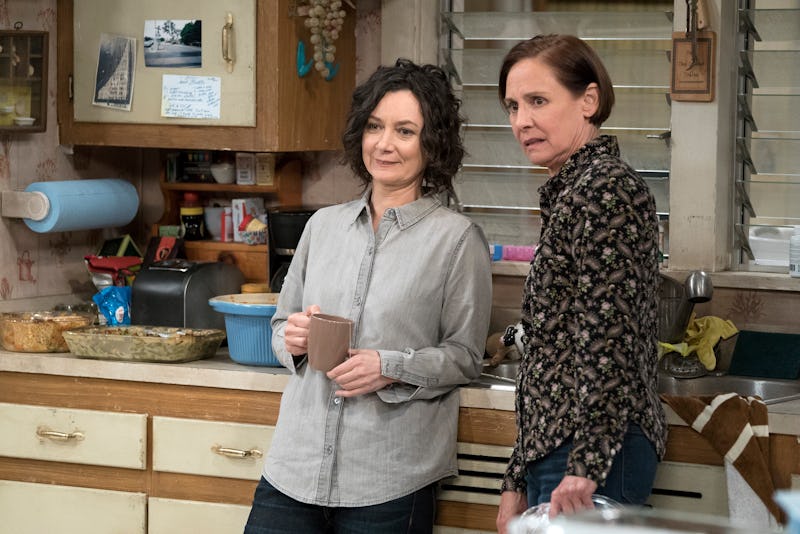 Eric McCandless/ABC
The cast of The Conners just got a little bit bigger. For its inaugural season, Juliette Lewis will appear on The Conners alongside former Roseanne regular Johnny Galecki. Lewis announced the news on social media and shared a photo of her, Galecki, and executive producer and Darlene actor Sara Gilbert. Lewis is new to this TV family, but Deadline reported she will portray a character referenced in the Roseanne revival. And as The Conners gets closer to its Oct. 16 premiere, this TV family is proving that they'll be just fine without Roseanne Barr.
After Barr tweeted racist remarks, ABC canceled the Roseanne reboot following its highly successful first season. The network then decided to bring back the rest of the Conner family with a spinoff. And while Barr claims that Roseanne will die of an opioid overdose, the fate of the title character hasn't been officially revealed. But when Dan, Jackie, Becky, D.J., and Darlene return to TV for The Conners, they'll be joined by Galecki's David and Lewis' new character, Blue.
Galecki and Lewis, who famously played siblings back in 1989's National Lampoon's Christmas Vacation, will guest star on The Conners Season 1. Although Lewis might be best known for her film work in '90s movies like Cape Fear, Natural Born Killers, and From Dusk Till Dawn, this is far from her first foray into television. She has appeared in NBC's The Firm, Season 1 of ABC's Secrets And Lies, and Fox's sci-fi series Wayward Pines. Besides The Conners, Lewis will also be in the HBO series Camping with Jennifer Garner when it premieres on Oct. 14. Meanwhile, Galecki, who was a series regular in the later seasons of Roseanne, is currently a series regular on the highly successful The Big Bang Theory. Safe to say, they know what they're doing.
Galecki only appeared in one episode of the Roseanne revival, "Darlene v. David," when he reprised his role as David Healy. David was the younger brother of Becky's husband Mark, and he ended up dating and eventually marrying Becky's younger sister Darlene. As the reboot showed, Darlene and David have two children together, but their relationship deteriorated after the death of Mark. (Glenn Quinn, who portrayed Mark on the original series, passed away in 2002.)
By the time the reboot picked back up, David had moved away, but decided to come back to Lanford to be a father to their children, Harris and Mark (named after his uncle). And even though he was with Blue, he also briefly rekindled his romance with Darlene. By the end of the episode, however, Roseanne and Becky helped Darlene see that getting back with David wasn't actually the best decision for her or their kids. So they ended their relationship for good and David went back to Blue.
As a regular on The Big Bang Theory, Galecki is understandably busy. Yet, he's made time in his schedule again to come back as David — and this time he's bringing a new love interest with him. David's girlfriend's appearance will surely cause tension, as fans can presume. With a name like Blue (Darlene already called her a "crayon") and the fact that she is being portrayed by the unconventional Lewis, it seems unavoidable that her hippie ways will clash with Darlene's sarcasm. Lewis teased her debut on the show on Twitter, writing that "the writing is SOOOOO GOOOD," so it should be interesting to see how Blue and Darlene interact — and how Darlene handles Blue's introduction to Harris and Mark.
But fans of Roseanne can see how Lewis' role will impact The Conners when David brings Blue to meet the family for this spinoff's first season.