The New 'Fantastic Beasts 2' Trailer Revealed A MAJOR Harry Potter Character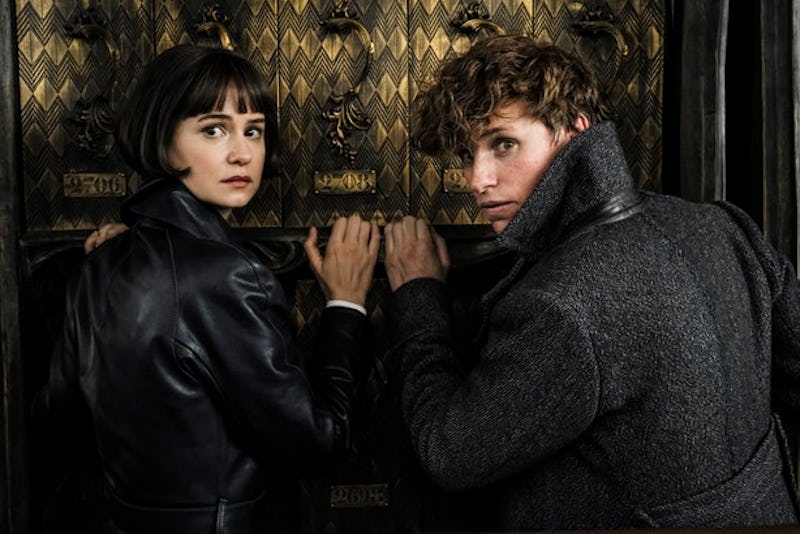 Jaap Buitendijk/Warner Bros.
Potterheads finally know a bit more about the second installment of the Harry Potter prequel series: The Fantastic Beasts: The Crimes Of Grindelwald trailer dropped at San Diego Comic-Con. Though it's not yet online, the trailer did drop a major bit of news: Fantastic Beasts 2 features Nicholas Flamel. Of course, some Potter fans may know the name and not remember why, and that's fine. There's a lot of history to keep track of in this universe.
Flamel, or the alchemist, is more of history figure in Potter lore, and the creator of a little thing called the Sorcerer's Stone. He was a friend of Dumbledore — aka Hot Dumbledore in this iteration — and lived in France, which is probably why Newt finds himself in Paris in the new trailer after Dumbledore asks him for his help in taking down Grindelwald.
Flamel is an accomplished alchemist, and the stone isn't the only thing he's managed to whip up. As the trailer discusses, he also created the Elixir Of Life, which allows him to live for a ridiculously long time (part of why good old Jacob thinks he's a "ghost" when he first meets him). It stands to reason that he might be mighty useful as Newt attempts to figure out how to do Dumbledore's bidding.
Of course, there was so much else packed into the trailer. We see young Newt learning his first spell with the help of even younger Albus Dumbledore (don't worry, still Jude Law); there are a few longer glimpses of Zoe Kravitz's Leta LeStrange; and you know, a few giant hairless cats with glowing eyes for good measure.
The trailer also has a healthy dose of the film's most controversial figure, in fiction and the real world, Johnny Depp's titular Grindelwald. As many fans know, it's rather awkward to be so excited to see the delightful Eddie Redmayne return as Newt, Jude Law take on young Dumbledore, Jacob and Queenie's romance to return, and to finally, finally get a real glimpse at Leta LeStrange, and to feel so conflicted about seeing Depp onscreen again.
Fans have been railing against the inclusion of the actor, who was accused of domestic abuse towards his ex-wife Amber Heard. He wound up agreeing to a $7 million dollar settlement, which Heard says she donated to charity. The former couple later released a joint statement which stated that "there was never an intent of physical or emotional harm." Still, the story turned many fans against Depp and made many Potter fans uncomfortable that he continues to be involved in their favorite franchise. Director David Yates has spoken out on the matter, telling Entertainment Weekly that "I can only tell you about the man I see every day: He's full of decency and kindness, and that's all I see."
That hasn't stopped fans from feeling frustrated, but at the very least, everyone can take solace in the fact that the entire plot of the new Fantastic Beasts film is to, well, take the guy down.