Newt Scamander Looks Way Hotter Than Young Dumbledore In These New 'Fantastic Beasts' Pics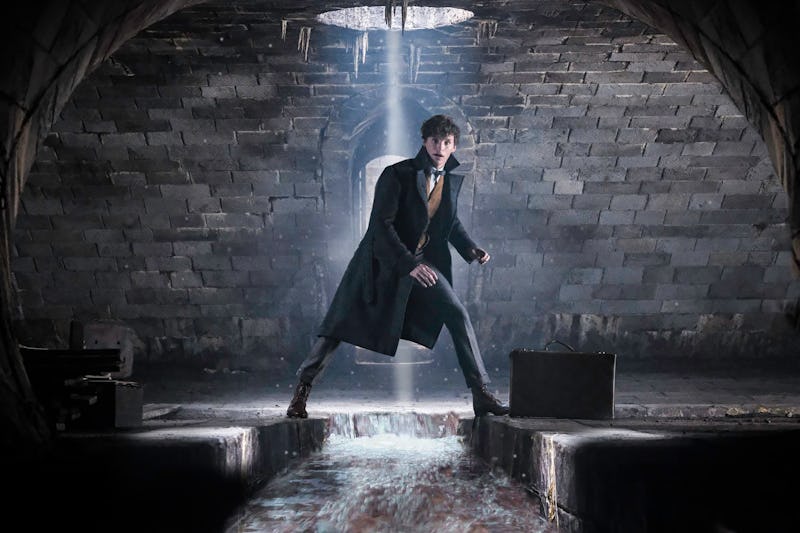 Jaap Buitendijk/Warner Bros.
Eddie Redmayne portraying Newt Scamander in the Harry Potter spin-off series Fantastic Beasts is old news — especially when you consider the excitement surrounding Jude Law as young Dumbledore in the upcoming sequel. But a new photo of Newt in Fantastic Beasts 2 serves as a reminder that Newt is the original star of this series and — perhaps more importantly — that Newt can smolder every bit as much as the new character that will be introduced. In fact, this Fantastic Beasts: The Crimes of Grindelwald photo (screenplay writer: J.K. Rowling) might just prove that Redmayne's Newt can hold his own against Law's sexy young Dumbledore that the internet can't stop talking about.
While fans have been divided on Johnny Deep as Grindelwald, one thing they can agree upon is how hot young Dumbledore is. And the more photos of Law as the beloved Albus Dumbledore get released, the more poor Newt understandably falls by the wayside. But let's not forget that the name of the entire film series is based on a book by Redmayne's character, and that Newt was the heart and soul of 2016's Fantastic Beasts and Where to Find Them. Above all, you can't pretend that Newt doesn't have his own unique and charming vibe going on.
So while this new photo of Newt probably won't make you go, "Dumbledore who?" (well, not unless you're Tina), it will remind you that Newt is a star for a reason.
For the sake of comparison (aka, just because you know you want to see it again), here's Law giving off his own commanding energy as young Dumbledore.
Sure, Redmayne's charm may not be as practiced as Law's, who has been smoldering his way through films since the '90s, like in The Talented Mr. Ripley. But Redmayne has his own appeal as he showed off in Les Misérables. Plus, Albus looks cool, calm, and collected in the above photo, while Newt is clearly concerned about what's behind him.
Not only have fans seen this type of look from Newt before in Fantastic Beasts and Where To Find Them, but it's also pretty impressive how Redmayne can look suave while being so worried. And even more impressive when you remember how awkward Newt is most of the time.
Beyond Newt's look, this new photo is exciting since it's the first from The Crimes of Grindelwald to show Newt and Katherine Waterston's Tina back together. Although it was revealed in July 2017 that Newt would be reunited with his budding love interest Tina — as well as his baker buddy Jacob and Tina's sister Queenie — in the Fantastic Beasts sequel, it's still good to see these two joining forces to fight evil again.
If you care less about Newt's charm and more about what will occur in The Crimes of Grindelwald, another newly released photo of Newt seems to give a bigger clue about the plot. In it, he appears completely captivated as he reads a postcard from Paris. Fans were already informed that the Fantastic Beasts series will leave the U.S. in The Crimes of Grindelwald as the characters travel from New York City to London and Paris, but this new photo may indicate why Newt travels to France.
The photo doesn't show whom the postcard is from, but, based on how intrigued Newt looks, one potential guess is that the postcard was written by his former flame Leta Lestrange. Although Zoë Kravitz's Leta only appeared in a photo in the first Fantastic Beasts movie, she is important to Newt and is going to become a much larger character in the films. Not only would a postcard from Leta complicate all of the romantic entanglements, since Newt is still enamored with her and she's engaged to Newt's brother Theseus, but it could be a connection to Grindelwald. As Leta is a member of the notoriously evil Lestrange family, this postcard could lead Newt to Grindelwald, who has escaped the Magical Congress of the United States of America.
More details and photos will inevitably reveal more about Fantastic Beasts: The Crimes of Grindelwald before it's released on Nov. 16, 2018, but at least these photos remind you of the magical allure that Newt has and exactly why he's the star of the show here.