The 'Feud' Season 2 Theme Is A Sensitive One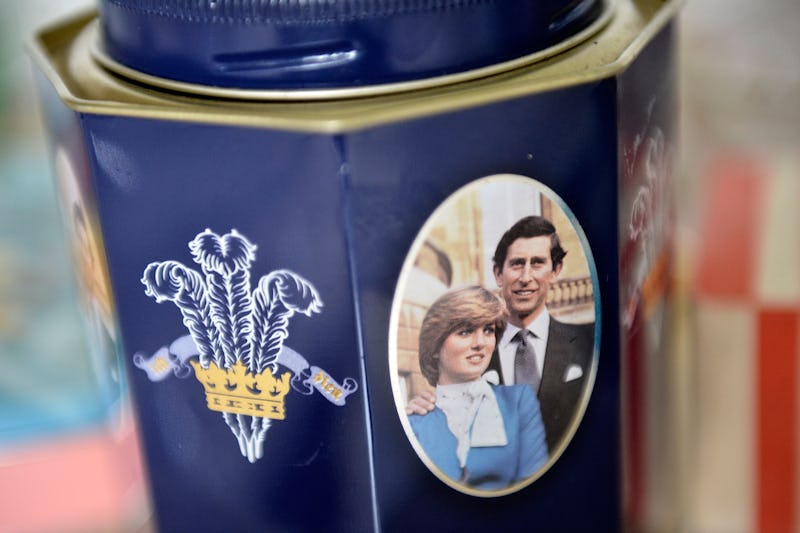 Bethany Clarke/Getty Images News/Getty Images
Although the feud between Joan Crawford and Bette Davis was painful, it didn't end with a tragic, untimely death (both women have passed on, but lived for decades after their initial feud). Unfortunately, the same can't be said for the subjects of Ryan Murphy's Season 2 of Feud: Charles and Diana. Murphy isn't afraid to take on iconic people from history, as The People v. O.J. Simpson and Feud: Bette and Joan proved, but as Season 1 of Feud comes to end, it's with trepidation that I look forward to its next season. That's because, to me, it seems too soon to portray the details of the feud that happened between the British royals Prince Charles and Princess Diana — and current events are making my concerns more justifiable.
20 years have passed since Princess Diana died in a car crash in Paris and the whole world mourned her. Yet, despite those two decades, the death of Princess Diana can sometimes still feel fresh. Part of that is because she was a beloved public figure who died unexpectedly. And part of that is because her children are also currently beloved public figures. With Prince Harry openly discussing how he coped with his mother's death for the April 16 podcast of Mad World by The Telegraph's Bryony Gordon, the reminder that Princess Diana was a real person with a real family who are still coming to grips with her death is in the mindset of the public. As I was already anxious that Season 2 of Feud might come off as a bit tasteless, now I'm particularly worried about how Murphy will portray this delicate family history.
Before I go any further, I must admit that I didn't have these strong of feelings about Murphy's other show, American Crime Story: The People v. O.J. Simpson, and perhaps that was inconsiderate of me. The verdict of the O.J. Simpson trial was decided only two years before Princess Diana died and the families of Nicole Brown and Ron Goldman had to relive everything all over again with Murphy's interpretation of the story.
Either way, this isn't Murphy's first foray into telling a controversial story and while I applaud that he is willing to reinterpret the biggest moments in modern culture with gusto, I fear he won't do it with the nuance that is required in the case of Charles and Diana.
With Bette and Joan, the subjects have both been dead for quite some time — as have many other people who were prominently featured in the series. Yes, actress Olivia de Havilland is still alive at the age of 100 and Davis' daughter B. D. Hyman is also alive after writing two books about her mother, but the majority of the main players have passed. That, along with the fact that Crawford and Davis lived for years after What Ever Happened to Baby Jane? and died natural deaths at old ages, didn't have me worrying about how Season 1 of Feud would impact any surviving people of the feud. Yet, that's not the case for Charles and Diana.
Even before Prince Harry's podcast, I was apprehensive that the Season 2 theme of Feud might be insensitive since everyone else involved is still alive and Diana's death was a tragic and sudden accident. Of course, this isn't the first or last time that the story of the British royals will be told — these people are public figures and thus, the public (myself included) will forever be fascinated by them. But I doubt that Feud Season 2 will end up playing out as as the 2006 movie The Queen did. The Queen had aspects of the feud between Diana and Charles, but its focus was on Queen Elizabeth's response to Diana's death and her relationship with Prime Minister Tony Blair. It was also an Academy Award-winning film and while Murphy's shows are critically-acclaimed, I find they have an element of camp (did you see John Travolta as Robert Shapiro in The People v. O.J. Simpson? Or David Schwimmer as Robert Karadashian? Or, for that matter, Cuba Gooding Jr. as Simpson?) that is usually entertaining but doesn't always elevate the material to the level of accuracy or art that The Queen had.
Before my snobbish, Anglophilic attitude shows too much, I want to go back to the event that made my initial wariness about Charles and Diana seem more legitimate — Prince Harry's podcast. In a fairly unprecedented move, the prince opened up about how didn't deal with his mother's death for a very long time, but sought therapy as an adult. His heartfelt discussion is to help raise awareness for his charity with Prince William and Princess Kate — Heads Together — which is encouraging people to start conversations about mental health to help end the stigma associated with emotional problems.
The brothers, who were only 15 and 12 at the time of their mother's death, have turned the mourning about their mother toward their conversation for Heads Together. And, in doing so, they have put Feud: Charles and Diana into perspective. The life and death of Princess Diana was always a media circus, but her children deserve respect when it comes to the telling of her story. Charles and his second wife Camilla Parker Bowles are still alive and will be featured prominently in Season 2 of Feud, which will surely not be easy on them, but William and Harry are truly innocent of any of the scandal that surrounded their parents' relationship and now have to live with another fictionalized telling of their family history for the sake of entertainment.
Murphy confirmed that Season 2 of Feud will start with divorce papers and follow Charles and Diana up until her death, so the series will be tackling many unpleasant aspects of the royals' lives. Yet, the TV magnate has also spoken about how he will go about portraying Diana and Charles with sensitivity. "Whoever plays those parts, it's a big role, but we're approaching those people with love and understanding and kindness," Murphy told Entertainment Weekly.
While Murphy clearly has a fondness for Diana, as indicated by other comments made to EW, will that be enough to effectively tell the feud of Charles and Diana with respect to their children? I wouldn't ever want to stifle art based on public opinion, but I am worried about the subject matter of Feud Season 2 because of concern for Harry and William. Although I am sure the men have thick skins from living their entire lives in the limelight, I am hoping that Murphy makes Feud: Charles and Diana more than just sensational. He was able to blend those aspects of realism and "too bizarre to be true" with much success in Feud Season 1, so here's hoping he can do the same with a more hot-button feud. After all, even if people are concerned like I am about the insensitivity of the subject matter, that has never stopped audiences from tuning in to see a version of the story of Princess Diana. And, as Naomi Watts' 2013 film Diana showed, if it's not done right, there will be hell to pay for not respecting the memory of the beloved princess and her family.