This 'Kim Possible' Movie Photo Will Make You Want Disney To Beep You When It's 2019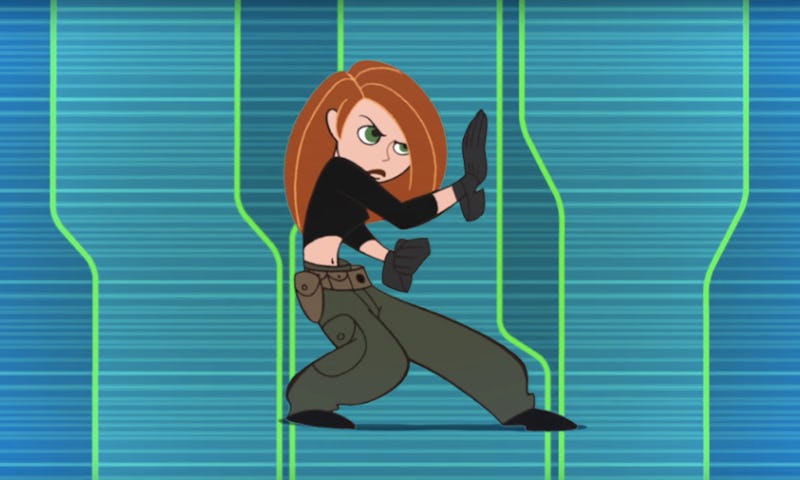 Disney Channel
Here's the sitch: A live-action adaptation of classic Disney series Kim Possible is fully happening, and the first look at it is so the drama. On July 21, Disney announced at Comic-Con that the live-action Kim Possible movie will premiere in 2019, so grab your cargo pants and mark your calendars right now. After the Comic-Con debut, the Disney PR team tweeted the first official glimpse of Kim Possible herself, who will be played by actor Sadie Stanley. From the half-gloves to the mane of red hair, it's perfect.
Rounding out the Kim Possible movie cast? Basically a buffet of beloved sitcom actors. Sean Giambrone, best known as Adam Goldberg on ABC's The Goldbergs plays Ron Stoppable — amazing. Alyson Hannigan, whom you may know as Willow from Buffy or Lily from How I Met Your Mother, plays brain surgeon Dr. Ann Possible.
Per Deadline there are even more live-action cast members to love. The site reports that Todd Stashwick and Taylor Ortega are playing villains Drakken and Shego, respectively; Connie Ray is grandmother Nana Possible; Ciara Wilson plays new character Athena; Erika Tham is Kim's childhood frenemy, Bonnie; and Issac Ryan Brown plays teen computer genius Wade.
Yes, please. So, ready or not, here's the official first look at the live-action Kim Possible movie, courtesy of Disney.
Okay, so, even without so much as a hint of Rufus the naked mole rat, it's look good, right? In fact, kind of awesome, like the Kim Possible Halloween costume of your preteen dreams. Of course, there's one snag, and it's a big one: Disney Channel has not said anything about Rufus' role in the film. Just kidding; that's not the big thing. While it's true that they've yet to cast a Rufus or similar oddball pet, it is interesting that Disney Channel hasn't announced any plot details for the movie. Any at all! Also, Disney hasn't mentioned whether Kim's father, the rocket scientist, will be cast, or if twin brothers (and twin nuisances) Jimmy and Timmy will be part of the film as well. Is it possible that they're going the extremely Disney route by removing one of the parents from the picture? Or are they still in the earlier stages of filming? Hard to say! There's so much left unanswered about the project, even though it's set to debut on Disney Channel in 2019.
The Kim Possible movie is just another one of the many, many beloved series that are getting reboots these days, on what feels like every channel. Nickelodeon, for instance, is bringing back Invader Zim for a television movie, and reportedly adapting Rugrats for a live-action show. Disney's done several live-action adaptations of classic animated films already (think Beauty & the Beast and the upcoming Aladdin), so it was only a matter of time before the high-octane Kim Possible series got the same treatment. Will Christina Milian return for an all-new theme song? Please say yes, Disney!
If you missed the Kim Possible boat, that's okay! It's really easy to catch up on, and also, it's the best show ever. It's funny and feminist and full of action, and not to mention — the puns. Plus, the fashion! When it aired in the early '00s, it was exactly what the Disney Channel needed. It was an action-packed, action-adventure series, plus your basic high school dramedy, and it taught an entire generation of tweens how to best enjoy french fries. (Dipped in a milkshake — ideally, your date's.) The original run starred early '00s favorites in voiceover roles that helped define the show, too: Even Stevens and Cadet Kelly's Christy Carlson Romano was the voice of Kim, with Will Friedle from Boy Meets World as her neurotic best friend.
Even though Disney Channel hasn't released too much information about the upcoming live-action series just yet, fans can't wait to see what they do with it for a new generation of viewers. And this first look is definitely promising.