The Trailer For Cole Sprouse's New Romantic Drama Will Make You Feel Every Emotion Ever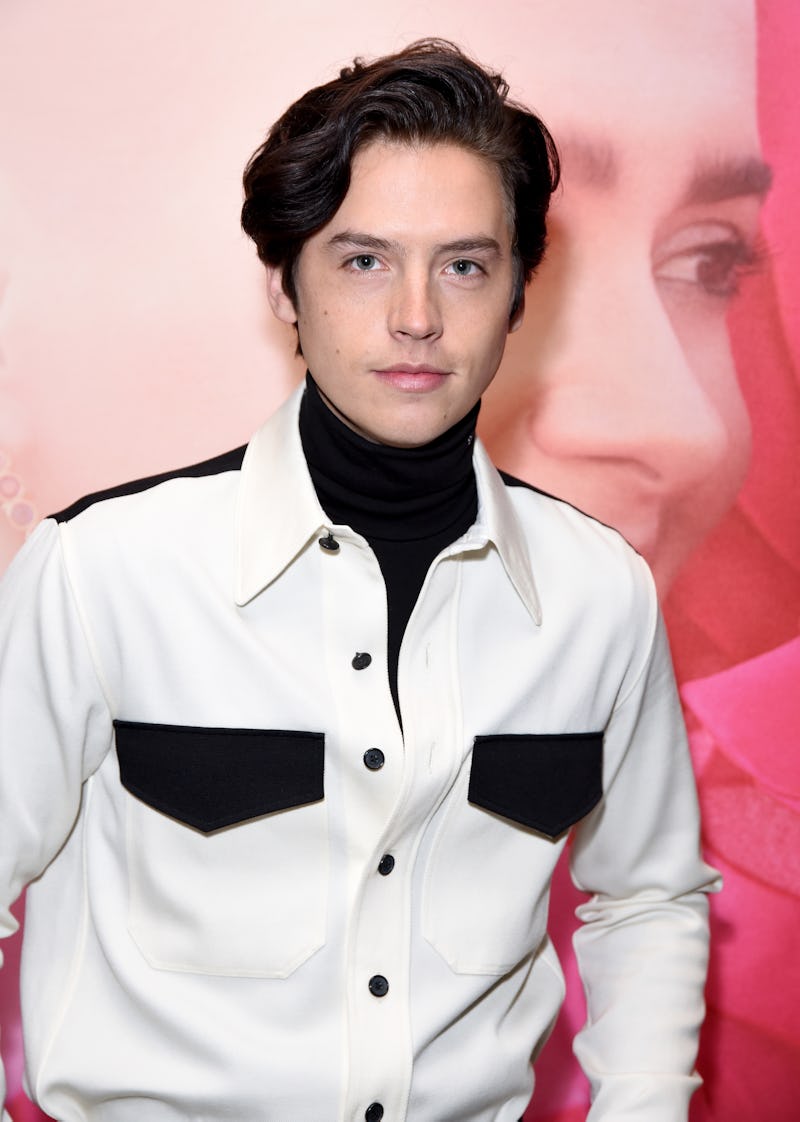 Presley Ann/Getty Images Entertainment/Getty Images
On Friday, Nov. 2, the Five Feet Apart trailer was released, and it's more emotional than you could have ever imagined. The romantic drama, which features Riverdale star Cole Sprouse opposite Split actor Haley Lu Richardson, is a story about two cystic fibrosis patients who meet at a hospital and fall in love. However, due their medical conditions, they must always keep at least six feet of distance between them.
The film, which is slated to debut in March 2019, was produced by Jane the Virgin star Justin Baldoni and will also mark his directorial debut. It additionally marks Sprouse's first feature film as an adult, making for a big moment for both entertainers. The pairing of the CW's Jughead Jones and Jane's Rafael Solano may feel like an interesting matchup. However, it's worth pointing out that not only do they currently star in hit shows on the same network, they've also appeared on TV together in the past. Thanks to a fan discovery, it was recently revealed that Baldoni once guest starred as a fencing instructor on an episode of Sprouse's Disney series, The Suite Life of Zack and Cody years ago. With the news of their upcoming film, it seems that Baldoni must have a great deal of respect for Sprouse and his acting talents.
In the newly released trailer for Five Feet Apart, viewers get to see Sprouse step into the role of Will, who meets Stella (Richardson) and embarks on a romance that ultimately changes both of their lives.
As the snippet opens, Stella, who chronicles her battle with CF through video, tells the camera:
"Human touch... we need that touch from the one we love almost as much as much as we need air to breathe. I never understood that until I couldn't have it."
With the song "Remind Me To Forget" by Kygo ft. Miguel as the backdrop, Stella explains to her vlog, "people with CF aren't supposed to get within six feet" because they could potentially "catch each other's bacteria."
While Stella remains committed to getting better, all the rules are tested after Stella is introduced to Will in the hospital. Will, seemingly the opposite of Stella, is a more of a nonconformist and appears to lean towards pessimism when it comes to his condition. Discussing the perils of cystic fibrosis with his newfound friend, Will contends, "nothing is going to save our lives, we're breathing borrowed air."
As the two become closer, Stella convinces Will to partner with her on treatments so that she can help him stick to the detrimental regimen. However, after a medical emergency poses a major threat to Stella's life, she realizes all that she's been missing because of the rules associated with the genetic disorder. After having the epiphany, Stella shares,
"This whole time I've been living for my treatments, instead of doing my treatments so that I can live — and I wanna live."
Amidst her battle with CF and her will to live life on her own terms, Stella tries to find balance, explaining:
"After all that CF has stolen from me, I don't mind stealing something back."
She later challenges Will to cross the boundaries by coming one foot closer than originally permitted. Holding a pool stick between them, she asks, "Five feet apart... are you in?"
A synopsis for the film, which was shared by Moviefone back in May, gives more insight into the film's narrative. It reads,
"As the connection between Will and Stella intensifies, so does their willingness to defy the rules that govern every moment of their lives. Teenage attraction gets complicated when touching is not an option, but the pair quickly learns that the possibilities are endless, even if it means staying out of reach. Living on borrowed time means making every moment count, and as the challenges mount, Will and Stella will discover a strength within themselves and each other that transcends the distance between them."
The forthcoming movie has certainly been prepping fans for the emotional setting with both its details and artwork, which feature Sprouse and Richardson sitting on the floor staring at one another with their hospital bands and oxygen tubes in place.
When the film's poster dropped on Oct. 31, Sprouse took to Instagram to share his excitement in a now-deleted post, writing:
"Got the poster today for #FiveFeetApart! trailer drops later this week so keep an eye out. First movie since big daddy, very exciting. Got to work with some Insanely talented people. Thanks to @justinbaldoni and @cbsfilms for putting this together, can't wait for everyone to see it."
Baldoni also gushed about the project on Instagram, sharing a photo of the poster along with a heartfelt caption that discussed his long path to becoming a director. His social media statement read in part:
"I couldn't be more excited, humbled & and also really damn proud to share with you the first official trailer for @fivefeetapartfilm!!"
With Five Feet Apart not making its way until spring of next year, the film's trailer certainly does its part in preparing fans for the rollercoaster ride of emotions that lies ahead.