Cole Sprouse & Justin Baldoni Revealed The Sweet Poster For Their New Movie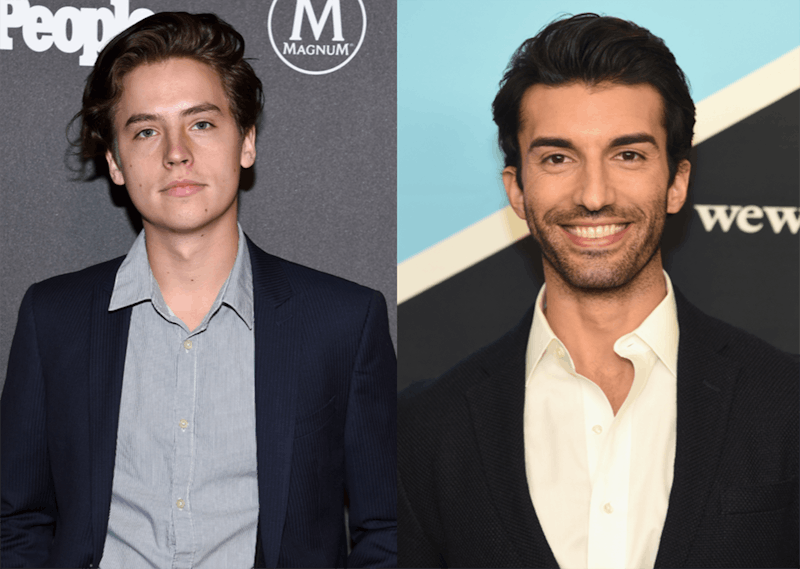 Dave Kotinsky/Getty Images Entertainment/Getty Images; Jamie McCarthy/Getty Images Entertainment/Getty Images
The trailer for the tearjerker with Rafael Solano at the helm and Jughead Jones in one of the starring roles will be here in just a few days, so ready your tear ducts. On Tuesday, Oct. 30, Justin Baldoni and Cole Sprouse shared the Five Feet Apart movie poster. Oh, and they also announced the preview will be out on Friday.
The Riverdale star wrote on IG,
"Got the poster today for #FiveFeetApart! trailer drops later this week so keep an eye out. First movie since big daddy, very exciting. Got to work with some Insanely talented people. Thanks to @justinbaldoni and @cbsfilms for putting this together, can't wait for everyone to see it."
This is not Sprouse's first time working with Baldoni. As a fan pointed out on Twitter over the summer, the director of Five Feet Apart had a guest spot on The Suite Life of Zack and Cody, the Sprouse brother's Disney Channel Original Series. Baldoni played a fencing instructor in an episode titled "Foiled Again," and if you guessed that episode involved London Tipton and Maddie literally swashbuckling for his affection only to realize their friendship means more, you guessed oh-so right.
A decade later, Jane the Virgin star is the director of a to-be-released feature film starring Cody Martin. Baldoni's caption reads in part:
"As a struggling actor I supported myself by directing music videos on the side to make rent, then later commercials, and in my mid-twenties I decided to leave acting completely to make documentaries that I hoped could help heal our world. So I have to just say out loud, that while it may have seemed like I was on the path to eventually direct a studio feature film - I don't know if I ever thought it would really happen. Sometimes dreams can feel so far away- but this has always been one of my big ones. (And I'm sure my mom would tell you she always 'knew' it would happen.)"
Your heartstrings secure? OK. Here's the sweet poster.
Five Feet Apart is a romantic drama about two cystic fibrosis patients who meet at a hospital and fall in love. However, due to hospital rules, they must always keep six feet between them.
Back in May, Moviefone posted the synopsis, which reads in part:
"As the connection between Will and Stella intensifies, so does their willingness to defy the rules that govern every moment of their lives. Teenage attraction gets complicated when touching is not an option, but the pair quickly learns that the possibilities are endless, even if it means staying out of reach. Living on borrowed time means making every moment count, and as the challenges mount, Will and Stella will discover a strength within themselves and each other that transcends the distance between them."
Sprouse stars opposite Haley Lu Richardson, who you know and love from movies like Support the Girls and The Edge of Seventeen. Five Feet Apart was written by Mikki Daughtry and Tobias Iaconis, and it is slated to hit theaters on March 22, 2019.