You DEFINITELY Missed 'Jane The Virgin' Actor Justin Baldoni's Role In This Disney Channel Show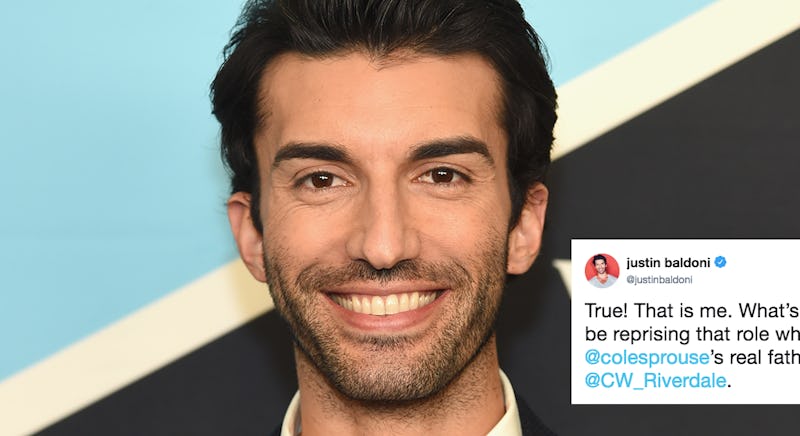 Jamie McCarthy/Getty Images Entertainment/Getty Images; justinbaldoni/Twitter; Bustle/Screenshot
While everyone knows that an actor's resume can sometimes consists of multiple roles in a slew of programs over the span of their career, there are specific characters that, somehow, define an actor's legacy. And in the case of actor Justin Baldoni, this totally rings true. For example: did you know Jane the Virgin's Justin Baldoni was also once in The Suite Life of Zack & Cody? Well, a fan posted a screengrab of the actor, director and filmmaker from his time in the Disney phenom, and Baldoni acknowledged it on Twitter in a hilarious way.
Fans of Baldoni today probably recognize the actor most for his work on The CW hit Jane the Virgin, in which the Los Angeles native stars opposite Gina Rodriguez's Jane as Rafael, her on-again, off-again lover and baby's daddy. Over the past four seasons, fans have watched on as Rafael and Jane try their hand at love and co-parenting their son Mateo — who was conceived through artificial insemination by accident at the hands of Rafael's sister, Dr. Luisa Alver (Yara Martinez). As you can probably already guess, the show is filled with a ton of ups and downs, and twists and turns (they don't refer to it as a modern day telenovela for nothing). And so, when thinking of Baldoni's life before Jane the Virgin, it's kind of hard to imagine the talent as anyone other than the handsome, yet tortured soul, that is Rafael.
Since rising to stardom, however, Baldoni has used his platform to show off his producing chops — like with his new talkshow entitled The Men's Room — his political and social activism leanings, and his tremendous parenting skills. The actor is multi-faceted to say the least, so learning of his resume prior to Jane the Virgin shouldn't catch many by surprise, right? Well, this screenshot of Baldoni in the '00s The Suite Life of Zack & Cody will do the trick.
In a Thursday, July 19, tweet, a fan posted a side by side of Jane's Rafael and Suite Life's fencing instructor, writing, "Just realized Rafael from Jane the Virgin is the fencing teacher from Suite Life of Zack and Cody." To which, Baldoni jokingly responded in a tweet, "True! That is me. What's also true is that I will be reprising that role while playing @colesprouse's real father in season 12 of @CW_Riverdale."
All grown up, Suite Life's Cody Martin is now Riverdale's leading man Jughead, turning Disney's Cole Sprouse into an all-out heartthrob. Even sweeter, Sprouse will be starring in Baldoni's feature directoral debut, entitled Five Feet Apart, throwing another dose at nostalgia into the mix. But though Baldoni is probably not playing Sprouse's father in The CW hit, Baldoni is certainly killing it at fatherhood in real life — according his adorable Instagram pics.
As mentioned, Baldoni is no stranger to hitting his followers with awesome life lessons, especially when it comes to parenting. The actor won the internet Father's Day 2017 when he posted a picture of his young daughter, Maiya, having what Baldoni described as a "tantrum" in Whole Foods, accompanied with an essay surrounding the importance of letting children feel their feels — whether in public or in private.
With an insightful tone, the multi-talent wrote,
"Our children are learning and processing so much information and they don't know what to do with all of these new feelings that come up. I try to remember to make sure my daughter knows it's OK that she feels deeply. It's not embarrassing to me when she throw tantrums in the grocery store, or screams on a plane. I'm her dad…not yours. Let's not be embarrassed for our children. It doesn't reflect on you. In fact.. we should probably be a little more kind and patient with ourselves too."
And with that, Baldoni contributed to shifting the narrative around parenting, and what it means to be empathetic to your child's growth. As for his role in Jane the Virgin, knowing a bit about how seriously Baldoni takes his fatherly duties in real life only adds more to his character Rafael's relationship with Mateo. Rafael is so layered, and all of his complexies, arguably, makes him a fan favorite in the Jane the Virgin fold.
It's kind of hard to imagine Baldoni taking on any role other than the one he so expertly plays in the CW hit. But, this Suite Life throwback definitely provided a nice little laugh.