The Funniest Quotes From This Year's Emmys Will Make You LOL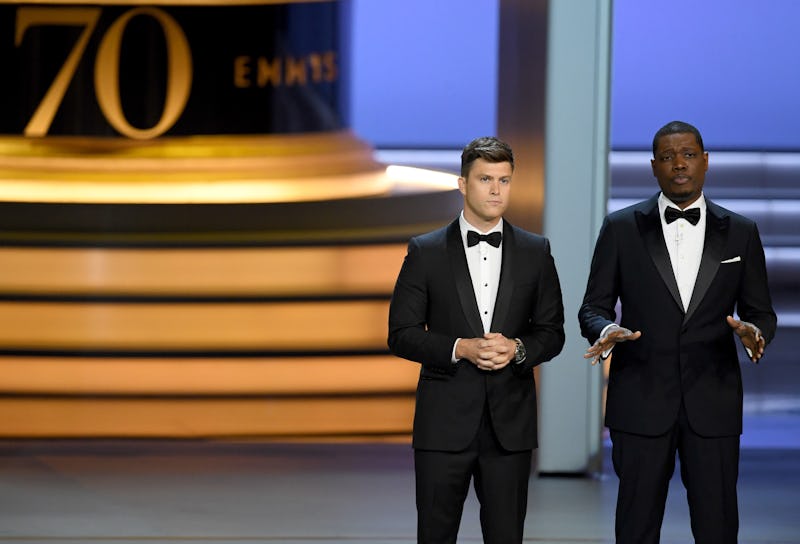 Kevin Winter/Getty Images Entertainment/Getty Images
Awards season comes so fast, doesn't it? One day, you're enjoying our summer break, and the next, you're taking bets as to what offensive jokes Emmys hosts Michael Che and Colin Jost will tell during their first major ceremony co-hosting gig. Time really flies. And speaking of jokes, the 2018 Emmys' funniest quotes were just like the programs the show honored. Some jokes were political, some were situational, some were definitely too highbrow for many, and some were best digested over popcorn and wine, Olivia Pope-style. (Where is Olivia Pope during these things, anyway?)
According to Variety, Game Of Thrones had the most nominations this year, with a whopping 22. Saturday Night Live, always good in times of political turmoil, and Westworld, both had 21, and The Assassination Of Gianni Versace: American Crime Story scored 18. Most interesting was the fact that Netflix finally passed HBO as the most-nominated network, with 112 nods versus HBO's 108. There's a new sheriff in town, it seems, when it comes to prestige television.
And while your favorite show or actor winning award is nice and validating, it's more fun to live-tweet, track the jokes, and poke fun at the over-the-top acceptance speeches. Let's take a look at the best one-liners from the 2018 Emmys.
1. "Sir, Ronan Farrow is on line one."
Colin Jost, highlighting the one phone call that no one in Hollywood wants right now, as Farrow is gaining a reputation for a long line of exposés.
2. "Netflix is like that Instagram model who is always in Dubai."
Michael Che, wondering how Netflix fills its coffers with all that development money.
3. "You can go to bed now! Daddy won!"
Henry Winkler, to his children after finally winning an Emmy after 43 years in the business, for Barry.
4. "15 Miles Outside of Atlanta."
Michael Che describing the new sequel to Atlanta, starring only "white women who call the cops on the cast of Atlanta."
5. "I miss you, Jeremy."
Sandra Oh, finishing a bit in which she and Andy Samberg decided they didn't want to read the name on the card and instead reach out to her high school ex.
6. "A limited series is when a movie star reaches the limit on all of their credit cards, so they have to do television. Cumberbatch knows what I'm talking about."
Colin Jost, introducing the Limited Series segment of awards.
7. "Little tip for you young actors. When they call and ask if you can ride a horse, don't lie."
Jeff Daniels, highlighting his struggles on the set of Netflix's western drama Godless.
8. "I want to thank Lorne Michaels for not only this to me, but all the other wonderful things he's done with me — for me."
Betty White, paying homage to the Saturday Night Live creator (and crush?).
9. "I want to thank my wife, who is in New York tonight. She is very busy, and she said, 'I just can't fly across the country to watch you lose.' And I still think you made the right decision."
John Mulaney's acceptance speech for Outstanding Writing for a Variety Series.
10. "There's so many guys who didn't win with engagement rings in their pockets."
Colin Jost, after Glenn Weiss proposed to his girlfriend after winning an award.
11. "My panic room is gonna look so pretty now!"
Amy Sherman-Palladino's second acceptance speech after picking up two statues for The Marvelous Mrs. Maisel.
12. "Nobody knows what jokes are...especially not men. Am I right, fellahs?"
Hannah Gadsby being way funnier than basically everyone else on the Emmys stage in 2018.
While many jokes of the evening fell flat (it happens), these are the ones that landed and the ones that everyone will be talking about in the morning.