The Hollywood Sexual Harassment Claims Highlight A Troubling Dynamic That's Getting Ignored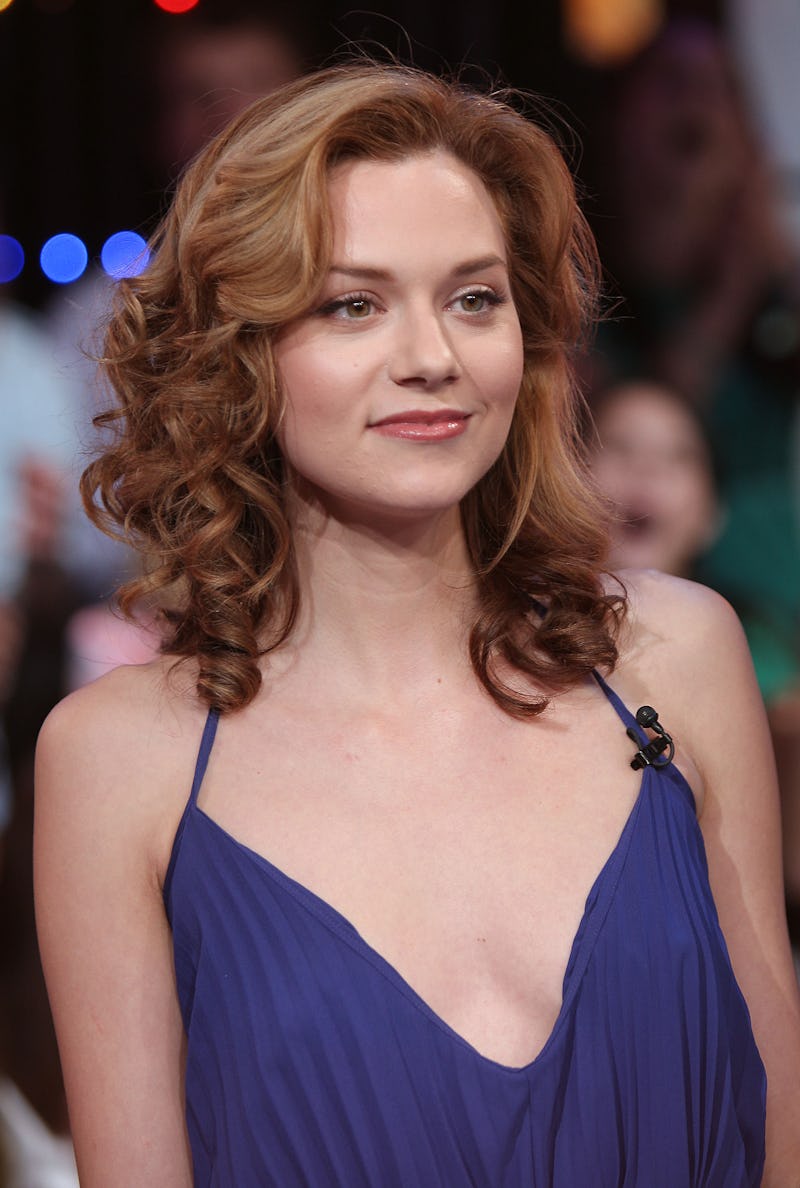 Scott Gries/Getty Images Entertainment/Getty Images
Over the past few weeks, sexual harassment allegations have poured in across Hollywood. And while none of these claims get easier to stomach, there's a common phrase among these women's sexual harassment allegations that deserves a closer look. It popped up when Hilarie Burton claimed Ben Affleck grabbed her breast without consent while filming TRL, as well as when Gwyneth Paltrow talked about Harvey Weinstein to the New York Times. Both women stated "I was a kid" when the alleged harassment happened, pointing to a tendency for those in power to take advantage of younger, more vulnerable individuals. And though it's certainly not a new phenomenon, it's not one that should be ignored now either.
Before she became Peyton Sawyer on One Tree Hill, Burton took on another role that was equally admirable to early '00s teens: being a VJ on TRL, MTV's daily countdown show. Last week, that gig was viewed in a different light when the aforementioned incident with Affleck resurfaced. (Bustle reached out to Burton and Affleck's reps, as well as MTV, but did not receive an immediate response.) After Affleck released a statement condemning Weinstein's alleged behavior with women in Hollywood, Twitter user @ShaniceBrim was quick to point out the apparent hypocrisy, writing of Affleck, "He also grabbed Hilarie Burton's breasts on TRL once. Everyone forgot though."
Sure enough, Burton responded with a poignant tweet: "I didn't forget." After receiving support from the fan on Twitter, the OTH alum wrote, "Seriously, thank you for that. I was a kid." It's that last sentence that makes the news all the more difficult to read; while the Weinstein allegations have spurred a conversation around power dynamics in Hollywood, there's just as problematic a dynamic surrounding age and experience. While Affleck has since apologized to Burton via Twitter for acting "inappropriately," that doesn't change what happened.
During a preview for MTV's TRL Uncensored, Burton is seen recalling the alleged incident in a confessional interview, "He comes over and tweaks my left boob." In the clip, tweeted out by Burton directly, Affleck asks, "How old are you? 19?" She laughed off the remark, but last Tuesday she tweeted, "I had to laugh back then so I wouldn't cry." BuzzFeed also uncovered the full clip where the alleged groping took place, and Burton looks visibly uncomfortable, later saying, "I'd rather have a high five."
Dr. Ana Nogales, a clinical psychologist in Los Angeles and the founder of Nogales Psychological Counseling, Inc., tells Bustle, "The younger you are, [those in power] are more threatening, because you don't know how to react, you don't have the life experience." Especially when it comes to Hollywood, younger women may be afraid their career could end.
"If women smile or laugh, [it's] because they feel frozen at the time," she explains, adding that they might not know how to respond, whether out of fear or worry about being judged. The lack of a reaction then gives the other person more power in continuing such behavior. "A lot of women do not report [assault or harassment], because they feel that no one would believe them," Nogales says. "People would tend to agree or to take favor to that person that is in power and control than to the victim."
Burton's comments echo others who came forward recently with sexual harassment allegations, attributing their youth as part of the reason they didn't speak out or make a bigger deal at the time. In a statement to the Times, Paltrow accused Weinstein of harassment and said, "I was a kid, I was signed up, I was petrified." Meanwhile, Angelina Jolie also recalled an alleged incident with Weinstein in a hotel room, telling the Times, "I had a bad experience with Harvey Weinstein in my youth." (Weinstein has previously apologized to those he hurt, though his lawyer told The Hollywood Reporter they planned to sue the Times for publishing a story "saturated with false and defamatory statements.")
This notion of people being just "kids" when harassment happened was reinforced by Rose McGowan, who shared a younger photo of herself and tweeted, "This is the girl that was hurt by a monster. This is who you are shaming with your silence." Last Thursday, McGowan claimed Weinstein allegedly raped her in the '90s, according to THR. (A spokesperson for Weinstein recently told The New Yorker, "Any allegations of non-consensual sex are unequivocally denied by Mr. Weinstein.")
According to the Times, McGowan reportedly received a $100,000 settlement in 1997, following an "episode" in a hotel at Sundance; she declined to comment to the Times, while Weinstein's team didn't comment on any settlements. (The Times quoted a legal doc, which said the settlement was intended "not to be construed as an admission," but a way to "avoid litigation and buy peace.")
Women ages 16-19 are four times more likely than the general population to be victims of rape, attempted rape, or sexual assault, according to statistics from RAINN. Additionally, one in nine girls, as well as 1 in 53 boys, under the age of 18 experience sexual abuse or assault at the hands of an adult. That is way too many "kids" experiencing a potentially traumatizing situation.
And sometimes, those victims blame themselves. As Dr. Nogales explains, sometimes the harassment begins with small comments, like "You're beautiful" or "You have beautiful eyes," and continues from there. "Women are usually caught in that situation [where] they feel that they are participating in some way, because they do not react in the beginning, because it's so confusing," she says.
Meanwhile, those responsible for alleged assaults sometimes shift the blame. For instance, in Weinstein's statement, he claimed that because he grew up in the '60s and '70s, "That was the culture then" and "the rules about behavior and workplaces were different." But as Dr. Nogales points out, "I think that was an excuse for that kind of behavior... It's irresponsible to act in that way or think in that way."
Following the news of Weinstein allegations, responses on Twitter ranged from, "We need to teach young girls in school about sexual harassment... it is truly sad how evident this is becoming in our society," to "Between Trump/Weinstein/Uber I'm convinced we need to teach respect, anti-harassment & consent in HS Sex Ed b/c this is a societal problem." However, it's important that girls aren't the only ones who learn this topic — it affects youth of all genders.
For this reason, it's interesting to look at how much — or in this case, how little — is taught in American schools when it comes to harassment, whether preventing or reporting.
"It would be nice if we could have some kind of program within schools about conflict-resolution to avoid violence," Dr. Nogales says. "I think it's time for us to rethink about what education is. Education is about not just learning math and history, but also learning about respecting each other."
While it's near impossible to give a broad statement about much schools do teach on the subject, the guidelines don't seem consistent and vary by state. Essentially, there's no guarantee that a given school actually covers the subject. On the Utah Education Network website, the core standards for health classes grades 9-12 include exploring "methods of managing inappropriate or harmful comments and advances from others" as an objective; sexual harassment is listed among the related topics.
Meanwhile, the New Jersey Department of Education's guidelines for health and physical education state that health classes are required to address sexual orientation by eighth grade. The website notes that related issues "might include tolerance and sensitivity, harassment and name-calling." (Key word: might.) Similarly, Connecticut's Department of Education website states that by eighth grade, students will learn to "identify the process for getting help and to report sexual harassment, sexual assault, child abuse, human trafficking, bullying and other types of violence."
In 2015, California created a law requiring "each school district shall ensure that all pupils in grades 7 to 12, inclusive, receive comprehensive sexual health education." The list of topics includes "Information about sexual harassment, sexual assault, adolescent relationship abuse, intimate partner violence, and sex trafficking." Still, it's worth pointing out this mandatory law only was put into place two years ago.
Clearly, this is a topic schools are supposed to cover — but it's unclear to what depth harassment is actually addressed, and whether that's actually too late, since most of the guidelines mention eighth grade or later. There are lessons to be taught on both sides of the situation — what consent means, how to report harassment, but also making sure kids feel comfortable and supported.
Given society's tendency to blame victims or put them up against men in power, some sort of change needs to happen — in the ways sexual harassment is addressed, prevented, and discussed. And maybe it will be thanks to the courage of Burton and others coming forward that a change actually occurs.
If you or someone you know has been sexually assaulted, call the National Sexual Assault Telephone Hotline at 800-656-HOPE (4673) or visit online.rainn.org.