Hollywood's History Of Normalizing Sexism & Sexual Harassment Isn't As Far In The Past As It Should Be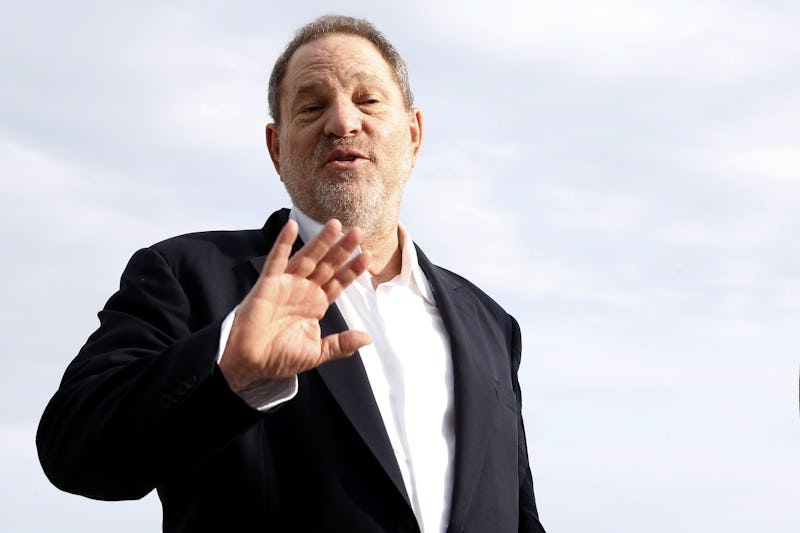 VALERY HACHE/AFP/Getty Images
The recent deluge of allegations of sexual harassment and misconduct against Harvey Weinstein has brought many Hollywood problems sharply into focus, not the least of which is Hollywood's history of normalizing sexism & sexual harassment. When it comes to known instances of discrimination, gender discrimination specifically, Hollywood's knee jerk reaction is just like that of any other industry: ignore it until it becomes too loud to tune out. It was true with the #OscarsSoWhite movement and remains true now, as illustrated by the fact that allegations against Weinstein piled up for 30 years before women came forward and he was fired from The Weinstein Company. And while many things contribute to this kind of willful ignorance, one of the most obvious contributing factors is how Hollywood, in general, tends to dismiss allegations of sexism and sexual harassment within the industry.
Of course, the existence of sexism in Hollywood is no secret. In the year of 2017, the overwhelmingly male industry is still trying to figure out how to pay its female stars the same as men, something many women have spoken out about. A majority of on screen roles in film and television are male, with Women In Hollywood's 2016 report finding that in the top 100 films of 2016, only 29 percent had women as the sole protagonist and that women made up only 31 percent of speaking roles in major films that year. And the commodifying and objectification of movie stars, while an equal opportunity offender, has been completely normalized when it comes to female actors. And these instances of Hollywood minimizing sexual politics are just a few examples of how the problem has reared its ugly head — and not all of these instances are quite as old as you might hope.
1. "We Saw Your Boobs," 2013
In 2013, a crowd of Hollywood A-listers laughed good-heartedly while Seth MacFarlane kicked off the night with a performance of his original song "We Saw Your Boobs." The entire joke, theoretically protected from allegations of misogyny by its satirical nature, revolved around reducing Academy Award winning female actors to a body part. On the one hand, the song could be interpreted as a satire. MacFarlane himself later explained it as an example of what the worst Oscar host could do in an interview with Glamour. However, the song also trivialized a very real double standard in Hollywood where women are encouraged to take off their clothes for the camera while male nudity is scarce. There's a reason MacFarlane did not perform a song titled "We Saw Your Penis" — there wouldn't be enough men to fill out even 30-seconds worth of melody.
2. Saturday Night Live, 2016 & 2017
Over its 40-plus year run, Saturday Night Live has celebrated many known sexist pop culture figures. In 2015, they invited then presidential candidate Donald Trump to host the show, despite his history of sexist and racist comments. What the series' decision-makers thought would be a night to poke fun at the most bombastic politician running in the 2016 Election ended up being a celebration of sexist man who would eventually become president. During SNL's Season 43 premiere with host Ryan Gosling, the show paid tribute to Playboy founder and controversial figure Hugh Hefner, a man not exactly known for his work to advance gender equality. And, just last week, it was reported that SNL scrapped a joke about the allegations against Weinstein, with Lorne Michaels telling the Daily Mail that he didn't want to joke about the disgraced producer because "it's a New York thing."
3. Justin Timberlake & The Super Bowl, 2004 & 2017
Who could forget when Janet Jackson's breast was exposed on live television during the Super Bowl XXXVIII halftime show in 2004? The controversy caused by seeing a part of Jackson's breast — gasp — was so huge, it ended in Jackson being cast as an industry pariah for a few years. 13 years later, however, Timberlake is now reportedly close to a deal to return to the big stage with no word on whether Jackson would even be allowed back, despite Timberlake being just as complicit in "Nipplegate."
4. Roman Polanski At The Oscars, 2003
In 2003, the Academy awarded the Oscar for Best Director to Roman Polanski, a man who could not attend the ceremony because he had fled the U.S. after admitting to raping a 13-year-old girl. Hollywood attendees gave him a standing ovation for his win, and many people have similarly continued to work with directors and actors who have been accused of sexual assault or other alleged crimes against women, like Woody Allen, Terrence Howard, Sean Penn, and Chris Brown.
5. Sofia Vergara At The Emmys, 2014
In 2014, Sofia Vergara caused an uproar when she participated in a bit during the Emmys that revolved around her showing off her physical assets as the Academy president spoke. The joke was that she would be there to entertain viewers while the Academy president was speaking, as if all the audience cared about was a pretty woman in a dress. But to viewers at home, it looked like just another instance of Hollywood reducing women to their looks for the pleasure of the male gaze. Vergara herself defended the joke, saying she thought it showed women can be both sexy and funny, but the damage was done.
6. Jeremy Renner & Jennifer Lopez At The Golden Globes, 2015
Jeremy Renner secured himself a spot in the awkward Hollywood hall of fame after he joked about Jennifer Lopez's cleavage at the 2015 Golden Globes. "You've got the globes, too," Renner told Lopez as the two presented an award together. She giggled, but the entire thing was incredibly uncomfortable to watch. The comment was obviously off the cuff, but just knowing that Renner felt this was an acceptable thing to say on live television says something about the nature of Hollywood and how it treats its female stars.
7. Kathryn Bigelow & James Cameron At The Oscars, 2010
Kathryn Bigelow made history in 2010 as the first female director ever to win the Oscar for Best Directing, but before her triumphant moment, she was reduced to being James Cameron's ex-wife in hosts Steve Martin and Alec Baldwin's opening monologue. "She was so pleased to be nominated with him [Cameron], she sent him a beautiful gift basket with a timer," Baldwin joked. It's funny because she's a woman and therefore she must be vengeful. Cameron and Bigelow were seated in the same aisle just one row apart for added effect.
8. The Age Gap & Maggie Gyllenhaal, 2015
It's no secret that the age gap between male stars and their female counterparts continues to grow every year. Men get older, women get younger — that's the unwritten rule in Hollywood. Never has that been more obvious than when Maggie Gyllenhaal, then 37, was told she was too old to play the love interest to a 55-year-old man. "I'm 37 and I was told recently I was too old to play the lover of a man who was 55. It was astonishing to me," the actor said in an interview with TheWrap in 2015. Yet again, in 2017, the issue reared its head with Jennifer Lawrence's role in Mother! — she is 27, while Bardem is 48. It would seem that the age gap issue has no intention of going away any time soon.
9. Emilia Clarke & Matt LeBlanc At The Emmys, 2016
Another cringe-worthy awards show moment happened at the 2016 Emmys, when Matt LeBlanc told reporters and Game of Thrones star Emilia Clarke that he needed to catch up on the HBO series because he wanted to see when Clarke "started getting naked." Clarke's reaction wasn't shown on television, but, like Renner's Golden Globes comment, LeBlanc's attempt at humor shows just how low Hollywood standards really are when it comes to treating women with respect.
These are only a sampling of the recent ways in which Hollywood has ignored sexual politics and the role of sexism in the industry — as a whole, the industry has done so since its inception. And, unfortunately, just because the community is now woken up to the allegations against Weinstein does not mean that there aren't still many more men profiting on the pervasive misogyny made invisible by Hollywood's continued attempts to minimize sexual politics. It's a hard truth to face, but one leaders in the industry must confront before we can even hope to make changes that could help prevent something like the Weinstein scandal from happening again.
If you or someone you know has been sexually assaulted, call the National Sexual Assault Telephone Hotline at 800-656-HOPE (4673) or visit online.rainn.org.