The 'Life Size 2' Premiere Date Is So Much Sooner Than You Ever Thought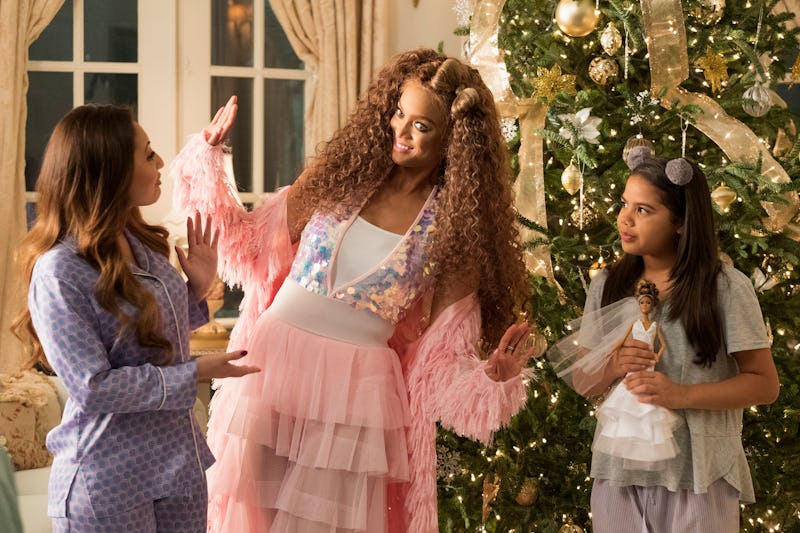 Freeform/Guy D'Alema
Freeform just released some information that's bound to set an amazing tone for the upcoming weekend. According to reports, the Life Size 2 premiere date will fall within Disney's annual 25 Days of Christmas programming. And by the looks of the newly released production photos, holiday Eve is as fierce as they come.
That's right — fans will finally get to see Tyra Banks and Francia Raisa in action Saturday, Dec. 2, on the network. Banks' character (who is obviously the talented, sweet, and endearing Eve doll) comes to life to help Raisa's character Grace (the CEO for the toy company that produces the Eve doll) through what's been described as a quarter-life crisis. And because fans are well aware by now that whatever Eve touches turns to gold, you can bet that she'll ultimately be helping Grace to "shine brighter and further" than before.
Amongst the casting news and premise for the sequel, which were announced in July 2018, it was also reported that Banks would be gifting the flick with a new version of the catchy theme song "Be a Star." Not sure if the remix will include any seasonal melodic flare, but one thing's for sure, Banks' holiday Eve is definitely full of Christmas magic.
And fans on Twitter can't seem to get enough of her, as well as the movie news, already.
Rounding out the amazing cast are actors Alison Fernandez, Gavin Stenhouse, and Shanica Knowles. There's no word on what kind of role Life Size alum Lindsay Lohan will have in the sequel, but Banks, who also serves as an executive producer for the film, had every intention on making sure Lohan was a significant part within. While speaking with The Hollywood Reporter back in September about Lohan's contributions to the film, Banks explained,
"[Lindsay] will be in the movie in some kind of way. We'll see where that ends up."
While Lohan's Casey Stuart was a pivitol role in the orginal, Eve's best pal may not be appearing in part two... at least not as herself. The official iMDb page for the film lists Lohan as apart of the cast, but an actual character has yet to be assigned. Could this mean the Parent Trap star will have more of a cameo appearance this time around? Sharing the rest of the deets with The Hollywood Reporter, Banks continued, saying, "She has this new TV show on MTV about this club so she couldn't make it, which was sad."
The article states that Lohan had originally expressed interest in being apart of the sequel, but, per Banks' account, scheduling conflicts may hint that, if anything, Lohan's role in Life Size 2 will not be a major one. All in all, the production photos for the sequel shows Banks' holiday Eve serving some great fashions, and seemingly bringing the same energy that captivated fans in the original to the table. And that's totally something to be excited about.
It may have taken nearly two decades to come to fruition, but it's nice to know that Eve will be bringing some new adventures to television real soon.