Maddie Ziegler Dances In 'Book Of Henry,' Natch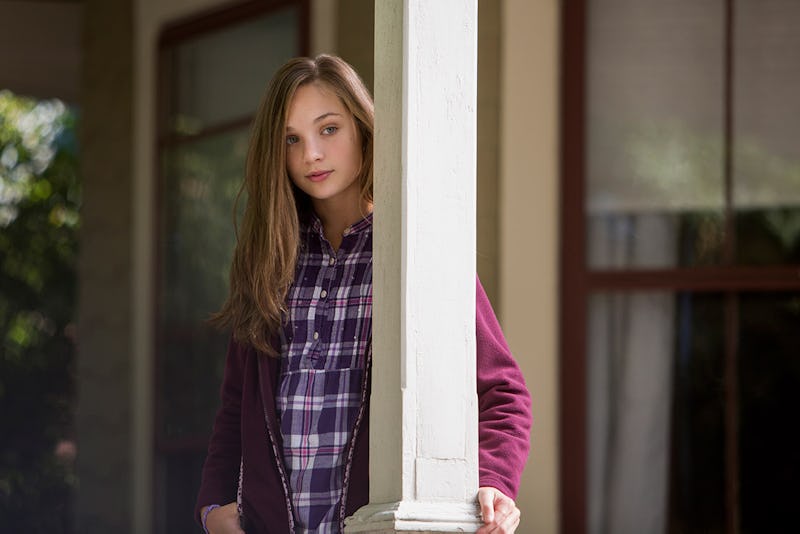 Focus Features
Maddie Ziegler is known largely as a dancer, thanks to her five-year run on reality show Dance Moms and her appearances as Sia's muse in five of the enigmatic singer's music videos. But now the 14-year-old is making her feature film acting debut with a prominent and difficult role in The Book of Henry, where she plays a victim of child abuse. But despite the film's heavy subject matter, the young actress isn't leaving her roots behind, and there is a Maddie Ziegler dance scene in The Book of Henry.
In the film, an 11-year-old prodigy named Henry has a crush on his next door neighbor, Christina (Ziegler). He soon discovers that she is being abused by her stepfather, who happens to be the town's police commissioner. Henry concocts a plan to rescue Christina and writes it down in a book that his mother (Naomi Watts) finds and attempts to implement herself. It's a wildly original film and a great showcase for Ziegler's natural talent, and that includes her dancing skills. The scene featuring her dance moves has not yet been released, but you can catch a very brief glimpse of her dancing in the trailer around the 2:04 mark.
As you can see in the trailer, Ziegler performs what appears to be ballet at some kind of dance recital, and while it looks fairly innocuous, there's actually a good reason why the full clip has not been released ahead of the film. The scene wasn't specifically shoehorned into the movie just so Ziegler good show off her talent on the dance floor. Rather, it seems as if she was chosen for the role party because of her dancing skills, since the scene actually functions as the climax of the movie. "Maddie's character is in an emotional prison and she ultimately had to take control of her own story and she does it through dance," the film's director, Colin Trevorrow, told People. "Only Maddie would've been able to emote through her body, and emote through her art, in the way that she does in the end of this movie. The whole climax of the movie really is structured around her dance and she does a beautiful job."
Anyone who has seen Maddie Ziegler dance in a Sia music video knows that she can express a whole range of emotions through dance, and it will be fascinating to see how that talent translates to a big screen narrative.