This Is The Exact Day & Time Tinder Users Use The App The Most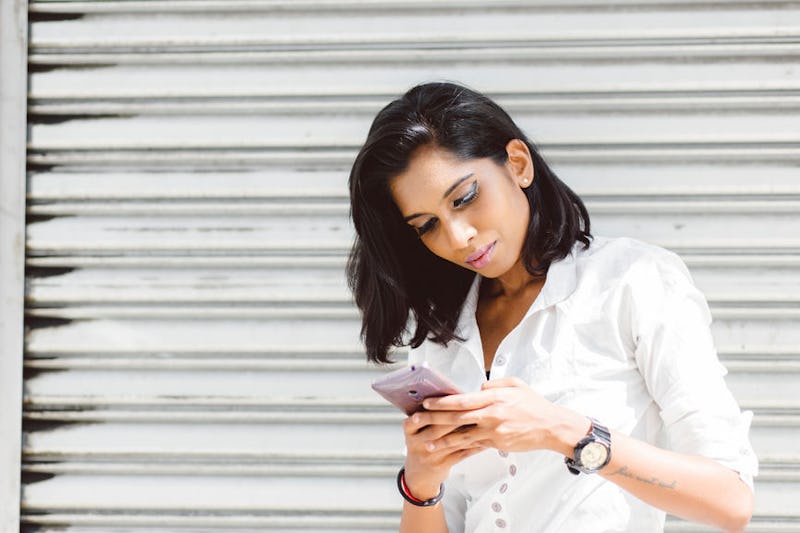 Jessica Sharmin/Stocksy
How much swiping did you get up to this year? Some dating app users like to stay glued to their phones and swiping 24/7, while other users are a little more casual and sporadic. But now Tinder, the popular dating app, released data from the past year on how — and when — we're swiping. And the findings are fascinating.
"The data from Tinder's Year in Swipe is really interesting," Dr. Darcy Sterling, Tinder's dating and trend expert, tells Bustle. "It shows how pop culture, news events and trends inspired people's profiles. We saw that people loved to include their favorite foods in their bio or use a GIF to spark conversation."
Not only that, their findings gave us a little indicator of how we'll be using the app in the future. "I don't have a crystal ball, but I expect to see people continue to use the More Genders feature to self-identify rather than limiting their gender identification to binary choices," Sterling says. "I also think Tinder users will continue to use pop culture references in their bios because having those shared references allows matches to feel intuitively understood by one another."
The report also reveals when people are most likely to hit up the app. Monday, it turns out — at 6 p.m. PST, specifically, which also translates into 9 p.m. EST. It makes sense, as the whole country is outside of working hours at that time, with plenty of time to swipe.
But sometimes, there are larger forces at play that cause us to take out our phones and get on Tinder. Here were the most popular events and holidays for swiping this year.