The 'Jersey Shore Family Vacation' Trailer Has MORE Clues About Pauly D's Rumored Wedding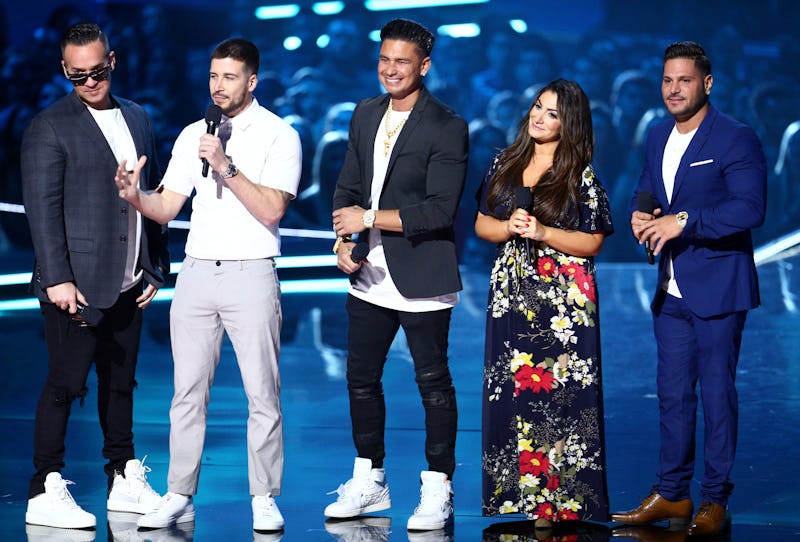 Rich Fury/Getty Images Entertainment/Getty Images
Awwww, yeah, Jersey Shore is coming back, yeah. MTV released the trailer for Jersey Shore Family Vacation Part 2 on Thursday, and in the clip we see Paul DelVecchio seemingly get hitched in Vegas. So who does Pauly D marry on Jersey Shore Family Vacation? We will find when television sets around the land start beating up the beat once again, i.e., after Jersey Shore Family Vacation Part 2 premieres on Jerzday, Aug. 23 on MTV. Or, ya know, we can pull up the preview, search for any and all clues, and try to get to the bottom of this mystery.
The second installment of Jersey Shore Family Vacation kicks things of with a cast trip to Las Vegas, and then the group heads to the place where they first met so many years ago: the Jersey Shore. But before they make their triumphant return to the Shore house, the Jersey Shore ensemble swings by a Sin City chapel and watches an Elvis impersonator officiate a wedding. And not just any wedding, but DJ Pauly D's wedding. As someone wearing a veil slides a band on DJ Pauly D's left ring finger, the Elvis impersonator announces, "Mr. and Mrs. Pauly D."
The camera never pulls back. The clip never shows us Mrs. Pauly D's face. The trailer never reveals who Mr. Pauly D married while filming the second season of Jersey Shore Family Vacation.
And so we are left to scour the Jersey Shore Family Vacation Part 2 trailer for hints. It does not give us a lot to work with, but what it does offer up? Oh, what it does offer up will do just fine.
Consider this screen grab.
See that gold watch? That is a very Pauly D watch. And as for that black jacket?
Yeeeeah, buddy.
And so, it seems safe to assume the human on the righthand side is DJ Pauly D. Now, as for the human on the lefthand side?
Who is that wearing the veil? Whose hands might those be? Could those hands belong to Scheana Marie from Vanderpump Rules? Or to Sophie Kasaei of Geordie Shore? Or to his Famously Single co-star Aubrey O'Day? Eh, probably not.
Let's take a closer look at those hairy forearms, shall we? That band on their wrist seems like something worth investigating. Now, who in DJ Pauly D's life wears a band just like that around their wrist?
Ah, right. That is not the only time we see that band pop up in the Jersey Shore Family Vacation Part 2 trailer.
Uh-huh.
There it is again.
And please let your eyes feast upon this screen grab is from the trailer for the first season of Jersey Shore Family Vacation.
You get the idea. The band on the wrist of Mrs. Pauly D looks a lot like the watch Vinny Guadagnino, Pauly D's co-star and BFF, wears. So there you have it. It looks like DJ Pauly D and Vinny got married in Vegas while filming Season 2 of Jersey Shore Family Vacation. The Case of DJ Pauly D's Rumored Reality TV Show Wedding has been closed. Awwww, yeah. Cased closed, yeah.