Can You Believe? This Video Of The 'Queer Eye' Cast Dancing To The New Theme Is SO Good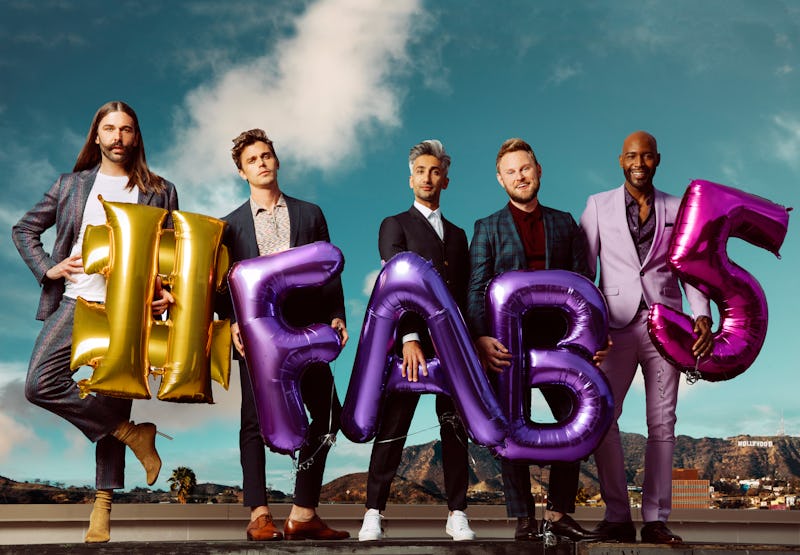 Netflix
All things really do keep getting better, since Season 2 of Netflix's Queer Eye drops in just a matter of weeks. If you've already moisturized your skin, popped on a fresh bomber jacket, and shopped for avocados in preparation, then your next task is to watch the Queer Eye cast dance to the new theme song. Modern pop icon Betty Who recorded the updated version of the catchy intro, and good news — the Fab Five loves it as much as their fans will.
The two-minute clip has everything: Betty Who serving looks. Food and wine expert Antoni Porowski in a crop top, standing in front of a fan. Grooming expert Jonathan Van Ness doing a perfect modeling job. Culture expert and general saint Karamo Brown offering you all the tissues you need for a good cry. Antoni in a crop top. Tan France, style guru, on Antoni's back (while Antoni wears a crop top). The vastly under-appreciated Bobby Berk — interior design savant — bedazzling the Fab Five's signature truck. And Antoni in a crop top, holding avocados. It just feels like that one bears a lot of repeating, you know?
Watch the Queer Eye cast dance it up to the theme song here, and try not to fall even more in love:
Queer Eye Season 2 will launch globally on June 15, which coincides with National Pride Month. Netflix promises that the show will be even more emotional this time around, with some of the "make-better" (never makeover!) subjects making history for the show. Without giving too much away, there's a reason the revival was shortened to the name Queer Eye. But fans of Season 1 — which only premiered in February 2018 — already know the show is not just for the straight guy anymore. (Love you, AJ!) Netflix told Entertainment Weekly that fans can expect to see the show's first female and first trans male stars.
Here's how the streaming service is describing the next season of the show:
"This season, the Queer Eye Fab Five return to the Georgia heartland, forging connections with communities from a wide array of backgrounds and beliefs often contrary to their own, touching on everything from self-love and faith, to immigration and how to make the perfect homemade poke bowls and more."
Can you believe? Feeling all of the feelings. All of them. Every one at once. And that's not just because the Queer Eye theme song music video features Antoni smizing in a cutoff sweatshirt, but it's definitely part of it.
The new edition of Queer Eye shortened the original run's theme song, but refreshed it for the next generation at the same time. In the first season for Netflix, the show hinted at it — rather than played it outright — but that makes sense. First of all, a shorter theme means more room for TV content. Second, longer intros have gone the way of the dinosaur for television. Third, it's not the original Queer Eye anymore. So while they're nodding to the initial run by keeping "All Things" as the theme, the show is clearly defining itself as its own thing. And fans are here for it.
Seriously, Queer Eye Season 1 was out there changing lives. In the premiere, it reunited a couple that ended up remarried less than a year after filming. In episode 4, the Fab Five helped a man come out to his stepmother in a super-emotional episode — even the stars cried when they were able to watch it on camera. It feels like a miracle that Netflix is blessing fans with eight more episodes so soon, but it's actually happening. All things do keep getting better.