This 'Mommy Dead & Dearest' Detail Is So Unsettling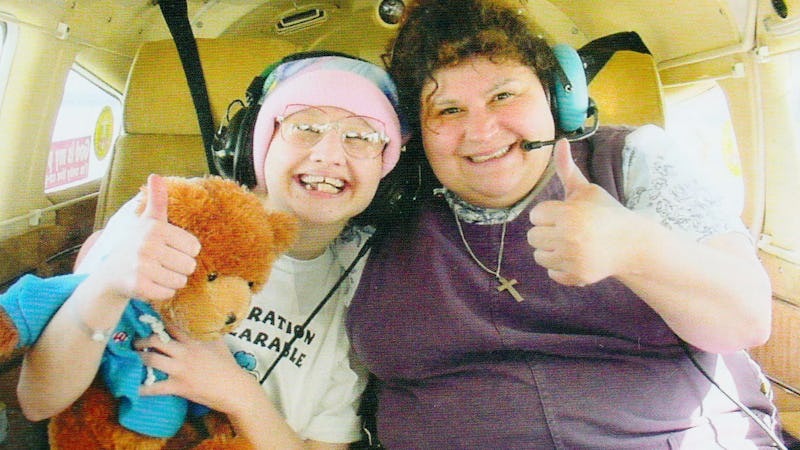 photo courtesy of HBO
By now, you've likely watched the latest twisted true crime hit, HBO's Mommy Dead and Dearest. The documentary unravels the disturbing tale of alleged abuse and deception that led 24-year-old Gypsy Rose Blanchard to be convicted of the murder of her mother, Dee Dee Blanchard, allegedly with the help of the boyfriend she met online, Nick Godejohn. As if the story wasn't unsettling enough, this one Mommy Dead and Dearest detail makes Dee Dee's obsession with allegedly convincing the world her daughter was ill so much creepier.
It seems Gypsy Rose may not have been Dee Dee's only alleged victim. In the documentary, an interview with Dee Dee's stepmother, Laura, claims the Munchausen by proxy syndrome sufferer may have tried to poison her. Laura alleges that Dee Dee put the weed killer, Roundup, in her food, leaving her bedridden for nine months. In a comprehensive June 2015 Thought Catalog article, Dee Dee's nephew, Bobby Pitre, recounted Laura's story, adding that while Dee Dee lived with her father and stepmother, she did all of the cooking. Allegedly, Dee Dee's goal was to pull her weight while she was staying with her family, but during this time Laura became ill. It was reportedly only after Dee Dee and Gypsy Rose moved out that Laura recovered.
If Dee Dee did poison her stepmother, then she may have been attempting to become the primary caregiver for two victims. What's even more disturbing is that Dee Dee's history of alleged abuse may go back even further. In the documentary, her family members suggest she may have killed her biological mother by starving her to death. However, this has not been proven.
It seems some of the people closest to Dee Dee suspected there was something wrong with her before her daughter was born and after. Extended family members allegedly witnessed the supposedly wheelchair-bound Gypsy Rose walking on more than one occasion. However, once the mother and daughter moved from Louisiana to Missouri, contact between the pair and their extended family appears to have become limited. This set the stage for Gypsy Rose to plan her escape from her mother's alleged abuse, and ultimately Dee Dee's murder.
Once you consider the full extent of Dee Dee's alleged past behavior, the entire story takes on a whole new layer of horror. If she did poison her stepmother, does this mean she could have other victims as well?
Munchausen by proxy syndrome is both rare and controversial in the mental health community. Trying to understand the motivation behind Dee Dee's supposed devotion to convincing the world that Gypsy Rose was ill is next to impossible. Since Dee Dee was murdered, there's no way to know her side of the story. Her actions and her resulting murder stand as chilling reminders that you never truly know what goes on behind the closed doors of a family.