Justin Timberlake's Prince Tribute Was Actually Kind of Wonderful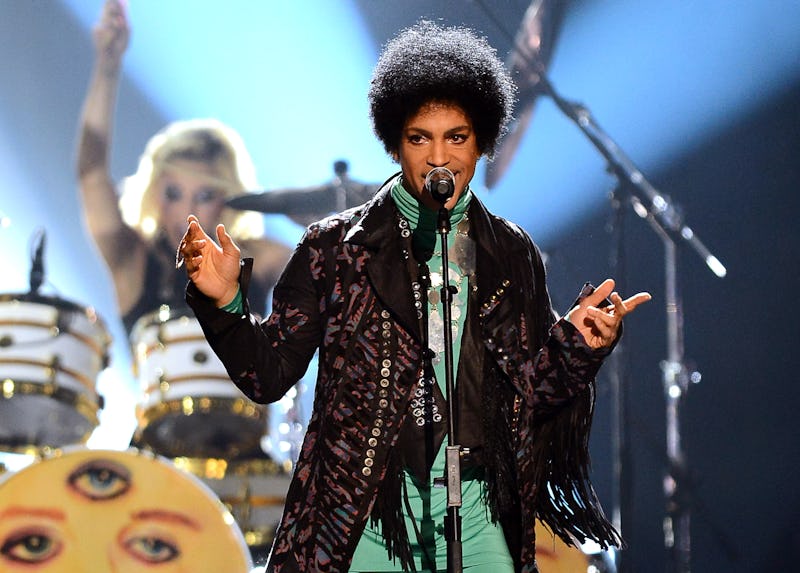 Ethan Miller/Getty Images Entertainment/Getty Images
As anticipated, Justin Timberlake performed a tribute to Prince during the Super Bowl halftime show this year. Despite early reports that Timberlake's tribute would include a holographic appearance by The Purple One, that idea got nixed, and fans everywhere collectively sighed in relief. Instead, Timberlake honored the late artist (who passed away on April 21, 2016) by singing "I Would Die 4 U" alongside a larger-than-life-sized projection of Prince.
The first few moments of Timberlake's Prince tribute likely gave more than a few fans pause. At first, it almost appeared as if they'd actually decided to go through with the hologram — whatever was going on wasn't super clear. But then, Timberlake took a seat at a piano on the stage, and after playing the first few notes of "I Would Die 4 U," fans finally got the full picture of what was happening.
Prince appeared in the form of previously recorded footage, which was projected onto an enormous banner. The difference between this and a hologram, to clarify, is that a hologram would have rendered a moving image of Prince doing things he'd never done before — like, say, accompanying Timberlake on the performance of his new single, "Filthy."
Timberlake's projected-footage tribute, however, put the focus on Prince and his music instead — exactly how it should have been during a home-state tribute to the late artist. The "SexyBack" singer played a slowed-down variation of Prince's "I Would Die 4 U" on the piano, and sang along with the Prince projection. Timberlake's voice didn't overpower the recording of The Purple One, either — and whether that was intended, or if it was just a technical mishap with his mic, it kind of made the whole thing seem even more respectful.
On Feb. 1, Timberlake first hinted at a potential Prince tribute while hosting a listening party for his new album, Man of the Woods, which he held at Prince's Paisley Park compound in Chanhassen, Minnesota, according to Us Weekly. A few days later on Feb. 3, a source sent TMZ video of Timberlake's halftime rehearsals, and reported that the performance would include a hologram of Prince. Almost immediately after the hologram news spread, fans flocked to social media and were freaking out.
Prince's opinion about holograms — or, rather, deceased artists being revived via holograms — was well-known and documented. Long before a hologram of Tupac took the stage in 2012 during Snoop Dogg and Dr. Dre's set at Coachella, Prince told Guitar World in 1998 (as per Diffuser) that the idea of using technology to resurrect the dead was "the most demonic thing imaginable." Prince reportedly went on to say:
"Everything is as it is, and it should be. If I was meant to jam with Duke Ellington, we would have lived in the same age. That whole virtual reality thing... it really is demonic. And I am not a demon."
Shelia E., Prince's longtime drummer, further echoed his sentiment after rumors about the holographic halftime appearance first started to circulate. "Prince told me don't ever let anyone do a hologram of me," she tweeted. "Not cool if this happens!" Shortly thereafter, Shelia E. took matters into her own hands, and tweeted about speaking to Timberlake, personally, in regards to the rumors. She wrote,
"Family, I spoke w/Justin 2nite. And he shared heartfelt words of respect for Prince & the Purple fans. I look 4wrd 2 seeing what I'm sure is going 2 be a spectacular halftime show. There is no hologram."
While Sheila, who shared a photo from the game earlier on Sunday, has yet to post her opinion about Timberlake's game day tribute, it's kind of hard for fans to hate on something that already got the Shelia E. pre-stamp of approval. It was short, it was sweet, and most importantly — it was completely devoid of a hologram.