This TV Show Is Uniquely Addressing The Complicated Experience Of Surviving Sexual Assault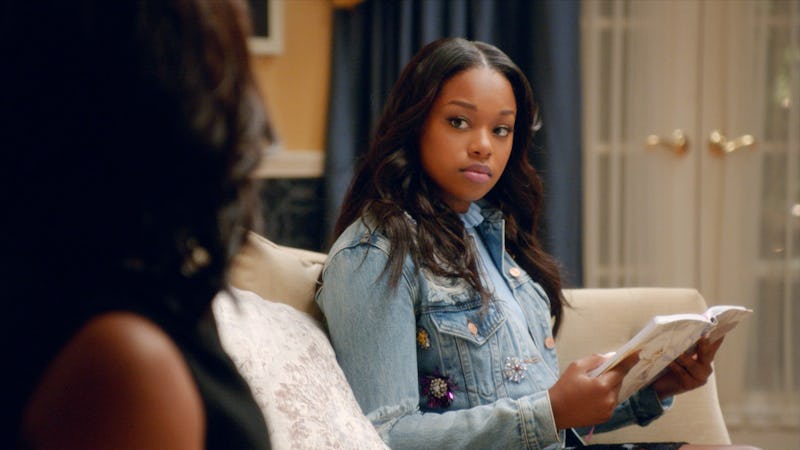 BET Networks
Sexual violence and trauma is often depicted on television today, but few shows give equal time to illustrating how victims struggle to rebuild their lives and grapple with their sense of self afterwards. Fortunately, BET's The Quad (executive producer: Felicia D. Henderson) is giving appropriate weight not only to sexual assault, but to the long journey of recovery that comes afterwards.
In the first half of Season 1, freshman student Sydney Fletcher (Jazz Raycole) was raped after leaving a frat party by a football player whom she presumed to be a "nice guy." For the days that followed, Sydney struggled to deal with what happened and was subjected to an endless stream of victim-blaming on campus. Peers constantly questioned her and spat ignorant commentary about what Sydney had been wearing or doing at the party the night of her rape, and dredged up her past (consensual) sexual encounters in order to excuse her rapists' behavior.
Luckily, Sydney was able to push through the noise and find some peace. And though her rapist Terrence (Kevin Savage) was, unfortunately, never brought to justice — due to his suicide in the Season 1 finale — Sydney found solace in her mother and university president, Dr. Eva Fletcher (Anika Noni Rose), in addition to a support group of assault survivors and advocates.
Season 2 of The Quad picks up the following semester with Sydney taking a self-defense class, anxious to shed the "victim" vibe she's been branded with. Later she helps her friend Madison (Michelle DeFraites) get over a breakup by channeling Carrie Underwood a la "Before He Cheats" and making over the ex's car, in addition to throwing her a "chicks before d****" dorm-room celebration. In therapy Sydney expresses to her mother that she just wants to move on from everything that's happened and to stop letting her rapist control her life from his grave.
"This season Sydney will constantly be asking herself, 'How am I going to deal with this'?" Raycole tells Bustle. "She'll toy with the idea of reclaiming her body and also try a lot of different things to heal. It's really going to be an entire journey for her."
According to the Rape, Abuse, and Incest National Network, one in six women will be the victim of an attempted or completed rape in their lifetimes. It wasn't until after filming wrapped on Season 1 of The Quad that Raycole learned two of her closest friends had been victims themselves.
"Sure I'd read the statistics but you don't realize how close to home it really is until you hear something like that," Raycole tells Bustle. Hearing stories firsthand from the people that I love gave me insight into how much pain they'd went through and how much healing they've done. I think that really helped me going into Season 2 and changed my perspective about what it means to be a woman that's been sexually assaulted, and how strong one has to be to overcome that kind of trauma."
Just as Raycole learned how vital it is to support the survivors in her own life, her character gets some comfort from her mother Eva, who does everything she can to comfort her. In Eva's case this isn't necessarily a bad thing, but as The Quad expertly illustrated, it's important to follow the survivor's lead after these experiences and to act accordingly.
Later in the episode, Terrence's family wanted Eva to publicly extend her condolences being that his suicide occurred on campus. Eva swiftly refused, stuck between a rock and a hard place. Sure she's the university president, but Eva saw delivering this public message as a slap in the face to her daughter and all of the other women on campus assaulted by Terrence.
Sydney, exuding great strength, told her mother to deliver the condolences even if Terrence didn't actually deserve them. "I meant it when I said I was done letting him hold me hostage," she proudly declared.
Of course there's no timeline on recovering from sexual assault — for some survivors its takes months or years to work through the trauma, while others may never fully recover. And that's okay. Like Sydney demonstrated in this episode of The Quad, it's all about victims taking things one day at a time and finding out what works best for them. At last, TV is finally catching up with these storylines and putting the focus on the people who really matter: the survivors.
If you or someone you know has been sexually assaulted, call the National Sexual Assault Telephone Hotline at 800-656-HOPE (4673) or visit online.rainn.org.