The 'Queer Eye' Special Episode In Yass, Australia Will DEFINITELY Make You Tear Up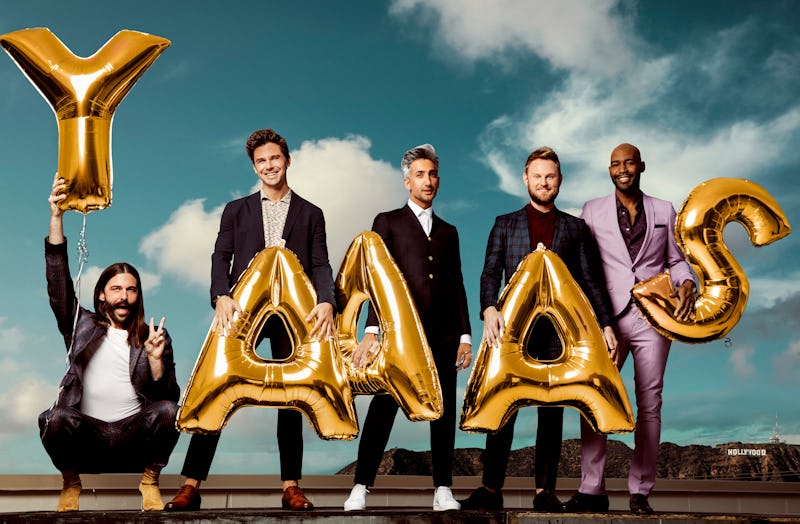 Austin Hargrave/Netflix
Sure, if you're a Queer Eye fan, you've more than likely marathoned all of Season 2 already. Well, if you find yourself in need of more of the Fab 5 in your life, you're in luck. Netflix just released the Queer Eye Yass, Australia special, and yes, it's the emotional surprise you've been waiting for.
Since it was first announced that the Fab 5 were working on a special project in The Down Under, fans couldn't stop wondering just what the lifestyle experts had in their sleeve. And the hints dropped by the Fab 5 members Bobby Berk, Tan France, Antoni Porowski, Karamo Brown, and Jonathan Van Ness all over social media only made the anticipation amongst fans grow that much more. The 20-minute Netflix special, released to YouTube and on Netflix on June 21, definitely lived up to fan expectations, however, as the Fab 5 went to work on a lucky, dedicated, and soft-spoken father and outdoorsman — turning him into a total catch — and a Yass, Australia bistro — transitioning it into a potential neighborhood hotspot.
Complete with thier faux-Australian accents and excitement over kangaroo sitings, the Fab 5 set off to impact the life of an ex-Rodeo athlete for the better. Nominated by his son Levi, George desired to up his fashion and style game, in hopes of turning a few heads and finding a companion, and the Fab Five did just that, and more. Not only did they outfit the single father of three with a new wardrobe, but they also helped him find the confidence that was living within himself all along — potentially making this particular makeover one of the most emotional and heartwarming, yet.
Wondering how the Fab 5 ended up in Yass, Australia? In all honesty, it's likely that the same team who found Gay, Georgia on the map would also be able to spot a tiny town by the name of Yass, as well. And as if the name of the tiny New South Wales town wasn't fitting enough — as Jonathon so eloquently put it in the opening of the special — Australia legalizing same-sex marriage recently caused for the perfect celebration, and welcoming invitation for the beloved makeover squad.
Also, with the second season being filled with a few surprises of its own — including the making over of the show's first female and first transgender subjects — it was only right that the Fab 5 switch things up by tackling a project outside of the borders of the U.S. What George's makeover had in store, however, was seemingly a lot more than a lot of fans bargained for. And his emotional transformation, both inside and out, left so many of them in tears.
George was definitely the perfect candidate for an infamous Fab 5 makeover. Kind, hardworking, and open to trying something new, the ex-rodeo athlete let his guard down, and in turn, gained so much more. But, just as George got a chance to rub elbows with some of the most inspirational lifestyle artists in the industry today, there are seemingly more folks like him who are in need of a little polishing and self-esteem boost, but living outside of the metro-Atlanta area, as well.
Could this be the beginning of more Queer Eye pop-ups around the world? Just maybe. And as long as that means that there will be more surprise Queer Eye episodes to tie fans over until Season 3 premieres, Netflix can keep them coming.
What's next for the Fab 5 is totally up in the air, but keeping a close eye on their social accounts could totally work in the best interest of fans. You never know what other surprises the talented crew could be whipping out, and if this Australian special serves as any consolation, missing out on whatever's to come isn't an option.