Why Jenna Fischer Hasn't Seen 'A Quiet Place' Will Make 'The Office' Fans Say "Aww"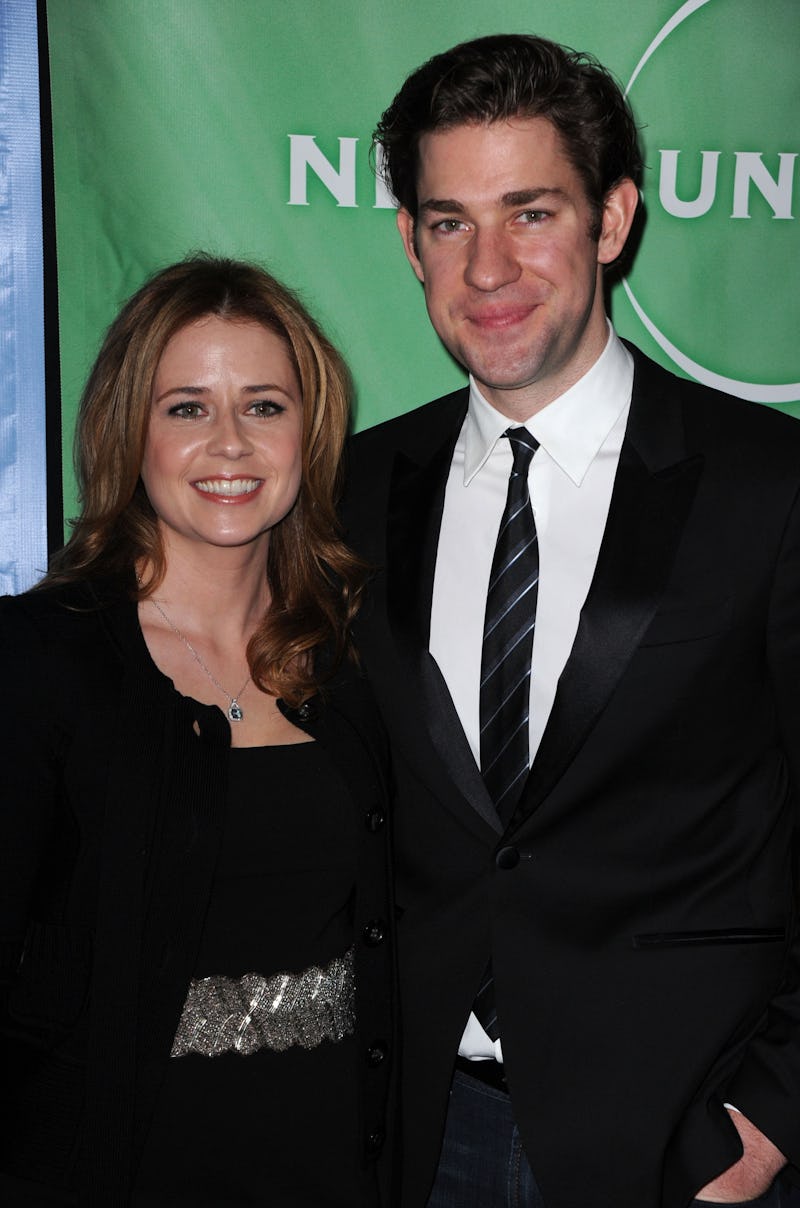 Frazer Harrison/Getty Images Entertainment/Getty Images
Sorry, The Office fans, but you will have to sit tight before Jenna Fischer gives her take on the Jim-and-Pam-esque headphones moment in A Quiet Place. And that is because Jenna Fischer hasn't seen A Quiet Place. In a new interview with People, the actor who played Pam Beesly on all nine seasons of The Office revealed that she still hasn't watched her former co-star's new movie. And as far as reasons for not going to see Jim Halpert's suspenseful flick go, her explanation is about as charming as it gets. Fischer has been too scared to watch her pals John Krasinski and Emily Blunt "in peril."
Fischer said,
"Can I say something? OK so, my husband and I had a date night and we were there and we were ready to buy a ticket, but I got scared. I like scary movies, but this is so weird. I was afraid to see John and Emily in peril because they are my real friends. I got scared, so I am trying to gear up. And I think I need to go see it during the day. I really was afraid. So I'm going to see it."
She tried to go support her buddies, you guys. She really, really tried. And she will try again.
And hey, there isn't any shame in chickening out of a horror movie at the last possible second (aka when you are next in line at the ticket kiosk and have yet to come up with a backup movie plan). It happens to the best of us. Sometimes you just don't have what it takes to deal with loud jump scares and whatever other horrors the film may bring. Or, you know, you just aren't emotionally prepared to watch your dear friends Blunt and Krasinski battle it out with some martians who flock to noise like moths to a flame in a lantern that gets knocked over in the middle of a silent board game.
The brilliant, ridiculous, cringeworthy-in-a-good-way, and heartwarming sitcom that was the U.S. version of The Office gave audiences so much, including one of the greatest TV couples to ever appear on the small screen. For nine seasons, fans watched Krasinski's Jim Halpert and Fischer's Pam Beesly bond over a teapot, share earbuds, and exchange knowing side-eyes from across the office.
Their office romance wasn't Dunder Mifflin's only workplace relationship, but for nine seasons, Jim and Pam's love story seemed set in stone.
And it sure sounds like Krasinski and Fischer's real-life friendship is set in stone. The actors have been pals ever since their time on the mockumentary series together. When Glamour asked Krasinski about hanging out with his The Office co-stars back in 2015, he replied,
"I see Jenna [Fischer] all the time. I love her husband, Lee [Kirk], and their kids are amazing, so we get together a bunch. And I'd say other than Jenna, the last person I saw that was actually at her house was Brian Baumgartner."
They hang out, say things about each other that get taken out of context (no, they weren't really in love), and go see each other's post-Office performances. A few weeks after The Office series finale aired in 2013, Krasinski and Blunt went to see Fischer in a stage production of Reasons to Be Happy. And in 2016, Fischer went to see Krasinski in the play Dry Powder.
Considering how supportive these two are of one another, it really is only a matter of time before Fischer musters up some courage, pours herself a cup of calming chamomile tea out of a sea foam green teapot, and moseys on down to a mid-morning showing of Krasinski's A Quiet Place.